UC system sees increased fall enrollment while other institutions face decreases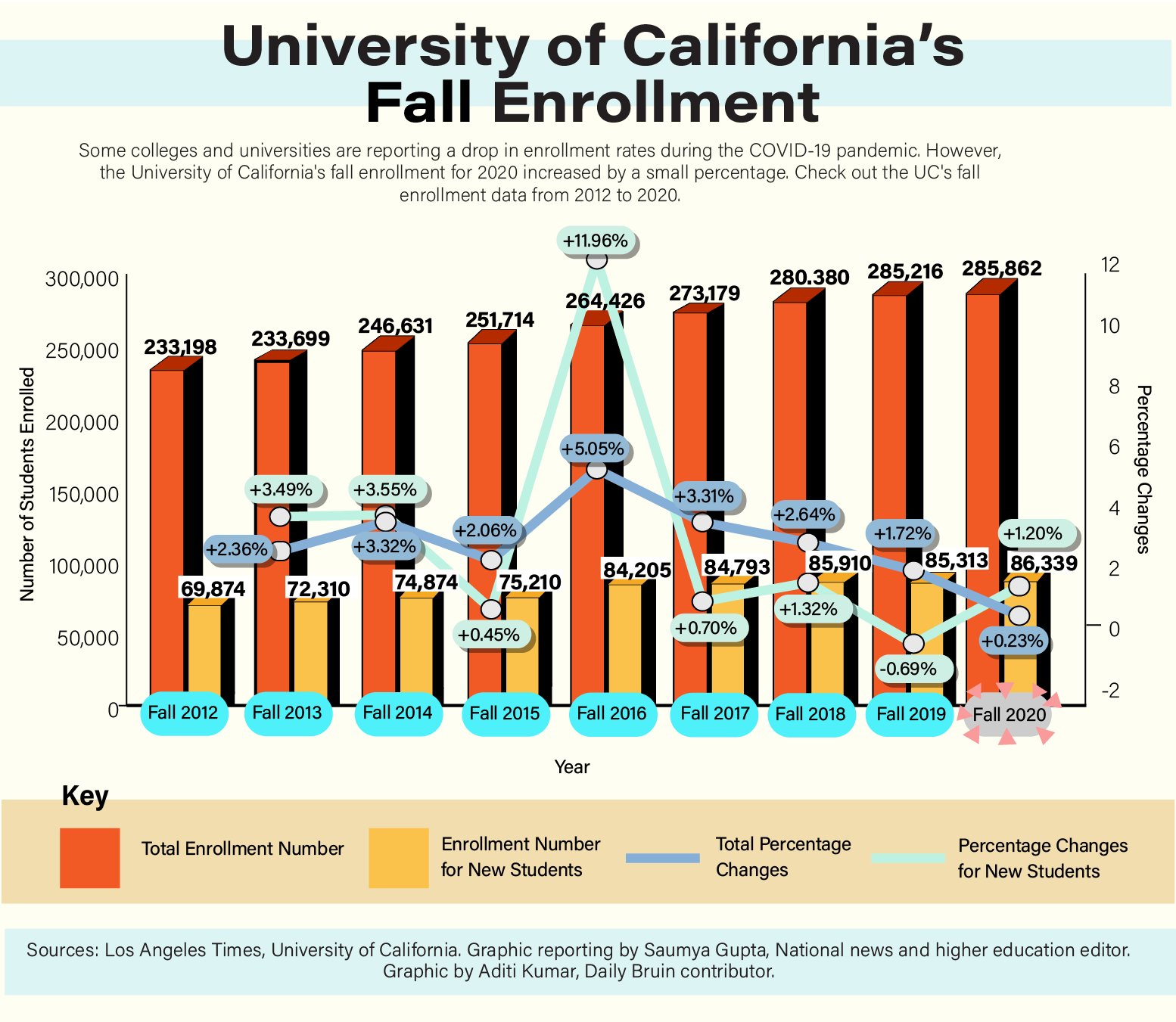 The number of students enrolled at the University of California increased during the COVID-19 pandemic, despite nationwide trends of dropping college enrollment rates affecting other California public universities.
UC enrollment among graduate and undergraduate students grew by 650 students for fall quarter from fall 2019, said Ryan King, a UC Office of the President spokesperson, in an emailed statement. This marked the fifth consecutive year UC enrollment increased though the change in enrollment is smaller than the jump of 4,968 students the UC system experienced in 2019.
College enrollment dropped by 2.5% overall in 2020, according to the National Student Clearinghouse Research Center. This loss in students is nearly double 2019's decline in enrollment and was driven by a dip in enrolling undergraduates, specifically a 13.1% decrease in freshman enrollment, according to the report.
The National Student Clearinghouse Research Center also found that public two-year schools were hit the hardest, while public four-year schools, like the UC system, experienced minimal change in enrollment.
California community colleges saw enrollment drop by as much as 20%. Bill Purdy, an education lecturer, said this decline was unprecedented.
"Typically in recessions and downturns, community colleges are a place where folks that can't find jobs in a high unemployment economy can go and retread and retrain and come back in when the jobs are at a greater availability," Purdy said.
Purdy added that many students lacked the necessary support to transition from high school to college during the pandemic.
"We have the same number of high school graduates in 2020 that we did in 2019, yet we're seeing this drop in enrollment," said Purdy, who also studies the history of higher education. "I think a lot of that is the summer melt phenomenon we typically see, where students say that they are intending to go to college in the fall, but they don't follow through."
The lack of college counselors at high schools, insufficient financial aid awards, such as Pell Grants, and understaffed college outreach programs, contributed to a major summer melt, Purdy said. According to the National Student Clearinghouse Research Center, there was a 21.7% decrease of high school graduates going directly to college.
Purdy said these issues hit low-income students the hardest. Moving forward, low-income and first-generation students need to be at the forefront of universities' minds when they input financial aid policies and resist cost-cutting temptations in response to enrollment trends, Purdy said.
He added that continued virtual learning is a primary deterrent to students continuing toward college during the pandemic.
"There's tremendous Zoom fatigue on the part of students in every sector of education," he said.
Nick Delzompo, a second-year philosophy student, took a one-term absence from UCLA during fall quarter because he was dissatisfied with virtual learning.
During spring quarter, he found that online classes didn't match with his learning style and felt upset he was not able to connect with friends through his usual clubs, like the Hooligan Theatre Company. As a result, Delzompo opted to take this fall off to pursue creative interests, such as auditioning for a television pilot, while living with his family in Murrieta, California.
"I just knew that I didn't want to keep having my college experience be me sitting in my garage on Zoom," he said.
The financial burden of enrollment fees also discouraged some students from enrolling.
"I also didn't want to pay $5,000 … per quarter to just not at all have the experience that I worked for four years to get to UCLA and have," Delzompo said.
Though he initially planned to take more than one quarter off in order to avoid the pitfalls of Zoom classes and high tuition fees, Delzompo said he re-enrolled in the winter quarter to avoid complications with attending UCLA in the future.
Preliminary data from the Common Application reported an 8% decrease in total applications through Nov. 2 as well as a 16% drop in applications from low-income and first-generation students.
The number of applications to the Coalition for College has also declined, and completion of the FAFSA dropped by about 16% as of that time. Each of these indicators adds to worries over the college class of 2025's enrollment rates.
However, the UC system bucks nationwide patterns. King said early statistics indicate the number of UC applications rose by about 15% for fall 2021.
Purdy said he attributes much of the continued surge of UC applications to the UC system's leading the motion to remove standardized tests from admissions during the pandemic.
"Students that would have been discouraged … are now applying to the University of California, like 'Hey, that's a place for me,' because these standardized tests have gone away at least temporarily," he said.
However, some students who applied to the UC this winter may not enroll this fall if accepted.
Bella Paterson, a senior at Lowell High School in San Francisco, applied to colleges in December but said she plans on possibly deferring from college next year if the pandemic persists.
"Depending on where I end up going, I don't know if I'd be wanting to pay full tuition if I'm going to have to be doing it from home," she said.
Paterson applied to a wide variety of universities this winter, ranging from international schools to state schools. Her cost-benefit analysis of each institution has grown stricter throughout the pandemic, and she said she is increasingly leaning toward deferment for most colleges except the UCs.
"(The UCs) definitely are one of the ones that I would probably not do a gap year for," she said.
Prior to the pandemic, Paterson never considered taking a break between high school and college.
While attending her competitive high school, she said she felt pressure to transition straight to college, but toward the end of 2020, her perception changed, she said. Nearly a full year of virtual learning has left Paterson feeling unprepared for attending university – a sentiment she sees shared by many of her high school peers, she added.
"It's setting everyone back a little bit, so it doesn't really make sense to not think about potentially setting college back, as well," Paterson said.