UCPD implements body camera policy, sparking discussion among student leaders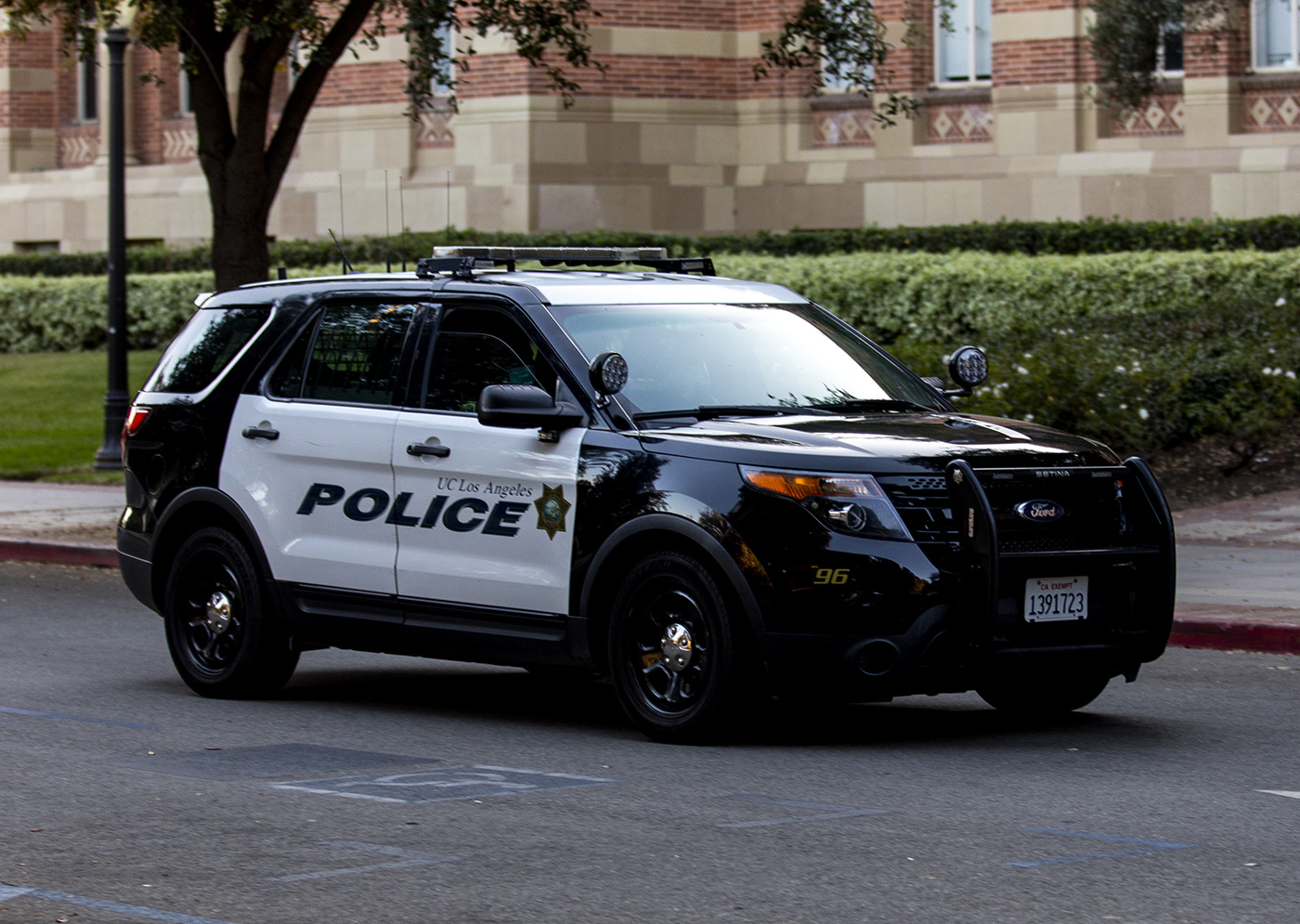 The UCPD has equipped all its active personnel with body cameras, a UCPD spokesperson said. The University of California is still finalizing a policy that would universally mandate body cameras. (Justin Jung/Daily Bruin senior staff)
University police at UCLA have implemented body cameras among its active personnel four years after the policy was approved, a university police spokesperson said.
As of Jan. 1, 2021, the UCPD issued body cameras to all active personnel who are required to wear them, department spokesperson Scott Scheffler said in an emailed statement. Around 51 active officers, sergeants and lieutenants now have body cameras, he added.
In 2016, the University of California planned to introduce body cameras at the 10 UC campuses' police departments by late 2016. Scheffler said the implementation of body cameras was delayed due to a two-year search process for a body camera vendor by the University of California Office of the President, an unexpected need to update the police department's information technology infrastructure and COVID-19 restrictions.
The University is still finalizing a policy that would provide universal guidelines for the use of body cameras across all 10 of its campuses, Scheffler said.
Until the policy is finalized, police departments at individual campuses are operating on a local adoption of the UC's proposed body camera policy, UCOP spokesperson Stett Holbrook said in an emailed statement.
Scheffler said the UCPD is currently following the proposed system-wide body camera policy, which is part of an updated police manual released by UCOP in October and requires police officers to use body cameras while addressing disturbances or ongoing crimes.
However, some student leaders said they do not think body cameras effectively address community concerns about the police.
Naomi Riley, the Undergraduate Students Association Council president, said she does not believe body cameras are enough to hold police officers more accountable."We've seen that there were police officers who had on their body cameras when various Black lives were taken. … They didn't help provide the kind of justice that those families deserved," Riley said. "So I don't necessarily think that cameras are the solution."
Andrew Guerrero, a co-founder of the No UCPD Coalition, said body cameras reinforce the idea that only a few individual officers are to blame for misconduct when policing issues are in fact systemic and rooted in the larger police institutions.
Guerrero added that body camera footage may not be objective because it is managed by the police.
"We're not necessarily against police being recorded, but when they themselves are the ones who manage, handle and secure recordings, that becomes the issue because it's not necessarily as objective as a lot of folks would like us to believe," Guerrero said.
Guerrero said policies such as enforcing body cameras go around community policing concerns instead of directly addressing them.
"The implementation of body cameras is an indication that the department's moving in the wrong direction," Guerrero said. "The department should listen to students of color and community members who are most impacted by policing."