Editorial: Graduate students should be included on dean search committee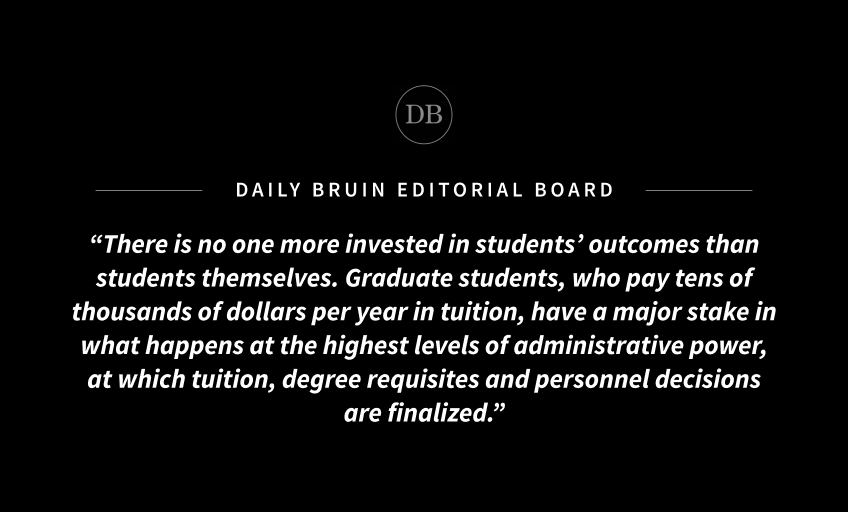 Here we go again.
The UCLA Graduate School of Education and Information Studies is in search of a new dean. A nine-person search committee, assembled by Executive Vice Chancellor and Provost Emily Carter, is responsible for seeking out the next person to assume that position. Every member of the committee is a faculty member.
Graduate students aren't taking this news in stride. Two student government groups that represent GSEIS graduate students sent a letter to Carter in November requesting a rationale and reform to ensure that student voices are represented on the search committee.
UCLA administrators need to listen to these calls.
There is no one more invested in students' outcomes than students themselves. Graduate students, who pay tens of thousands of dollars per year in tuition, have a major stake in what happens at the highest levels of administrative power, at which tuition, degree requisites and personnel decisions are finalized.
Graduate students have considerations beyond what happens within UCLA's walls but still fall within the purview of a prospective dean. Professional development, for example, weighs more heavily on a student than a faculty member. Without students at the table, these concerns may be under-prioritized, if not forgotten altogether.
It's fair to say that faculty have an important stake in this decision, too. As long-term stalwarts of GSEIS, their thoughts are important in choosing the right candidate for the job.
That does not mean faculty opinions are the only opinions that matter. Rather than argue about whether the current town hall and confidential feedback email systems are sufficient, UCLA would do well to simply make room at the table. More representation will lead to a more equitable decision for all represented by the school.
It's also worth noting that this exclusion is unusual. Faculty search committees regularly include at least one graduate student. Their input is critical to ensuring that administrators, who may never set foot in a classroom, can understand the concerns of the population they purportedly serve.
There are built-in opportunities for feedback in the current process, but this type of submission system is inherently external. Student feedback is relegated to the sidelines when it should be the most important element of the selection process.
This placating stand-in for inclusion is nothing new, but this situation offers the rare opportunity for an easy fix: Include your graduate students in the search committee.