Undergraduate art students post projects to Instagram page in virtual exhibition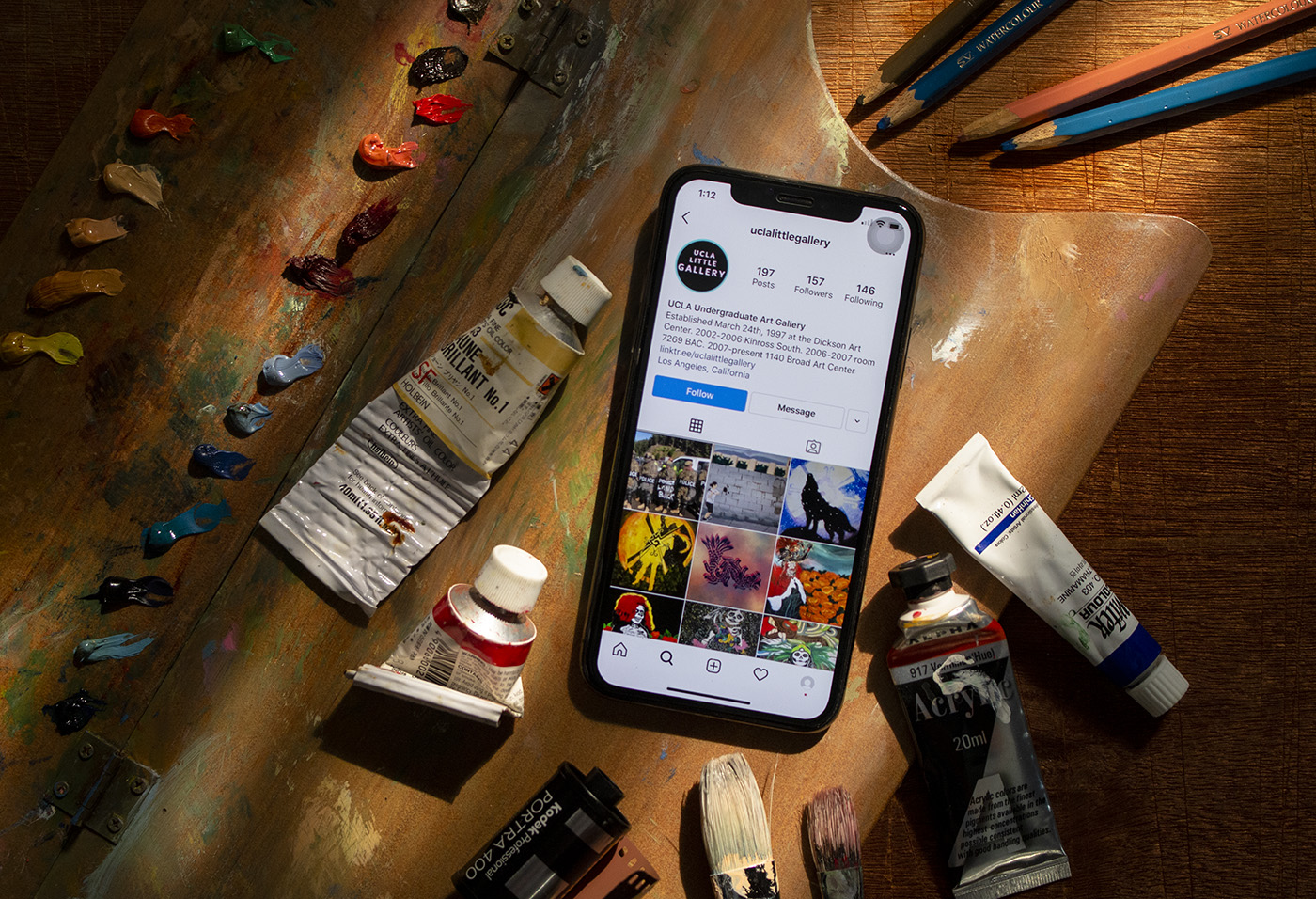 Like many events of 2020, UCLA's Little Gallery is moving online. But rather than relying on Zoom links, co-director of the project and Photography Lab Area Supervisor Valerie Green said the experience has shifted entirely to Instagram. (Christine Kao/Daily Bruin staff)
The UCLA Department of Art's Little Gallery seems to affirm that the show must go on – even if that means moving to Instagram.
Established in 1997, the Little Gallery exhibits artwork by undergraduate students and typically shows at the Broad Art Center. Because of COVID-19 restrictions, this year's gallery has moved to an Instagram page and the works of a different art student have been posted on the page each week since the beginning of fall quarter. Valerie Green, co-director of the project and photography lab area supervisor, said there are considerable differences in one's experience viewing art on an Instagram feed compared to in a physical space.
"When you're in a physical gallery, … you see the scale and you go walk up close to something and you can walk backwards and get a wider view," Green said. "On Instagram, you have a feed which you could scroll through. You can zoom into the pictures and then you could zoom out and see the whole grid, but you don't have the walls."
When it came to choosing which digital medium to switch to, Ben Evans, the gallery co-director and painting and drawing lab area supervisor, said the Little Gallery chose Instagram because the app can reach a large audience and is already a platform that students are familiar with, which are features that generated a lot of excitement when they discussed the prospect of moving online. Additionally, Green said Instagram is an ideal platform specifically for sharing imagery compared to other virtual platforms.
[Related: Gallery helps share Asian American and Pacific Islander artists' stories]
Regardless of the change in gallery medium, Green said the Little Gallery remains experimental because of the way artists are chosen for the exhibit and the freedom those artists have in displaying their work. Unlike the three annual shows at UCLA's main New Wight Gallery – one show of work by students who received scholarships, one juried show with pieces chosen by an external curator, and one show of work by graduating seniors – Green said artists in the Little Gallery are chosen through a lottery system. The undergraduates decide which pieces to post and how many, as well as when they are posted and the caption for each post, she said.
Displaying art on Instagram also expands the gallery's audience of UCLA students as well as people in the larger LA community and the world, Green said. Despite its benefits, first-year art student and photographer Alexia Saigh said Instagram does not have the same impact as an in-person gallery. Saigh's work was featured on the Instagram page last month and she said in a physical space she would have been able to print the photos on a large scale, allowing viewers to see more detail. And while Instagram does allow viewers to zoom in on a post, Saigh said being able to order and position the photos on a wall would add layers of context and story to the exhibit – an experience that one does not get on social media.
"I had to think about how my photographs would be presented on Instagram since it wasn't in a physical gallery," Saigh said. "I created a fake Instagram to see how the photographs would look."
Saigh said the final photos she posted on the Little Gallery Instagram page showcased her artistic themes holistically, including photos from the island of Kefalonia, Jordan, and Slab City in Imperial County, California, as well as a series of photos of her great aunt, Ida. She said photos from the "Aunt Ida" series are her favorite, especially "Marred," an image of her great aunt's arm tattooed by the Jordanian government for being Christian in a predominantly Muslim country. This image is a testament to her belief that a government should not forcibly hold power over someone's body against their will, she said.
[Related: Digital art exhibit uses shared screens to share themes of humanity, isolation]
But even when galleries can exhibit art in person, Evans said the department might still keep the Instagram running as a supplementary virtual gallery. Due to the gallery's success, wide reach and desire to teach students how to engage with digital platforms, Evans said it would be beneficial to maintain the online presence.
Though Instagram is not ideal for displaying art, Evans said it can be impactful depending on how an artist engages with the platform and how much time and effort they put into creating posts, curating the feed and writing captions. Ultimately, the value people place on an artistic medium will change over time – for instance, he said sculpture has been considered a lesser art form than painting throughout history. Evans said artists today need to be flexible and have a multidimensional practice to be able to experiment with multiple genres.
"(Art students) have to deal with a lot of different mediums going through the program," Evans said. "So (Instagram) is just another place where they can take whatever content or subject … they're using or exploring, and just bring it to that format."