UCLA men's basketball looks to maintain winning streak in game against San Diego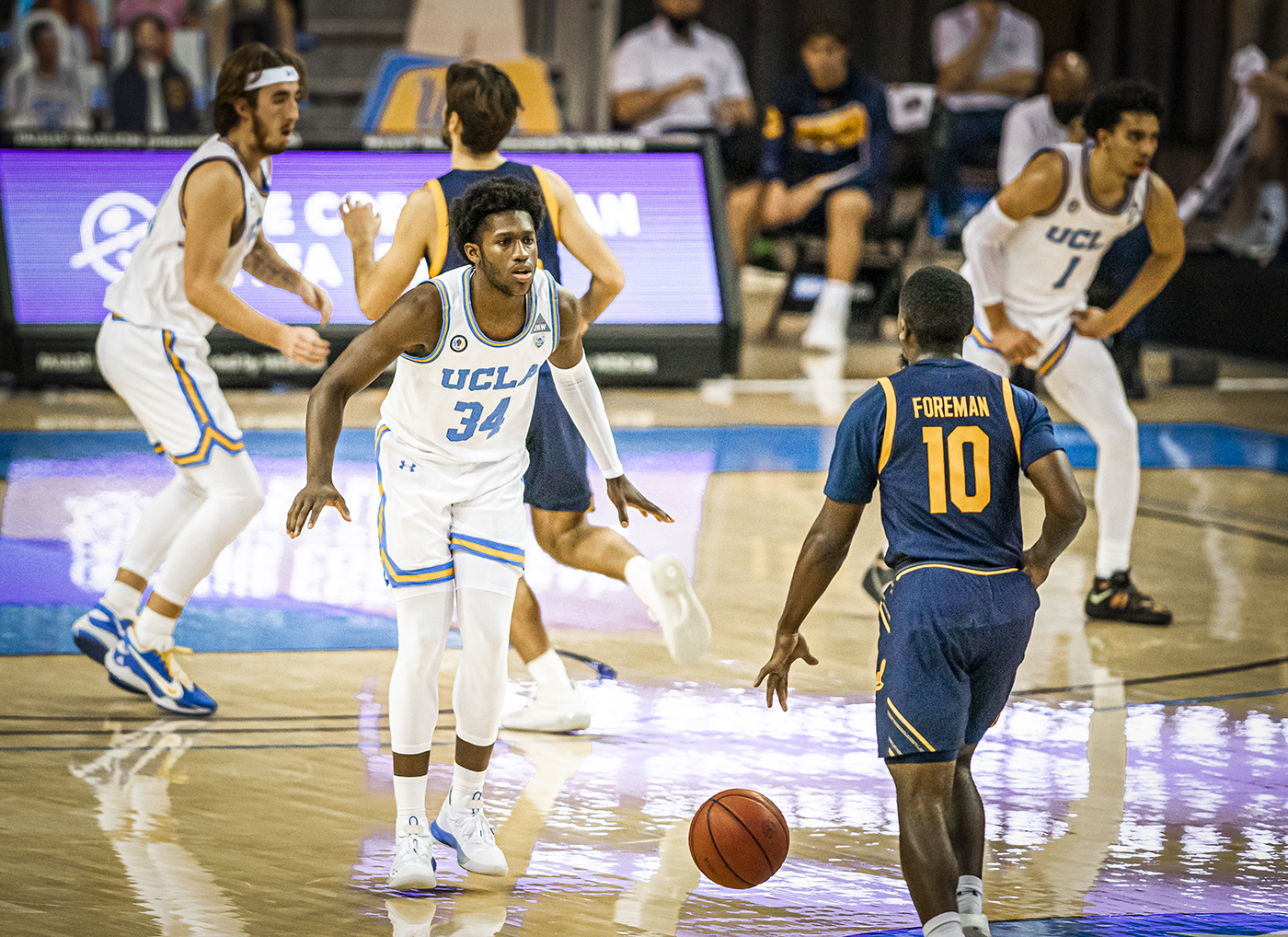 Junior guard David Singleton scored 11 points on 4-of-4 shooting in UCLA men's basketball's Pac-12 win over California on Sunday. (Naveed Pour/Daily Bruin staff)
Men's basketball
---
San Diego
Wednesday, 6 p.m.
Pauley Pavilion
Pac-12 Network
---
Marquette
Friday, 6:30 p.m.
Pauley Pavilion
Pac-12 Network
Fresh off its first Pac-12 win – and a new apparel sponsorship – the Bruins are back on the court in nonconference play.
After the announcement of Jordan Brand's partnership with UCLA football and basketball this morning, UCLA men's basketball's (3-1, 1-0 Pac-12) attention returns to the court where it will host San Diego (0-0) on Wednesday night. UCLA is riding a three-game winning streak, winning its most recent matchup against Pac-12 rival California by a score of 76-56 on Sunday.
In the victory, UCLA trailed for a total of 78 seconds, and after taking a 10-7 lead at the 16:17 mark in the first quarter, the Bruins never looked back. Coach Mick Cronin said while he does not have the answer to permanent success, his team's early advantage was a result of hard work on defense to cause tipped balls.
"I wish I had the secret potion – all coaches do – to start the game and be up 32-13," Cronin said. "If you could bottle that every night out, you'd love to do it. But the real answer for us, the telling statistics are deflections – we had 18 in the first half. It's a direct reflection of how hard you are playing."
UCLA finished the game with four fewer turnovers than Cal, nine more rebounds and three more steals. On the offensive side of the ball, the Bruins connected on eight of their 14 3-point attempts, good for a season-high 57.1% clip from beyond the arc.
David Singleton came off the bench and made all four of his field goal attempts, including a perfect 3-of-3 from 3-point range. The junior guard said going forward, UCLA is going to continue to look for ways to polish its previous performances in preparation for its upcoming opposition.
"For the games we just played, we look at our worst game, and we say, 'How can we improve?'" Singleton said. "We know that we have to be prepared to play our toughest opponent – that's how we get ready for this season. That's how we have to attack this season. We get prepared for our toughest opponent, and we take it game by game."
The Bruins' next game to prepare for is against a Torero team that has yet to play this season because of a positive COVID-19 test within the program in late November. Cronin said they are a hard squad to scout with no 2020-2021 game film to go off.
"Usually, you can go into the game, and you tell your team, 'It's December, we know who they're going to start,'" Cronin said. "We're trying to figure out who to put in our lineup as we're trying to go through the scout with them. So, that's a bit of a challenge. But on the flip side, they haven't had a chance to play yet. So, you know, welcome to COVID basketball, right?"
UCLA's bench should be a little bit deeper Wednesday as sophomore guard Johnny Juzang is ready to see game action in the blue and gold for the first time since transferring from Kentucky. Juzang has had a foot injury keep him off the court so far this season, but Cronin said Juzang practiced with the team this week and should be available for Wednesday's game.
Redshirt junior forward/center Jalen Hill has played twice for the Bruins this year – coming off the bench in each of the last two contests – and is averaging 10.5 points and 8.5 rebounds per game. The return of Hill from knee tendonitis that caused him to miss the Bruins' first two games gives some height to a UCLA team that was less effective on the boards in his absence.
In the first two games of the season, the Bruins outrebounded their opponents by five, but in Hill's appearances, UCLA has grabbed 27 more boards than the opposition. Redshirt junior forward Cody Riley said Hill's presence has given him confidence in the team's size when the former is off the court.
"When I take a breather, it's nice to know that we have another big man that's strong and can help us on the glass and can dominate in the paint also," Riley said. "It's good having J-Hill back."
Bruins have been wearing whatever shoes they prefer so far this season following Under Armor's decision to cut ties with the university, but come Wednesday at 6 p.m., those watching Pac-12 Network might see something new from Singleton.
"I have 80 pairs of Jordans in my apartment now, and I have two coming in the mail," Singleton said. "I'm trying to get them for the game tomorrow."
Keilin is currently an assistant Sports editor on the baseball, women's soccer, cross country, women's golf and men's golf beats. He was previously a contributor on the baseball, women's golf and men's golf beats.
Keilin is currently an assistant Sports editor on the baseball, women's soccer, cross country, women's golf and men's golf beats. He was previously a contributor on the baseball, women's golf and men's golf beats.