Pro Bruin Rundown: LiAngelo Ball signs with Detroit Pistons, Jackson Yueill added to USMNT roster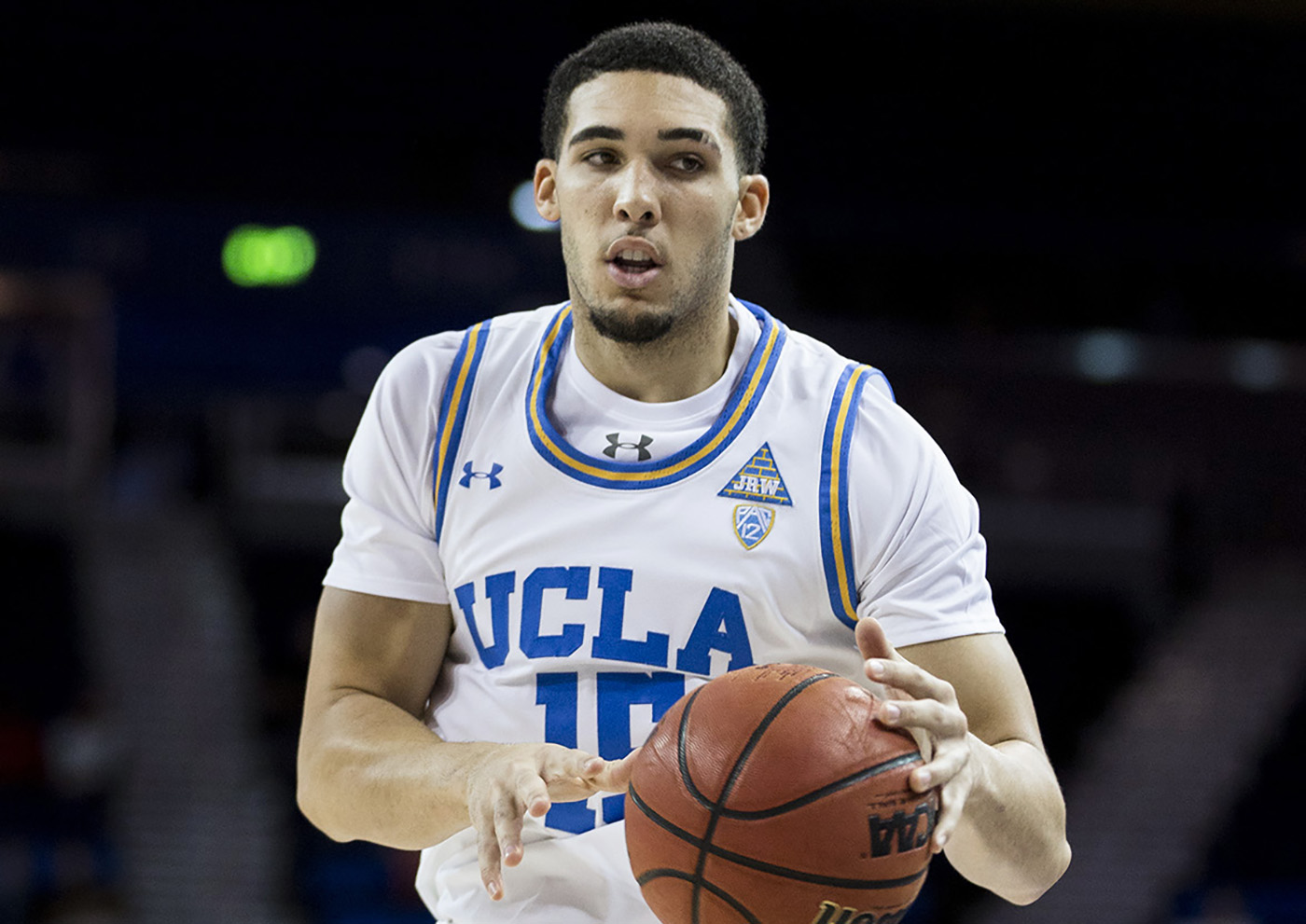 LiAngelo Ball has signed a one-year, non-guaranteed deal with the Detroit Pistons. He is the second former Bruin to join a pair of brothers currently in the NBA. (Daily Bruin file photo)
As college sports continue to be pushed back because of the COVID-19 pandemic, professional leagues have restarted. Each Monday, Daily Bruin Sports will highlight a few standout alumni performances from the past week in ongoing leagues as we await the return of university athletics.
Jackson Yueill and Frankie Amaya, U.S. Men's National Team
Two former Bruins were called up for U.S. Men's National Team training camp – but only one will make it onto the pitch in Florida.
On Dec. 2, the USMNT added San Jose Earthquakes midfielder and UCLA men's soccer alumnus Jackson Yueill to the roster for its upcoming friendly against El Salvador.
The announcement came two days after the USMNT's initial release of the team's roster, which included former Bruin Frankie Amaya for his first senior team call-up. But following a positive COVID-19 test upon arrival at training camp in Fort Lauderdale, Amaya was removed from the roster and missed out on a potential first career cap.
Yueill received first team All-Pac-12 honors in his only two seasons with the Bruins from 2015-16. The 2016 Pac-12 assists leader was one of only six players to appear in all 20 games that year for UCLA.
With the Earthquakes, Yueill received the club's Young Player of the Year award in both 2019 and 2020 – playing a team-high 1,861 minutes this year.
Yueill and the USMNT – which is in the midst of a five-game unbeaten streak – will take on El Salvador on Dec. 9 at 4:30 p.m. PST.
Russell Westbrook, Washington Wizards; LiAngelo Ball, Detroit Pistons, NBA
After two seasons in Westwood and 12 seasons in the Western Conference, a former Bruin is moving east.
The Houston Rockets agreed to trade All-Star guard Russell Westbrook to the Washington Wizards, in exchange for fellow All-Star guard John Wall.
Westbrook has recorded 146 triple-doubles – second only to Oscar Robertson's 181. Despite the guard's record number of triple-doubles, Westbrook has yet to win a championship ring. With the Wizards, Westbrook will have a chance to end the team's 41-year Eastern Conference Finals drought.
From being the brother of two top-three NBA draft picks to going undrafted in 2018, the third Ball brother has secured his spot in the NBA for the 2020-21 season.
On Dec. 2, former UCLA basketball shooting guard LiAngelo Ball signed a one-year, non-guaranteed deal with the Detroit Pistons – a team that has not made the Eastern Conference finals since the 2007-08 season.
Ball's collegiate basketball career was cut short following an incident in China in which Ball and three of his UCLA teammates were arrested on suspicion of shoplifting. As a result, his father LaVar Ball withdrew him from the university before he had appeared in a single regular season game as a Bruin.
LiAngelo, along with youngest Ball brother and then-UCLA commit LaMelo Ball, skipped out on NCAA play altogether and instead played overseas and in the Junior Basketball Association from 2018-20.
Oldest brother and Bruin from 2016-17 Lonzo Ball will continue his career with the New Orleans Pelicans this season as his two brothers start their NBA careers.
He will be the second UCLA basketball alumnus currently playing with two of his brothers in the NBA. In 2018, Aaron Holiday's first-round selection by the Indiana Pacers put the guard in the pros with older brothers Justin and former Bruin Jrue Holiday.
JJ Molson, Los Angeles Chargers and Darnay Holmes, New York Giants, NFL
One ex-Bruin is joining the NFL midseason.
The Los Angeles Chargers signed former UCLA football kicker JJ Molson to the practice squad, the team announced Friday.
A four-year starter and winner of the 2018 Tommy Prothro Award for outstanding special teams play, Molson went unselected in the 2020 NFL Draft and spent early November training with the Green Bay Packers.
As a Bruin from 2016-2019, Molson converted 51-of-74 field goal attempts, equivalent to a 69% conversion rate.
The announcement came after the Chargers demoted special teams coordinator George Stewart, as the Bolts ranked 30th in punt coverage, 28th in punt returns and 31st in kick coverage among the 32 NFL teams.
A seven-time Pro Bowler was picked off by an ex-Bruin in the latter's 10th professional career game.
Former UCLA defensive back Darnay Holmes recorded his first career interception in the New York Giants' 17-12 victory over the Seattle Seahawks.

Holmes and the Giants' defense held Seahawks quarterback Russell Wilson to 12 points and 327 yards Sunday night. With a victory over the Seahawks, the Giants improved to 5-7 and continued a four-game win streak in which the defensive squad has yet to allow over 20 points.
As a Bruin from 2017-2019, Holmes led the team in interceptions in all three of his collegiate seasons. The cornerback was named UCLA's 2019-20 Pac-12 Tom Hansen Medal Winner and received honorable mention all-conference selections in his final two seasons.
Email Vu at [email protected] or tweet @EmilyVuDB.
Vu is currently a Sports contributor on the men's soccer beat.
Vu is currently a Sports contributor on the men's soccer beat.