UCLA emergency room nurses experiencing increased burnout as pandemic continues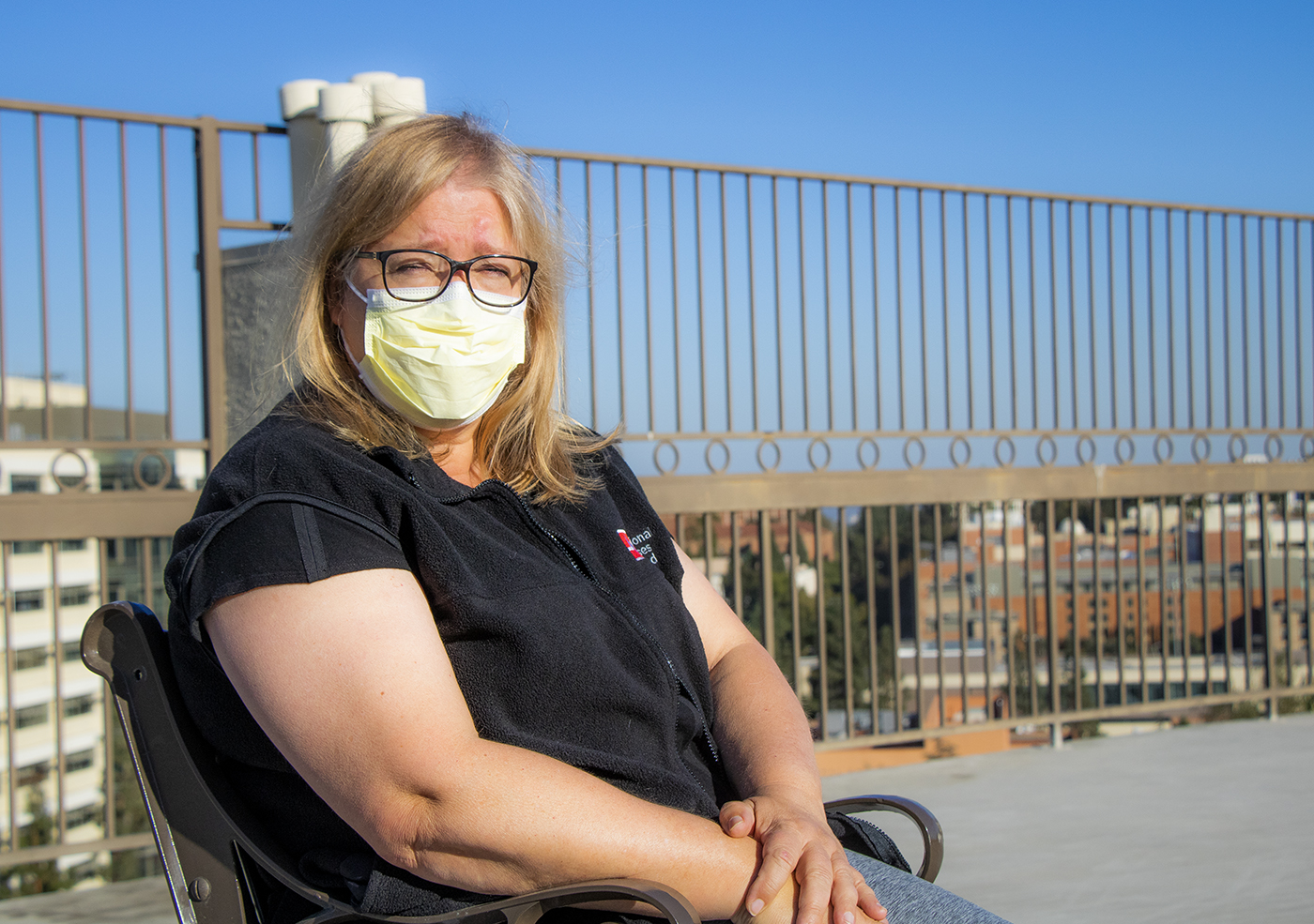 Marcia Santini, a UCLA emergency room nurse, is one of many health care workers experiencing burnout from the pandemic. She said the pandemic may worsen in the upcoming months. (Finn Chitwood/Daily Bruin)
Marcia Santini can't escape the feeling of burnout from the COVID-19 pandemic.
Santini, an emergency room nurse at the Ronald Reagan UCLA Medical Center, is one of many health care workers who is overwhelmed by the pandemic. Santini said the pandemic has only exacerbated the daily stresses of the emergency room – and she only expects things to get worse.
"This storm is about to erupt," she said. "Because in the next month, you're going to see the number of cases just skyrocket."
COVID-19 cases and COVID-19-related hospitalizations in Los Angeles County reached an all-time high in late-November and have continued to increase since.
Intensive Care Unit capacity in Southern California has also decreased – the California Department of Public Health issued a three-week regional stay-at-home order in Southern California after the region dropped to 12.5% ICU capacity remaining.
While COVID-19 cases are rising in the county, Santini said she worries Ronald Reagan UCLA Medical Center may be short-staffed. She and other nurses are working at 100% capacity while emergency room patients have to wait hours to be admitted, she added.
[Related link: UCLA nurses hold vigil to protest working conditions, highlight safety concerns]
Kristen Choi, an assistant nursing professor, said she worries that anxiety associated with the COVID-19 pandemic may drive frontline workers, such as nurses, away from their jobs.
"We are just sort of burning out the few (frontline workers) that we have," Choi said. "A lot of people are wanting to leave (which) is really concerning for the future of our health care systems and also this pandemic for the rest of the winter."
Santini was both fearful and excited when the pandemic started in March – the emergency room and trauma center sprung into action. Then, Santini said, the public gave an abundance of support to nurses, gifting them items such as food and drinks.
"The public was just so gracious and bringing these gifts, so you kind of got spoiled by the love, the outpouring of love," she added.
But now Santini is frustrated – many people do not wear masks or believe the pandemic is a hoax, she said.
"I think about the students, I think about the geriatric patients being isolated and alone," Santini said. "I think about people who've lost their jobs. I think about we as healthcare workers having to put our life on the line every day because of the negligence of people's actions."
Santini said she has gained weight from stress and hasn't been able to exercise because many gyms have been closed because of the pandemic.
As someone in her late 50s with high blood pressure, Santini said she worried about being infected with COVID-19 or spreading the virus to her family.
"I had to take a break for a while and just get away from the emergency room and really put thought into how I was going to do this," she said.
However, with the holiday season approaching, Santini said she expects COVID-19 cases to increase dramatically in LA county. Santini said she didn't know anyone close to her who had COVID-19 as early as three weeks ago, but she now knows several people with COVID-19.
"This virus is moving in closer and closer to me," Santini said.
People should remember the fear of missing out is not the most important issue as they head into the holiday season, said Adrienne Martinez-Hollingsworth, a UCLA internal medicine and health services researcher. The focus should be controlling the spread of the virus, she added.
"As long as you stay in contact with people and remember that the love behind the holiday goes with you whenever you want to celebrate it, then we can postpone some of these things that will prevent us from really getting a handle on the virus," she said.