Editorial: Students must stay cautious over holidays to slow spread of COVID-19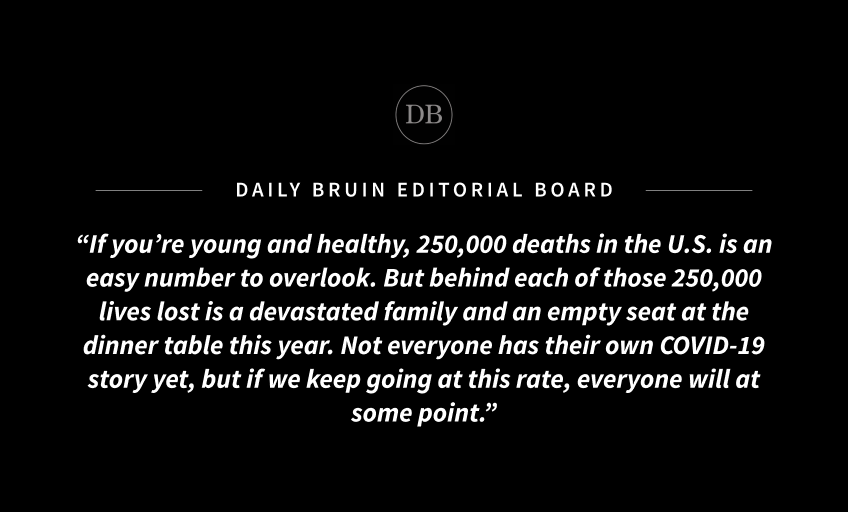 Many Bruins are doing their part to curb the spread of COVID-19.
But to those who are not – consider changing your bad habits now.
Los Angeles County broke a record last week, and not a good one: the county recorded 5,031 new cases of COVID-19 in one day, the highest daily number the county has ever reported.
The same trend of rapid infection has occurred statewide, prompting the county to enact a curfew on non-essential businesses and the state to enact a monthlong curfew on multi-household gatherings.
And while it may be too late to cancel your flight back home, it's worth listening to public health officials' recommendations. Limit travel, stay indoors and avoid hosting and attending multihousehold gatherings. Plan virtual celebrations instead.
UCLA has graciously given students ample opportunities to receive COVID-19 tests. On-campus tests are free for students, and UCLA now offers a mobile testing unit that visits off-campus parking lots to provide accessible testing sites. UCLA is making it easy for students, so consider taking a short study break to ensure you aren't spreading a deadly virus.
Still, one negative test does not give you a free pass. COVID-19 can lie dormant for several days before patients show symptoms or become infectious. And while it varies from person to person, the virus can be contagious even when one is asymptomatic.
Realistically speaking, presenting facts and evidence won't change someone else's bad habits, especially for a demographic as stubborn and fun-loving as college students. An off-campus Halloween gathering that led to at least 20 COVID-19 infections – that we know of – shows just that.
But before you leave one of the nation's COVID-19 hotspots, at least consider the stakes.
No one said spending your early adult years inside was easy. Online learning isn't fun, and hanging out with your closest friends next door is always tempting.
Because for many people, COVID-19 is more than a general annoyance in everyday life. If you're young and healthy, 250,000 deaths in the U.S. is an easy number to overlook. But behind each of those 250,000 lives lost is a devastated family and an empty seat at the dinner table this year. Not everyone has their own COVID-19 story yet, but if we keep going at this rate, everyone will at some point.
Vaccine trials are looking more promising by the day, but the pandemic is far from over. Don't get too complacent. Others are counting on you.
Wear a mask. Stay inside.