UCLA launches COVID-19 mobile testing program for local Bruin community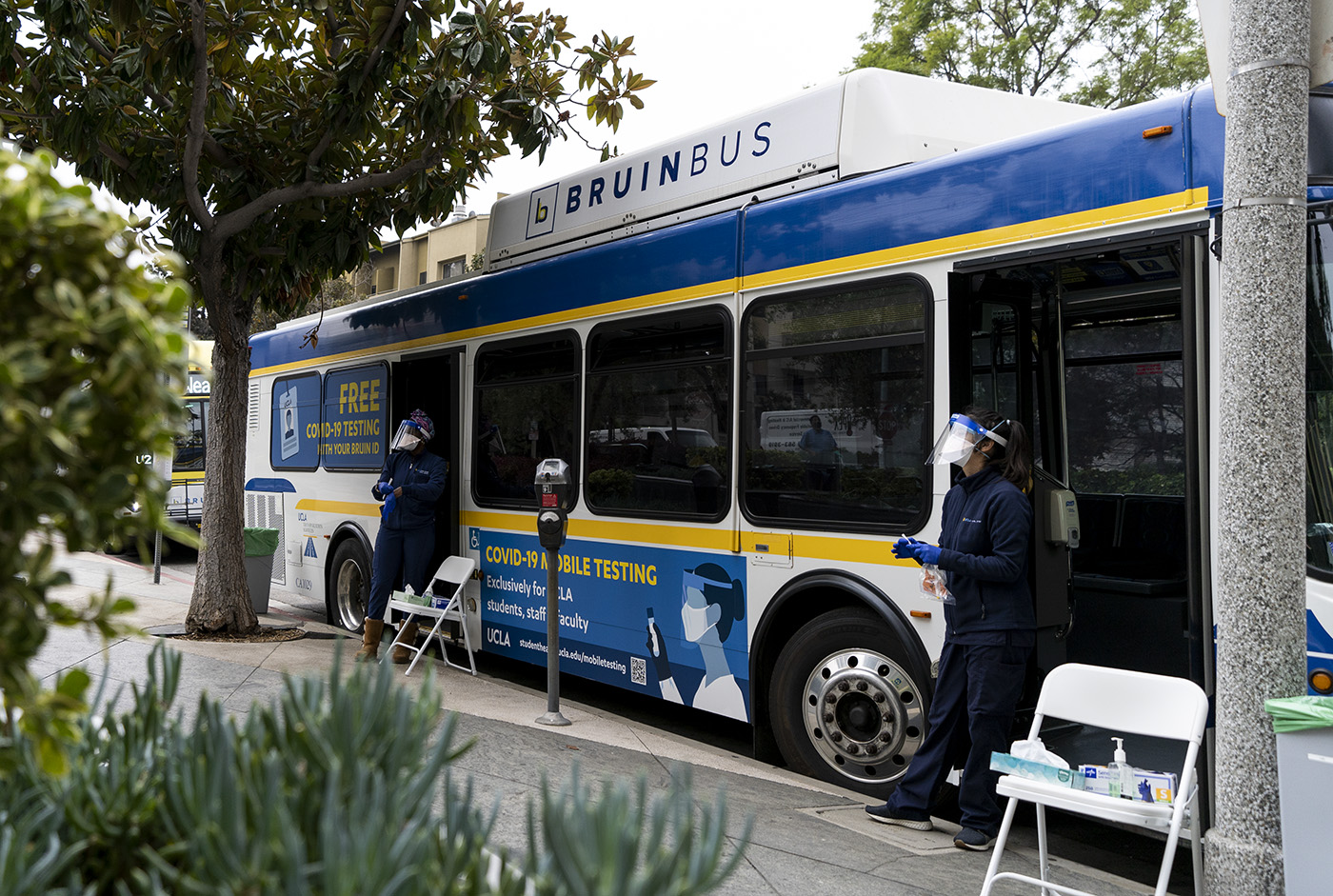 UCLA is offering a bus where students, staff and faculty can receive COVID-19 tests. (Amy Zhang/Daily Bruin senior staff)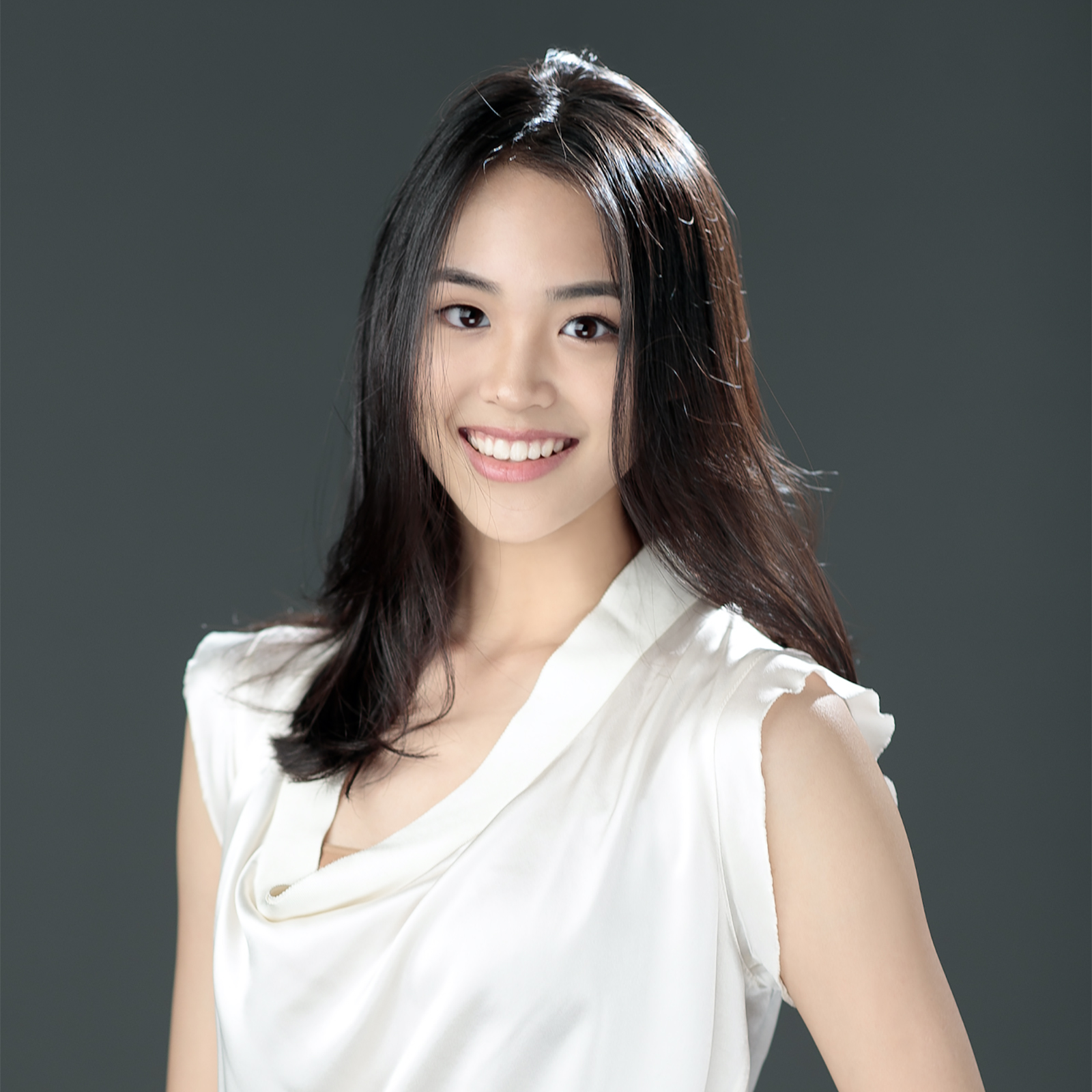 This post was updated Nov. 22 at 6:49 p.m.
UCLA is offering a mobile COVID-19 testing site for students, staff and faculty via a bus that travels to off-campus locations.
The program, which was a collaborative effort between the Arthur Ashe Student Health and Wellness Center and the UCLA Events and Transportation, recast a spare BruinBus into a mobile testing bus that parks at locations where students live, said John Bollard, the interim co-executive director of Student Health Services.
The mobile testing bus parks at six different off-campus locations Monday through Thursday in the daytime, during which members of the UCLA community can go to self-administer a nasal swab test.
On Wednesday, the bus parked at the entrance of Wilshire Center beginning at 8:30 a.m. Two health care workers oversaw self-tests on either side of the bus. Those being tested were asked to pull down their masks just enough to cover their mouths while rotating the swab in their nostrils.
The Ashe Center also provides free testing at three locations on campus – Covel Commons, John Wooden Center and Switzer Plaza.
Bollard said the primary purpose of the bus is to make testing more accessible for students who live off-campus.
"We didn't want to encourage people to come into a closed campus to get testing, so we wanted to figure out a way to take testing to them," Bollard said. "The goal is to remove as many obstacles (to testing) as possible."
According to Bollard, around 150 people visit the mobile testing site each day.
[Related link: UCLA implements weekly COVID-19 testing for people who attend class, work on campus]
Bollard said that the program was designed to target students who live in university-owned housing and are required by UCLA to get tested every five to nine days. UCLA Events and Transportation used a heat map that determined where large groups of students live, Bollard added.
Meghana Maddela, a materials science and engineering graduate student who lives in a university-owned apartment near Keystone-Mentone apartments, where the bus parked Thursday morning, said that getting tested at the mobile site is a more convenient option than going on campus.
"This (mobile testing) is much more comfortable to do because I live right here," she said.
Maddela said it took her 25 minutes by bus to get to campus the last time she got tested, adding that she now plans to frequent the mobile site to complete mandatory routine testing.
Bollard said the program is still in its initial stages and will make adjustments to accommodate the needs of the UCLA community.
"We're constantly looking to see how many people are testing there, how easy it is to set up the bus, how interested are people in coming there to test," Bollard said. "But we want to get it set soon so that people can predict week-to-week where it's going to go."
The mobile bus program will run as long as there is a demand for it, Bollard said.
[Related link: UCLA to offer free COVID-19 tests to all students at Ashe Center]
Bollard said that UCLA may open more testing sites in the near future. The Ashe Center is consulting a business association in Westwood about using vacant storefronts in Westwood for pop-up testing, Bollard added.
All COVID-19 tests conducted at UCLA are self-collected mid-nasal swabs supervised by health care workers who observe testing and answer any questions patients may have, Bollard said.
Timothy Brewer, an epidemiology professor who specializes in infectious diseases, said self-collected mid-nasal swabs can be just as accurate as the deep-nasal swabs that can only be administered by health care professionals.
"Test accuracy depends on the quality of the sample, how the sample has been handled and stored and the performance characteristics of the test itself," Brewer said. "There's no downside (to a mobile testing site) as long as people follow instructions and (health care workers) are storing the specimens appropriately."
Still, self-collected samples can be faulty if the person receiving the test does not follow instructions properly, he said.
However, since the onset of the COVID-19 pandemic, advancements in testing technology have lessened concerns over the accuracy of self-collected tests, Brewer said.
"The well-done (tests) seem to be running as high as 98% (accurate), (and) most of the literature is quoting somewhere between about 80% and 98%, depending on the particular test that's being used," he said.
Bollard added that self-collected tests also allow for a much greater number of tests without the need for healthcare professionals to administer tests.
"Regular testing, when combined with contact tracing and isolation, is really the best way to limit the spread of the virus," he said. "The more testing, the better."
For more information visit: https://www.studenthealth.ucla.edu/mobiletesting