Opinion: UCLA needs a plan for COVID-19 vaccine distribution to protect student health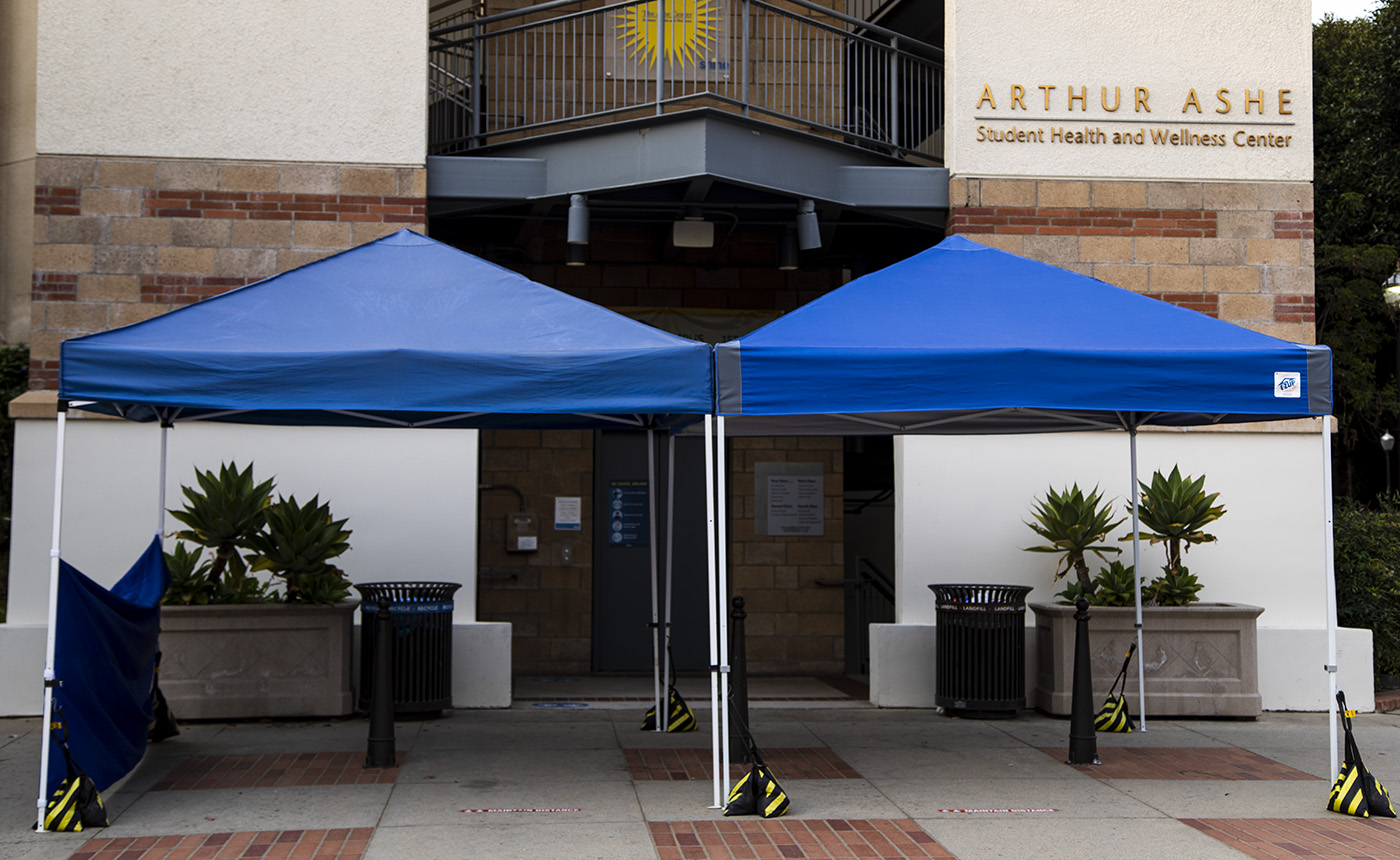 Recent news about effective COVID-19 vaccines may mean Bruins can return to campus sooner than expected. But if UCLA isn't prepared to monitor students' immunization records and increase access to vaccines, an outbreak could endanger the community's health. (Justin Jung/Daily Bruin senior staff)
A return to campus may not be far for screen-fatigued Bruins.
Pharmaceutical and biotechnology companies like Pfizer and Moderna have recently announced promising results from their COVID-19 vaccine trials. Pfizer claims their vaccine is 95% effective and lacks significant side effects, while Moderna's vaccine is said to be 94.5% effective.
Regardless of when a vaccine is approved for public use, one thing is for sure: UCLA must create a thorough plan to make sure every person returning to campus has been vaccinated. The university should require the Arthur Ashe Student Health and Wellness Center to consistently monitor students' immunization records while more proactively contacting students who have failed to meet the necessary requirements. This is not unusual to ask given that the school already monitors vaccination requirements for diseases like measles, pertussis and meningitis.
But the first thing it needs to do is make sure every Bruin can receive a vaccine.
Naomi Riley, a fourth-year political science student and the Undergraduate Students Association Council president, said that if UCLA mandates students to get a COVID-19 vaccine, they should provide them with access too.
"I think the biggest thing is making (the vaccine) readily available for students and making it free for students so that they don't have to go out of their way to pay for it," Riley said.
Pfizer and BioNTech have proposed an initial price of $19.50 per dose, which would total $39 given that the vaccine is expected to require two doses. However, for students facing job loss and loans, this may be a formidable economic barrier.
For this reason, UCLA needs to make sure it is putting resources in the right places to provide all students with the vaccine.
The university can't afford to have a COVID-19 outbreak once students return. And its history of dealing with infectious diseases on campus does raise the question of whether they have the correct protocols in place to effectively protect students.
In April 2019, the Los Angeles County Department of Public Health classified UCLA as a site for potential measles exposure. At the time, the university did not have immunization records for 25% of its student population. Many fourth-year students at the time weren't required to provide documentation upon their enrollment.
While the university did fix this problem by contacting students through the Ashe Center Patient Portal, the event highlighted multiple problems with UCLA's response to the potential of infectious disease outbreaks. UCLA should have been monitoring which students hadn't provided vaccination information before there was an outbreak. Additionally, the inefficiency of the Ashe Center Patient Portal means that many of the messages go ignored – something that could cripple efforts to prevent a COVID-19 outbreak.
If administrators fail to address these shortcomings, they could find themselves dealing with a much worse situation.
While the Ashe Center has an acceptable system that tracks student's vaccinations, it's far from perfect. All incoming students are required to self-report their immunization records by uploading documentation of their vaccines to their patient portals. But given the portal's failings during the measles outbreak, it is clear that an overhaul is needed to improve the ability of the Ashe Center to track and reach students who are susceptible to infection or need additional vaccinations.
Regular monitoring is key.
UCLA spokesperson Katherine Alvarado said in an emailed statement that once a COVID-19 vaccine is approved by the Food and Drug Administration, UCLA will work with the California Department of Public Health and the University of California Office of the President to formulate treatment plans and policies for the campus community.
But the university shouldn't wait for approval to devise an actual plan. A system should already be in place for once a vaccine is ready for the public, especially since that may not be far off.
There are cracks in faulty systems and a lack of caution that have led to UCLA's prior mishaps in disease control. These must be eliminated.
James Cherry, a distinguished research professor of pediatrics at the David Geffen School of Medicine, has studied infectious diseases and epidemiology for more than 40 years. He said that with strong systems, UCLA and the country have the potential to reduce the threat of COVID-19.
"If we have a vaccine, if we are able to get it to everyone and if people take it, it's a real possibility that we can stop the circulation in the United States," Cherry said.
As of now, UCLA only allows medical exemptions for vaccinations for the standard immunization requirements. Cherry said he doesn't think this should be cause for concern for people who may have health concerns.
However, this ideal scenario will only work if institutions create robust strategies to ensure everyone gets the proper vaccinations they need. Tracking people's immunization histories will be vital given that some of the potential vaccines may need to be administered in two doses.
The future of the nation is in the hands of major pharmaceutical companies, but it's also in the hands of institutions like UCLA that should already be working on future plans to facilitate safe procedures for its students.
For now, all students can do is hope their university takes this responsibility very seriously.