Obituary: Lifelong advocate for cancer education and research dies at 91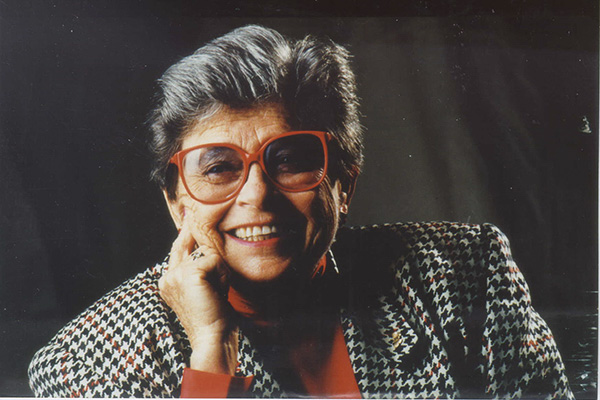 Helene Brown, a UCLA alumna and a board member of the UCLA Jonsson Comprehensive Cancer Center, died Oct. 7. Throughout her life, she advocated for cancer research and education. (Courtesy of UCLA Jonsson Comprehensive Cancer Center)
Helene Brown managed to fit 200 years worth of work in cancer activism and education into 91, said Jeff Brown, her son.
Helene, a UCLA alumna and former board member of the UCLA Jonsson Comprehensive Cancer Center, died Oct. 4 at the age of 91.
She is survived by her sisters, Naomi Goldrich and Midge Solomon, and her sons, Jeff Brown and Brian Brown. Helene's memorial service took place Oct. 7 at Mount Sinai Memorial Parks and Mortuaries.
Helene started her work in the 1950s. After discovering Pap smears were tests for cervical cancer from a trip to the doctor's office, Helene invested herself in raising awareness among women about the importance of the test, according to a 1997 Los Angeles Times article.
In 1955, she collaborated with the American Cancer Society to rent out movie theaters in small towns to show a free educational film about Pap smears and cervical cancer. The program packed theaters for years in states like Nevada and Oklahoma, Jeff said.
Cervical cancer used to be the leading cause of death among women in the United States, according to the Centers for Disease Control and Prevention. Deaths from cervical cancer have decreased over the last 40 years as more women started getting regular Pap tests, the CDC said.
Helene was an integral part in the creation of the ACS cancer testing guidelines for doctors in the 1980s, according to the LA Times. The guidelines helped doctors determine which types of cancer tests they should provide to their patients, the article said.
She was also an anti-tobacco and anti-smoking advocate. Helene served as the co-chair of the American Stop Smoking Intervention Study, a program funded by the National Cancer Institute and the ACS. In addition, she was an advisor to the State Department of Public Health's Tobacco Control Program.
Helene helped fundraise for the creation of the JCCC, where she served as the director of community applications of research and board member, according to an obituary by UCLA Health. The JCCC is known for cancer research, diagnosis and prevention.
Helene was also a talented public speaker, Jeff said.
"She had a gift," he said. "She could walk into a room and go up to the podium and start speaking. In three minutes, you couldn't hear anything in the house. Everybody was listening to my mom. She held attention for an hour and nobody walked out."
Helene never stopped pushing for cancer research and education, said Mike Franks, Helene's colleague from 1977 to 1982.
Even at the age of 90, Helene tracked death rates and research for different forms of cancer, Franks said.
Outside of her cancer education and research advocacy, Helene did whatever she could to help those around her, friends and family said.
"She would do favors for everybody so if she ever asked you for a favor, you would be thrilled to help her," Franks said. "She was that kind of person."
Growing up, Jeff said, his mother wished nothing for him but happiness.
"She always said, 'I want you to be happy,'" he said. "'Do what you want to do and be happy.'"
Candace Baker, the daughter of one of Helene's lifelong friends, said when her mother was sick, Helene once gave her more chicken soup than she could carry. She was incredibly generous, Baker said.
Before Baker's mother passed away, Baker said her mother asked Helene to take care of her. And she did. Helene purchased Baker the house she still lives in to this day, Baker said.
"I think (my mother) meant take me to lunch, not give me a house," she said.
Helene was also passionate about the outdoors and adventure, Jeff said.
Jeff said his fondest memory growing up was taking a year-and-a-half-long road trip with his family. They traveled several thousands miles – from Lake Mead to the city of Fairbanks in Alaska. His childhood and his parents' marriage were perfect, he added.
Helene and Bob Brown, Helene's husband, also owned a plane, which they often used to travel, Franks said.
Once, Bob and Helene were flying West on their way home from Kansas, but rather than following their maps, they decided to follow the highway and see where that would lead them, Franks said.
Helene remained adventurous until she passed away.
Franks said he remembers the excitement Helene had on her 50th birthday when she received a pair of white roller skates. On that same day, she decided to roller skate four blocks up and down Wilshire Boulevard in LA, Franks added.
Helene could not stand living in a retirement home because she felt like she was waiting around to die, Franks said. She moved to a retirement home in Oregon for a year until she decided to return to LA for the city's noise and to drive on Wilshire Boulevard, Franks added.
Helene also had a great sense of humor, friends and family said. She often joked that she married Bob solely for his car, Franks said.
Baker said she remembers when Helene and Bob were on vacation, Helene tricked a stranger into believing the fake coins, which she received as part of a company's promotion, were real. The stranger didn't realize she was joking until after he went to a coin dealer, she said.
Helene's friends and family said they will remember her for all she was.
"She was a super woman, just extraordinary," Jeff said. "She made a difference. She made a lot of people's lives better."