Hundreds of protesters march to Azerbaijani Consulate demanding justice for Armenia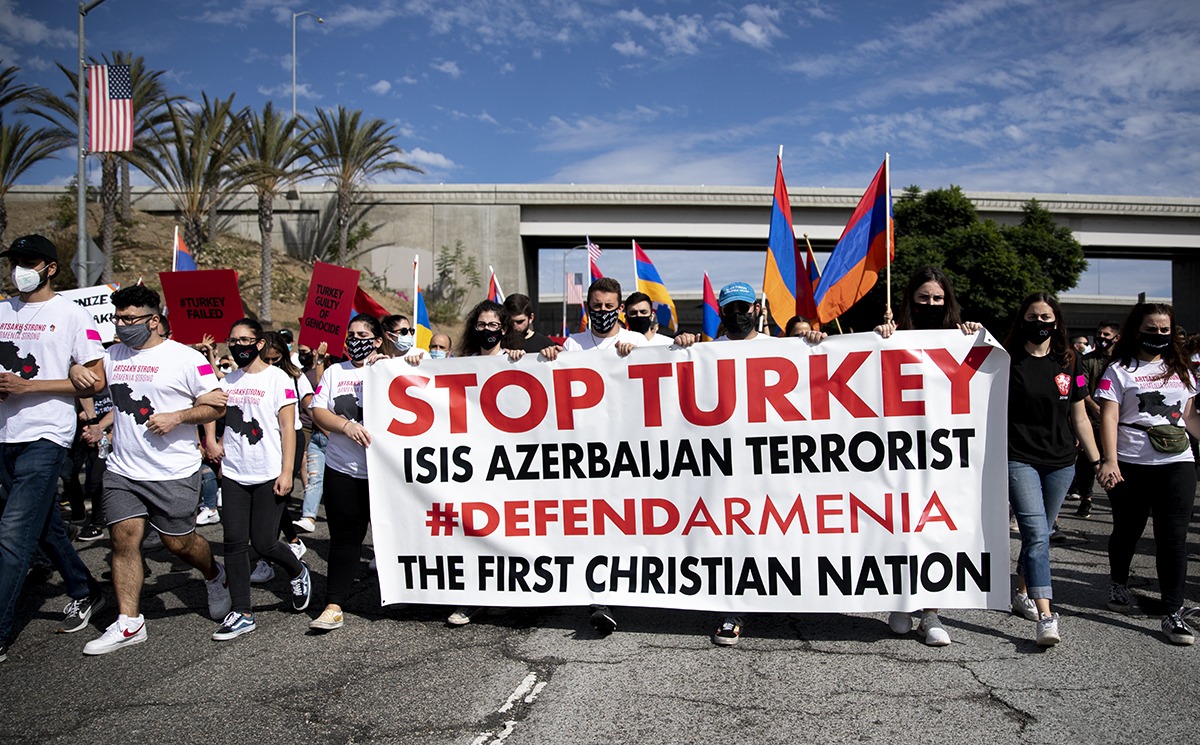 Members of the Armenian Youth Federation hosted a week-long hunger strike and a march to draw attention to the conflict between Azerbaijan and Armenia. (Tanmay Shankar/Daily Bruin senior staff)
A group of Armenian Americans marched to the Azerbaijani embassy after a week-long hunger strike to draw attention to the Armenia-Azerbaijan conflict.
Members of the Armenian Youth Federation, a global Armenian organization, set up tents adorned with Armenian flags and banners on the corner of Wilshire Boulevard and Veteran Avenue on Sunday in response to the escalating armed conflict. Many AYF members and demonstrators were UCLA students or alumni.
Ten Armenian Americans participated in the hunger strike with the hopes of bringing attention to the Nagorno-Karabakh conflict. Each day, the strikers gave a letter stating their demands to those working inside the Federal Building. Passing the time by working from their camp, the hunger strikers drank only water for seven days in an effort to send a message of solidarity with Artsakh and its people.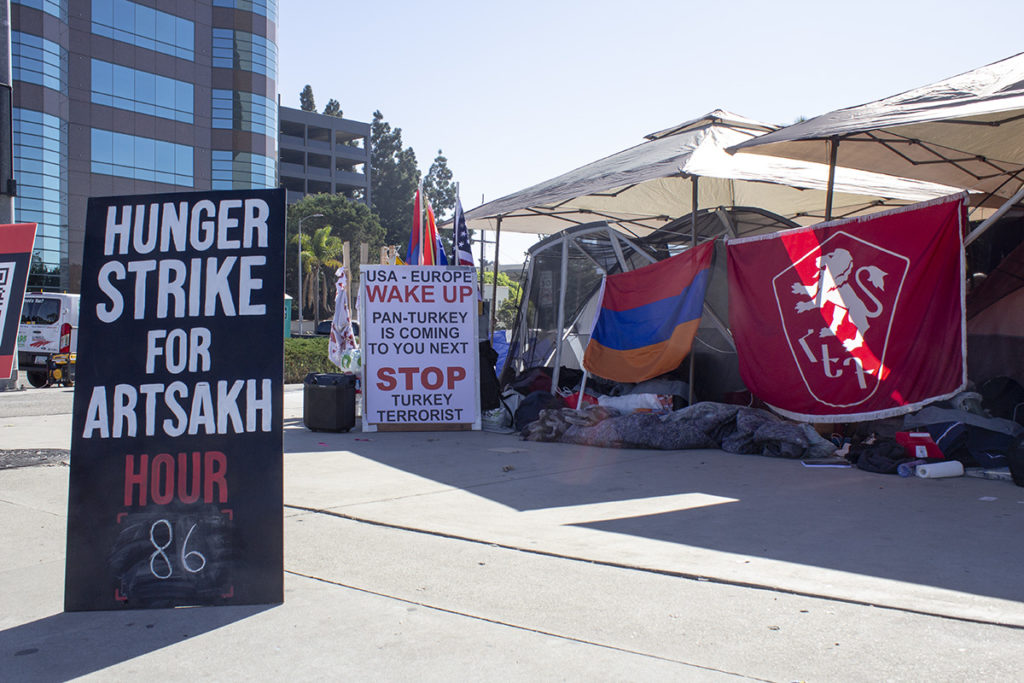 After six days of fasting, the AYF hosted a demonstration as a march from the hunger strike's site at the Federal Building to the nearby Azerbaijani Consulate.
Hundreds of people came to the hunger strike camp to show support for the strikers and march to the consulate.
Chants in Armenian of "Fight until the end" rang through the streets as they marched westward about 1 mile to the corner of Granville Avenue and Wilshire Boulevard, where speakers spoke out in support of Armenia and international sanctions on Turkey and Azerbaijan.
The demonstrators marched down Wilshire Boulevard waving flags, signs and banners in support of Artsakh. Police blocked off the planned Wilshire Boulevard route to allow demonstrators to march.
Los Angeles City Councilmember David Ryu spoke on stage outside the Azerbaijani Consulate. He said that government elected officials in Washington, D.C., need to respond to the conflict.
"We need to bring more attention to this matter because this is unacceptable," Ryu said. "This is not about land. This is about trying to destroy a people, destroy a culture. To try to re-spark a genocide, that is unacceptable"
Hasmik Burushyan, one of the strike's organizers and a recent UCLA graduate, said the hunger strikers demand the United States government recognize the Federal Republic of Artsakh and place sanctions on Turkey and Azerbaijan.
A predominantly Armenian-populated enclave internationally recognized as part of Azerbaijan, Nagorno-Karabakh, also known as the Republic of Artsakh by Armenians, recently reemerged on the global stage as a point of contention between the two nations after fighting broke out Sept. 27. The fighting continues today.
[Related: UCLA community responds to ongoing conflict between Armenia, Azerbaijan]
Relations between Armenia and Turkey have been bitter since the 1915 Armenian Genocide, in which the Ottoman Empire killed almost 1.5 million ethnic Armenians. Turkey and Azerbaijan, both Turkic nations with strong historical and ethnic ties, remain close allies. In the reemerging conflict, Turkey sent military aid to Azerbaijan, according to the Associated Press.
Several government officials came to the hunger strike throughout the week to show their support, including California Sen. Anthony Portantino, California Assemblymember Laura Friedman and Glendale Councilmember Ardy Kassakhian.
"It's great to have them (come visit) because they amplify our voices to the federal government," Burushyan said. "That's our target at the end of the day. We want the U.S. nationally to recognize Artsakh and put those sanctions on those regimes."
The United States is a co-chair with other nations as part of the Minsk Group, a conference to encourage a peaceful, negotiated resolution to the conflict between Azerbaijan and Armenia over Nagorno-Karabakh. The Minsk Group was created in 1994 to encourage a peaceful, negotiated resolution to the conflict between Azerbaijan and Armenia over the Nagorno-Karabakh region.
Puzant Berberian, an AYF organizer, said he thinks the United States must hold Azerbaijan and Turkey accountable by placing sanctions on the two regimes.
"The only way to ensure peace and stability is to recognize Artsakh's independence now," he said.
Aram Manoukian, a chairperson of the AYF and a UCLA alumnus, said the U.S. recognizing Artsakh would be a step toward long-term peace.
"The cluster strikes on civilians, the beheadings, it's against U.S. values," Manoukian said.
Vehik Gabrielian, a protester, said the conflict is about more than just land.
"Artsakh is Armenia," she said. "There is so much Armenian culture and historical importance there."
Maggy Armenian, another protester, said she wants the world to know that Armenia and Artsakh need the world to protect them.
She said the preservation of Armenian culture is so important to its diaspora because there are more Armenians that have emigrated to various countries than there are currently living in the nation itself.
"The moment our kids are born, they learn of all our fights, victories, the genocide," Armenian said. "Their heart is with Armenia."
Martin Adamian, an Armenian Students Associationmember and a fourth-year history student, said the unique national pride that Armenian children grow up with is handed down from older generations.
He said a survival mentality as a result of the 1915 genocide was a great boost to national pride and gave them the confidence to stop another genocide from happening.
"History is repeating itself, and we're facing the same risk of ethnic cleansing against our people in their historical land," he said.
Many demonstrators said they were displeased with Turkey and Azerbaijan's actions.
"Azerbaijan's purpose in this is not for land; they're working with Turkey to start another genocide, and (the Turkish President Recep Tayyip) Erdoğan is behind it," Armenian said. "The world is watching another genocide happen."
AYF representative Alique Cherchian spoke in front of demonstrators about how Turkey must stop contributing to ethnic violence against Armenians.
"Just this week in France, hundreds of ultra-nationalist Turks flooded the streets into the night, flashing their gray wolf symbols (and) chanting hateful slogans to encourage harm to the Armenian people," Cherchian said. "We are living in the 21st century. Enough is enough. Stop."
Cherchian said Turkey's support of Azerbaijan is to blame for the violence.
"(Erdoğan) sponsored (his) puppet dictator (Azerbaijani President Ilham) Aliyev, represented by this very building to fully engage in offensive aggression and commit heinous war crimes, every single day in the middle of a global pandemic," Cherchian said.
Many demonstrators said although they have never been to Armenia, they stand proudly in solidarity with their cultural homeland.
"We must continue to fight, and we will not stop fighting until our last breath," Berberian said. "We must never stop demanding that Artsakh's independence and sovereignty be recognized internationally."