USAC recap – Oct. 27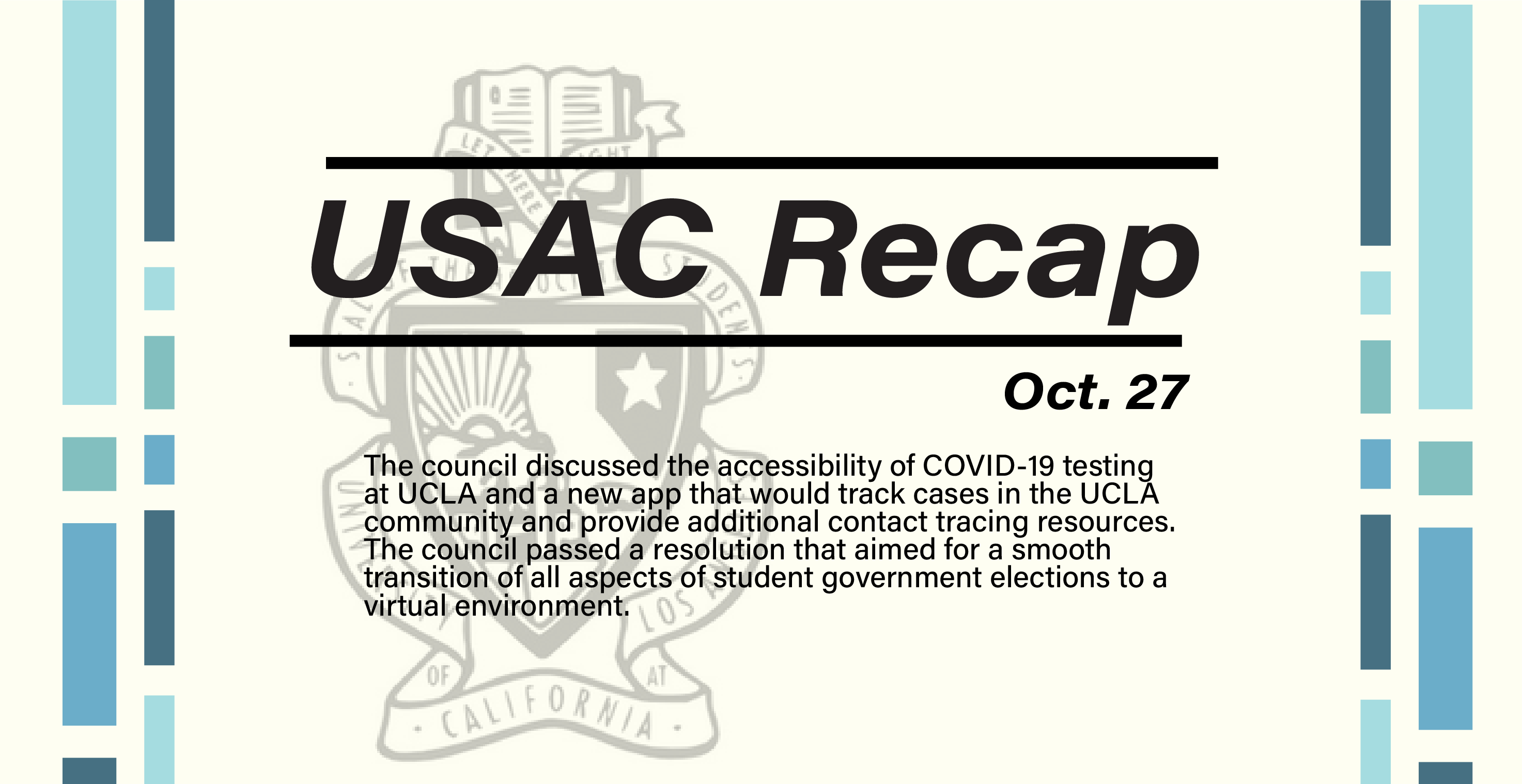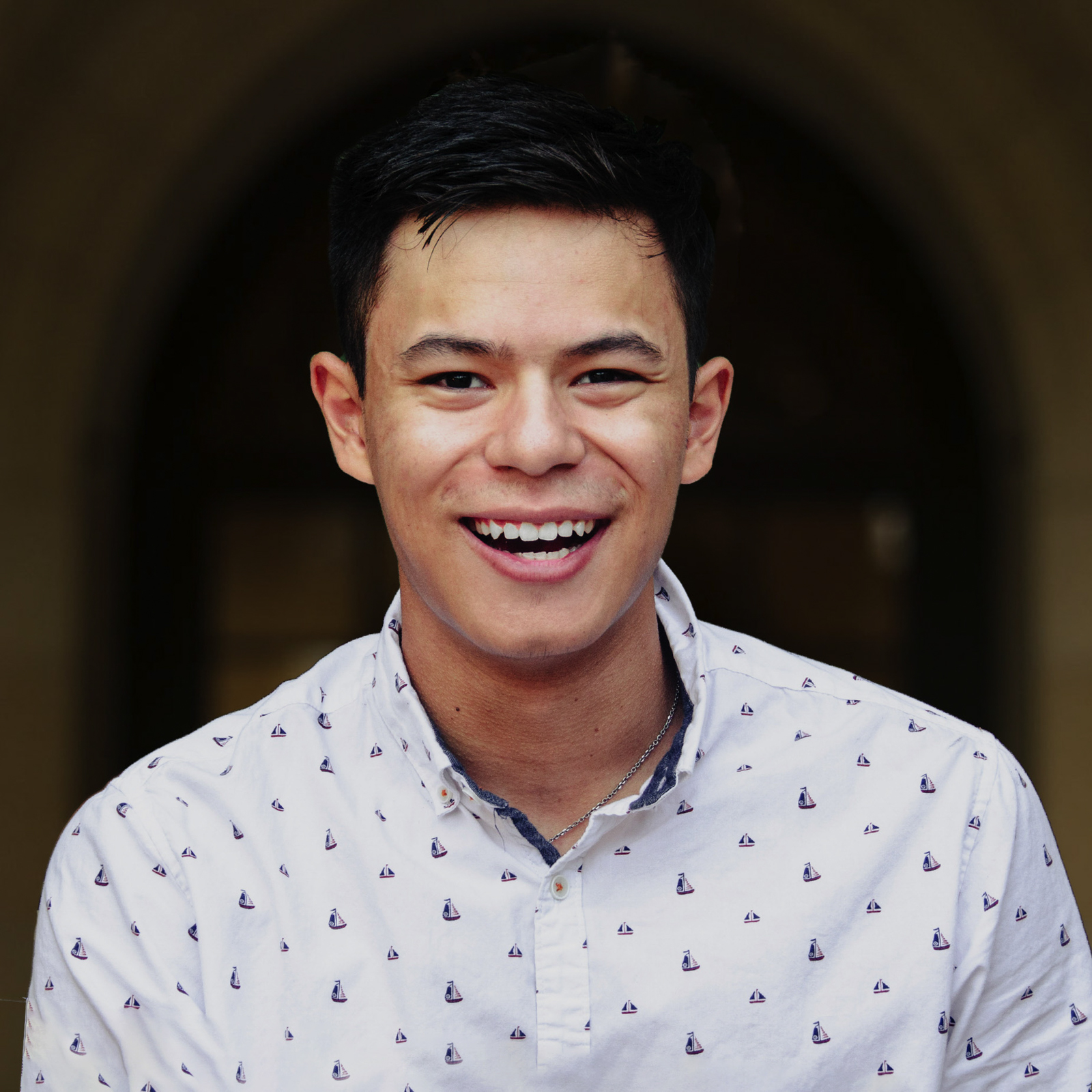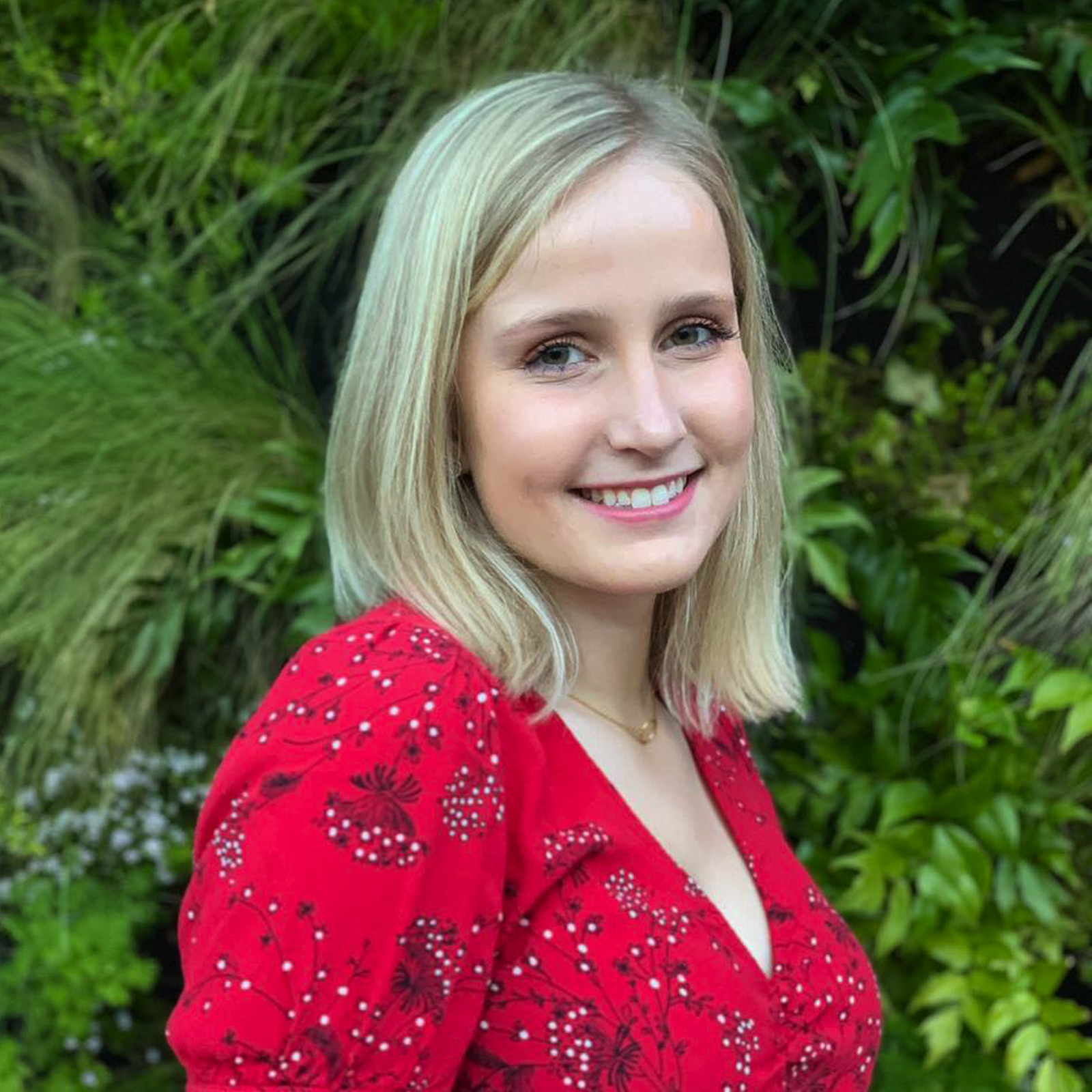 The council discussed the accessibility of COVID-19 testing at UCLA and a new app that would track cases in the UCLA community and provide additional contact tracing resources. The council passed a resolution that aimed for a smooth transition of all aspects of student government elections to a virtual environment.
Public Comment:
Alfred Tun, the Undergraduate Students Association Elections Board chair, said campaign graphics can be submitted starting Nov. 6 to publish to the student body, he added.

Hannah Regan, the Office Space Allocation Committee chair, said OSAC will allow student groups with offices in Kerckhoff Hall to retrieve any urgently needed items from their offices. Regan said she will send out a Google form to coordinate pickup times.
Special Presentations:
John Bollard, the co-executive director for the Arthur Ashe Student Health and Wellness Center, said UCLA expanded weekly mandatory testing to everyone who learns, lives or works on campus. Students living in De Neve Birch Hall, where there was a COVID-19 outbreak, will be tested twice a week, Bollard said. The Ashe Center looks to use vacant retail spaces in Westwood to provide more testing locations, Bollard said. UCLA will implement a mobile contact tracing app in three weeks, he added.

Lisa Koerbling, the director of commuter and parking services at UCLA said CPS is working to expand telecommunication resources and is reviewing internal and external drivers of change in the transportation industry. CPS added signs around campus reminding the public to wear masks and maintain physical distance. CPS also automated walk signals so pedestrians do not need to push the walk button to cross the street, Koerbling added. She also said CPS will expand intersection curbs to add more room for pedestrians to queue at busy intersections. Koerbling said the COVID-19 pandemic has decreased CPS' annual revenue from $55.1 million to $22.5 million. CPS expects to recover the revenue loss by 2022 and 2023, she added. When asked about the USAC resolution calling on UCLA to give students experiencing homelessness a location to sleep in their cars in parking structures, Kroebling said campus administration is committed to finding a workable solution to students experiencing homelessness.

Amy Doyel, a representative for Listeners on Call, a mental health app that allows students to anonymously contact other people who share their experiences, said Listeners on Call will give students $20 in credit, which amounts to 40 minutes of talk time. Beyond the credit, users are charged $0.50 per minute of call time. Doyel said Listeners on Call is not meant to replace counseling, adding that the app is meant to provide students a space to express challenges they are going through.

Abraham Cruz Hernandez, a third-year public affairs student and a chair of Improving Dreams Equality Access and Success at UCLA, an organization supporting undocumented students, said the organization is demanding UCLA include a plan for upcoming DACA decisions, resources for undocumented students, financial aid for students and protection for students and workers. Cruz Hernandez said UCLA has created 10 fellowships for undocumented students and is working on creating academic fellowships.

Tun, the Elections Board chair, said many academic departments have not responded to the Elections Board's requests to send informational messages about student government elections to students. He added he hopes to improve the turnout rate, which averages around 30%. Tun asked USAC to support the resolution in support of the election board's engagement initiative.
Allocations:
The council allocated $195 to Vietnamese Community Health at UCLA for the fall 2020 Health Fair.

The council allocated $546.67 to Cadenza A Cappella for the Cadenza Escape Room Social.

The council also allocated $21.76 to Cadenza A Cappella for the Cadenza Arrangement workshop.

The council allocated $120 to the Alumni Scholars Club for Mask-Making with Alumni Scholars Club.
Resolution:
The council passed a resolution in support of the election board's engagement initiative in a vote of 9-0-0. The resolution addresses low turnout in recent student government elections and adapts the voting process to an entirely virtual environment. The resolution requires departments to email their students about student elections. It also mandates the support of the IT department to collect electronic signatures from all students.
Agenda
The application for the Arts Restoring Community fund will be open until Nov. 7 at 11:59 pm. After the application is sent in, groups will have a hearing and ARC will then determine how much funding the group receives.

The Green Initiative Fund is reviewing 25 applications for more than $150,000. So far, $2,368 has been allocated to Bruin Home Solutions and $6,275 to the Basic Needs Bundle Project. Applications for student organizations to receive up to $1,000 in funds are due Friday.
Appointment
Tun appointed Mariah Lima-Kuderer, a third-year political science student, as the elections board vice chair. Lima-Kuderer said she wants to make sure student elections are fair and accessible, especially in a remote format. She said she plans on improving outreach to underrepresented students and hopes to reduce the amount of signatures needed to add propositions to the ballot.

Tun appointed Caroline Halloran, a third-year political science student, as the director of marketing of the elections board. Halloran said she seeks to promote election transparency and improve USAC's election accessibility by educating students about items on the ballot.

The council appointed Angel Aguilar, a fourth-year political science student, to the community service mini fund. Aguilar said he plans to focus on projects that will help communities in need.

The council appointed Megana Sekar, a fourth-year political science student to the Communications Board. Sekar said she seeks to support all student media outlets to further their mission statements. She said she will provide equitable representation for all media outlets, magazines and publications on campus. Sekar was an editor at the Daily Bruin in the 2018-2019 school year.

Sachi Cooper appointed Ambrose Ngo, a fourth-year sociology student to the John Wooden Board of Governors.
Reports:
President Naomi Riley said her office met with the Student Leadership Association of California to discuss outreach to local Los Angeles student governments. She added that her office scheduled a meeting between the UCPD, student leaders and the Office of Equity, Diversity and Inclusion. She also said her office will create a guide for the Office of Fraternity and Sorority Life to help students in Greek life report positive COVID-19 tests. Riley said her COVID-19 advisory team is pushing for the administration to be more transparent.

Internal Vice President Emily Luong said her office is working with the Post-Election Task Force to create a student resources guide that will cover mental health resources, protest rights and academic leniency requests among other things. She added that she will release a transparency report by the end of this week and scheduled a meeting on Nov. 9 with the EDI office to discuss University of California policing and campus safety.

Academic Affairs Commissioner Breeze Valazquez said her office is trying to extend the deadline to change a grading scheme to pass/no pass to the end of week nine for winter quarter, rather than the university's proposed week six deadline. Valazquez said she will post academic senate resource guides for students struggling with the stress of school in the COVID-19 pandemic. She added she will meet with AACs from all UC schools to discuss how to make learning in the remote setting more accessible.
The Undergraduate Students Association Council is the official student government representing the undergraduate student body at UCLA. Council meetings take place every other Tuesday at 7 p.m. during fall quarter and are open to all students. Fall quarter meetings will take place virtually on Zoom; links for the meetings can be found on the Internal Vice President's Facebook page. Watch a livestream of the meetings on the USAC Live! channel on YouTube.