Editorial: UCLA should provide a timeline of when plans for future quarters will be announced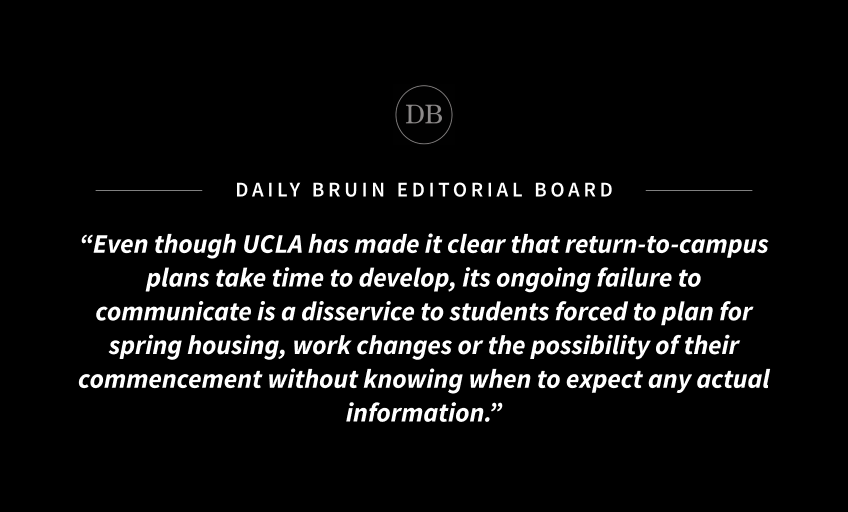 This post was updated Oct. 25 at 6:57 p.m.
Since March, UCLA students have received life-altering emails dictating where they will live, study and work for the 2020-2021 academic year.
But the timeline for receiving these emails has been a complete guessing game.
Changes in campus operations, housing and academic policies have upended students' lives at all hours of the day, on all days of the week and all without warning. The university notified students of a fully remote spring quarter three days before the start of winter finals week. Students received news of a mostly remote fall quarter more than three months before the start of fall quarter – plans that have understandably but continually changed.
Assuming plans are not set, administrators can at least meet the bare minimum of announcing a definite timeline for announcements.
It isn't unreasonable for UCLA to do this. Universities such as UC Berkeley, the entire California State University system and the University of Southern California have already announced plans for their spring semesters. Even though UCLA has made it clear that return-to-campus plans take time to develop, its ongoing failure to communicate is a disservice to students forced to plan for spring housing, work changes or the possibility of their commencement without knowing when to expect any actual information.
Furthermore, the university's relative silence on the next two quarters is at odds with what has already been said.
UCLA has already extended staff's work-from-home period until the end of the 2021 winter quarter. If the university has deemed it unsafe for workers to be on campus, it seems inevitable that the extension will apply to students as well.
For student workers in temporarily remote jobs, the lack of structured messaging from administrators means not knowing when their job requirements might switch. Many of these students are already facing reduced hours and financial stress – more uncertainty just adds insult to injury.
And with winter enrollment fast approaching, students deserve to have a better idea of where they'll be taking classes and whether that means shelling out for an apartment in Westwood.
Given that 2020 has been met with unprecedented events at every turn – the university has been at the mercy of the Los Angeles County Department of Public Health's regulations – asking UCLA for an exhaustive plan may be asking for too much.
UCLA might be trying to avoid its mistakes it made when announcing fall plans – the university changed its fall quarter plans three separate times. There is some merit to the cautionary approach. Schools that have jumped the gun on reopening have often dealt with COVID-19 clusters that led to abrupt reversals to remote instruction.
But something as simple as a timeline of when students can expect decisions would offer the flexibility administrators want and the security students deserve.
Students have been forced to confront a litany of uncertainties ever since their lives were upended by the pandemic. UCLA shouldn't add to that pile.