Opinion: UCLA needs to support mental well-being of Bruins studying environmental sciences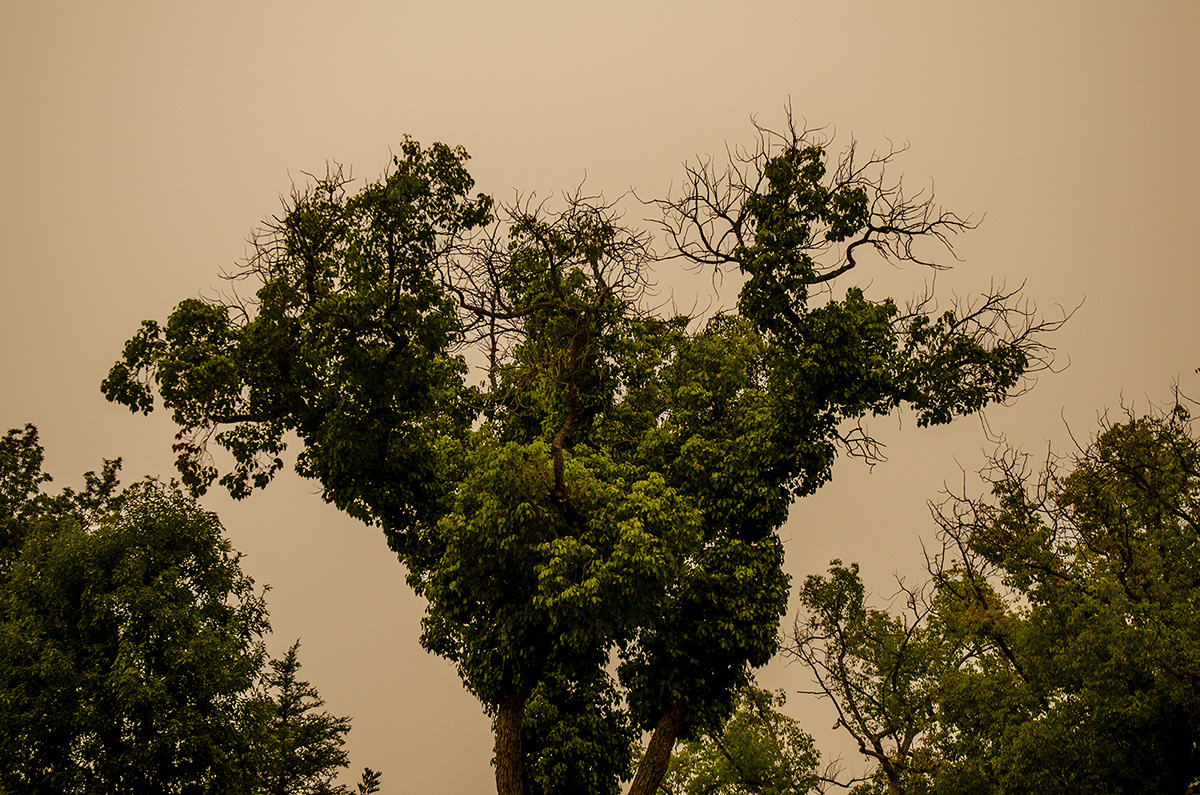 Maintaining the mental well-being of students pursuing studies in the fields of environmental science is rarely discussed. Dubbed eco-anxiety, the feelings associated with learning about the impending disaster of climate change warrants attention and action from UCLA. (Kanishka Mehra/Photo editor)
When it comes to the environment, ignorance is bliss and education is a burden.
To anyone with a basic understanding of environmental issues, the planet's future may seem bleak, but degree programs designed to cultivate expertise in environmental problems give students a more thorough working knowledge of all the ways humanity has damaged the natural world – and just how grave the effects of that damage might be.
This year, wildfires in California have spread to over 4 million acres, a massive uptick from previous years, a direct consequence of the deadly combination of insufficient forest management and global climate change.
At a time when efforts to conserve the planet need more bright young minds than ever before, UCLA has a responsibility to ensure that every student pursuing an environmental degree receives the mental and emotional support they need to cope with the psychological hardships unique to those fields. There are many ways to do this, such as restructuring course materials, adopting new policies in the Academic Senate or investing in a counseling program specifically designed for the task.
While most of the country is still waking up to the realities of climate change, issues like soil erosion, ocean acidification and pollinator declines – all of which pose major threats to our species' longevity – remain only minor considerations in public discourse, if they're considered at all.
Students like Rhay Flores, a fourth-year ecology, behavior, and evolution student and president of the Ecological Restoration Association at UCLA, are often blindsided by the sheer severity of the damage we've done to the environment when they begin their course of study.
"I started with almost zero knowledge (of the environmental crisis)," Flores said. "It only took one or two classes to really understand how monumentally screwed we are."
Beyond the initial shock of these revelations, Bruins in environmental sciences are hardly allowed to forget them. Both in their coursework and extracurricular activism, constant exposure to the existential threat we face is unavoidable, and that can take a real toll.
"I remember coming to UCLA and being subscribed to all of these environmental channels," said Kyle Alves, the vice president of the Environmental Student Network and a third-year environmental science student. "To be honest, I've noticed in the past year or so that it's difficult to watch them. … It seems, more and more every day, a little bit more hopeless."
And for many students of color, the situation is even worse.
It is an undeniable truth that environmental issues have and will continue to affect marginalized communities disproportionately, said Kristen Soares, a fourth-year environmental science student and coordinator for the Environmentalists of Color Collective at UCLA.
Following national averages, students belonging to communities of color are much more likely than their white peers to have lived in conditions with dangerous levels of pollution, a result of our country's continued system of de facto segregation.
In spite of the enormous scope of environmental injustice, the university seems unwilling or ill-prepared to address its impacts on students.
"It is so exhausting and, to a certain extent, demoralizing when a professor is talking about how climate change will affect us all, because that's not really true," Soares said.
The way these students feel is hardly a fluke; in fact, the term "eco-anxiety" has been coined by researchers in conservation psychology to describe the negative mental health effects – including depression, anger, and obsessive thoughts – caused by knowledge of and direct experience with environmental problems.
Despite the legitimacy and relevance of the subject, Caitlin Fong, a lecturer in the ecology and evolutionary biology department, said she has never received any instruction from the university on how to mitigate eco-anxiety in the classroom.
This oversight directly affects students. Flores said professors have dropped informational bombs during lectures, without any follow-up discussion on how to handle their burden in a psychologically healthy way.
"It's like, can we just take a second to think about what you just said about the world ending?" Flores said.
That isn't to say that environmental science professors don't try to make their students feel better; Fong said that she tries to highlight conservation success stories in an attempt to alleviate the predominant sense of doom and gloom.
But this approach is neither direct nor universal, which limits its ability to actually bolster student welfare.
That observation shouldn't be surprising – these lecturers are scientists after all, not counselors. And leaving them the task of handling student mental health is not only unfair, but downright irresponsible. That's why the university needs to step in.
As evidence mounts that the environmental crisis will result in a catastrophe within our lifetimes, the university must take substantive, coordinated action to safeguard the psychological welfare of the Bruins whose course of study guarantees a constant barrage of reminders that their futures are far from secure.
Without proper management, these stressors can burn through the willpower to develop solutions to the environmental crisis of even the most dedicated students.
The field of environmental protection is only becoming more critical – UCLA has an obligation to ensure equal and fair opportunity in pursuing it.