Opinion: UCLA should be doing more to inform students of voting options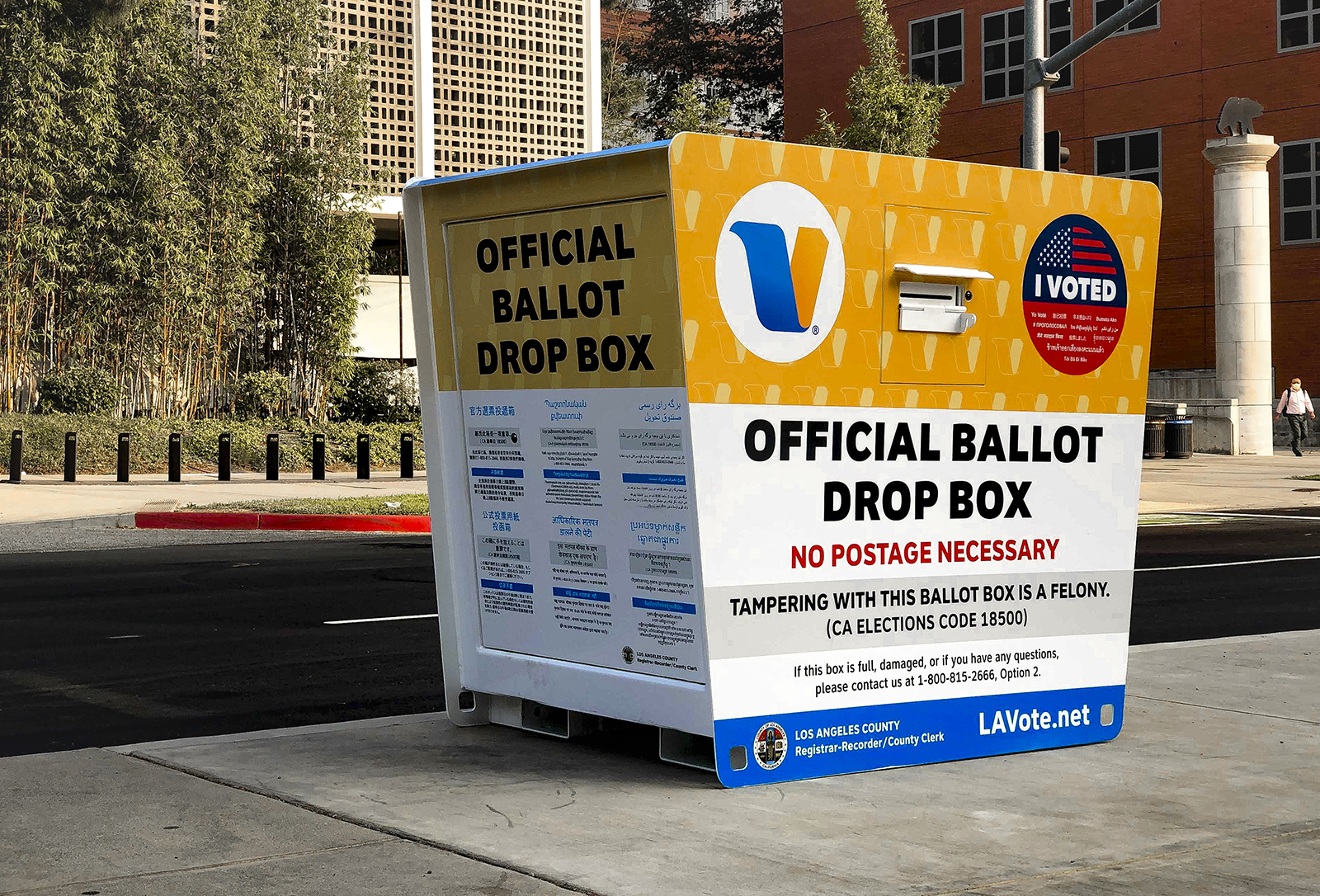 Voting has never been more important – but amid a pandemic, it could pose a health risk to many. Despite universal mail-in ballots and ubiquitous ballot drop boxes, UCLA should work with Los Angeles County to let students know what they can expect at in-person voting centers. (Samantha Fredberg/Daily Bruin)
It's voting season – but instead of long lines and "I Voted" stickers, polling centers are now armed with hand sanitizer and masks.
With COVID-19 guidelines still in effect, in-person voting is likely not many students' first choice method of voting. Despite safety concerns, this year marks significant voter turnout and engagement across the country, both via mail-in and in-person voting. All registered California voters, for example, have received a mail-in ballot that provides a safe way to vote.
But UCLA can and should do more to increase voter turnout among students in Westwood.
While mail-in ballots and ballot drop boxes are the best way to reduce crowds and comply with public health orders, existing safety precautions ensure that in-person voting is still safe for those who choose not to use an alternative method. UCLA should be more proactive in communicating safety measures the county has put in place at its voting centers so students feel safe exercising their civic duty. This starts with conscientiously working with the LA County Registrar to let students know what they can expect at the voting booth.
UCLA will have three in-person voting centers set up at Ackerman Union, the Hammer Museum and Bradley Hall open from Saturday to Nov. 3 as well as ballot drop boxes on the median strip on Westwood Plaza and in Ackerman Union.
"Safety is the first priority of this election and voter turnout is a close second," said Karen Hedges, administrator for BruinsVote, in an emailed statement. "Those who prefer to vote in person, or who missed the CA voter registration deadline and need to register and vote in person at an LA County Vote Center, will be comforted to know (there is COVID-19) safety at the vote centers."
These guidelines include social distancing and hand sanitizer use before entering. Those without a mask will be escorted to an outside area to cast their ballot. Poll workers will continuously sanitize shared materials.
But students won't know about these extra precautions unless they're informed of them. For students with no option other than in-person voting, knowing about these health measures is key in encouraging them to turn out.
"Voting trends are unique this year," the Bruin Republicans said in an emailed statement. "Voting in person is a secure way to ensure election integrity since the ballot is cast in a secure environment."
While some may be concerned about voter fraud, election officials have clarified that vote-by-mail actually reduces fraud by keeping voter addresses up to date. Additionally, absentee ballots are vigorously safeguarded by means of signature checking and ballot curing.
However, for those still concerned or for those who failed to register in time, UCLA's polling sites offer a safe in-person option. As an entity that encourages civic participation, the university should work with LA County to inform students what precautions they can expect to see at voting centers through emails or pamphlets.
And it shouldn't stop there. UCLA can and must do more to increase voter turnout among students by advertising its polling locations and ballot drop boxes. Since Bruins are now scattered across the country, it can also take the time to connect those who aren't in Westwood with important resources.
After all, young people typically don't turn out in droves on Election Day. Generation Z and millennials make up 37% of eligible voters, but in 2016, only 46% of eligible 18 to 29 year olds voted.
And that was before a pandemic made voting a public health risk.
In spite of COVID-19, or even because of it, this is the year that young people must step up and make their voices heard. Olivia Bielskis, finance director of Bruin Democrats and second-year human biology and society and political science student, encouraged early voting by any means possible, whether that be by mail or via drop box.
"There's really no time to waste with moving toward a better future," Bielskis said.
It is UCLA's responsibility to encourage high voter turnout while keeping students safe.
"The earlier you send in a ballot the more likely it will be counted promptly, so voters should be able to feel confident voting by mail," Bielskis said.
Students should feel comfortable – and knowledgeable – about voting in-person. UCLA has the resources to ensure its students will make their voices heard. Now it must use them.
Granted, UCLA has been active in informing students of different voting resources. Chancellor Gene Block, for instance, issued a statement Monday with reminders to vote and a list of helpful information. However, it is UCLA's responsibility to work with the county to more readily publicize safety efforts at nearby voting centers and encourage hesitant student voters to practice their civic duty.
This year's political climate means the student vote is more crucial than ever in shaping our future. With absentee voting, mail-in ballots, drop boxes and in-person polling centers, there's no excuse not to vote this year.
And as Bruins, we must make our voices count.