The Quad: Unearthing social dimensions, health benefits and community culture of composting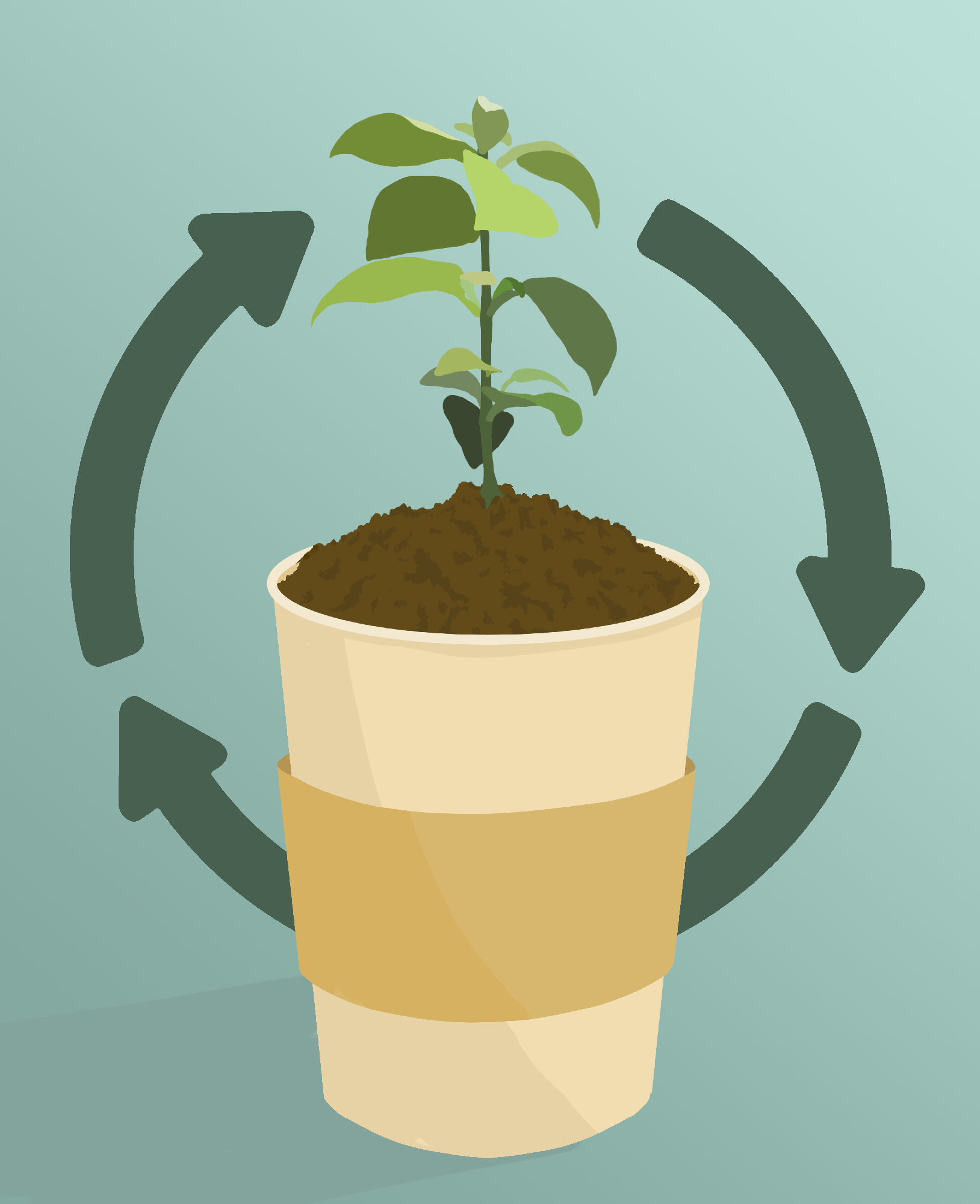 (Alice Zhang/Daily Bruin)
Imagine this: You're strolling down Bruin Walk sipping your Bruin Plate peanut butter smoothie out of a biodegradable straw in a compostable cup courtesy of UCLA Dining. After you've slurped your plant-based breakfast, you feel accomplished – alive, even – tossing the container in the bin labeled "Compost" to your right.
Life is good.
The problem is, it's hard to imagine this scenario when Bruin Walk is empty, Bruin Plate is closed and when we don't have the neatly labeled trifecta of recycling, trash and compost bins every 30 feet on campus.
However, just because compost bins aren't as readily available during COVID-19 campus closures, it doesn't mean composting is impossible or any less important.
Composting and its effects on soil health, human health and social equity
Composting is the practice of transforming waste – methane-emitting food scraps that often end up in toxic landfills – into a resource: nutrient-rich soil with the power to transform dry, depleted land, into moist, productive farmland.
Compost-based soil, formed from neighborhood food scraps and organic material left in the presence of oxygen, keeps us alive, said Jamie Renee Williams, co-owner of LA's Compostable, a subscription-based food waste pickup service.
Meanwhile, the all-too-common practice of throwing away food scraps into landfill-bound trash cans rather than farm-destined compost bins has destructive impacts on our soil, as well as on human and environmental health.
"Deciding to not put your food scraps in the trash that goes to the landfill, and instead composting is such a small but huge thing," Williams said.
It's a huge thing for many reasons, but one important effect of composting is the improvements in social equity it can produce.
"There is no separation between … the effect on the planet, the effect on animals and the effect on the people who are the most vulnerable in our societies," Williams said.
When looking at the consistent pattern of landfills existing in primarily low-income communities of color, a deeply rooted system of environmental inequity and the systemic racism in our existing agriculture and waste management infrastructure is revealed. The harmful health effects of landfills include groundwater pollution and greenhouse gas emission, among other things.
There is a biased distribution of waste resources, like recycling and compost bins, in primarily wealthy areas, according to a 2018 study done by a researcher in the Department of Land Economy at the University of Cambridge.
Redirecting our waste to compost bins instead of landfills decreases the detrimental health effects that toxic landfills have on their surrounding communities, Williams said.
Composting is also beneficial for its soil-improving qualities. The health of our soil has a direct correlation to our human health, Williams added.
"The health of the soil is what creates the health of the plants," Williams said. "Even if you're eating animals, those animals, in theory, are eating the plants."
Compost culture – or lack thereof – in Westwood
If compost culture doesn't become popularized and, more importantly, accessible, poor soil will continue to produce nutrient-stripped, chemical-packed crops and fail to draw down excess atmospheric carbon – also known as the "bad stuff" that contributes to climate change.
By linking the quality of the soil to its effects on human health, the need for human action surrounding environmental issues rises to the surface.
Kate Minden, a third-year environmental science student and member of the Sustainability Action Research program, said she felt a difference in "compost culture" when moving from the Hill to an apartment in Westwood.
"It's crazy the difference between campus and Westwood," Minden said. "It just suddenly shifts. … My apartment complex doesn't have compost bins, so what we do is keep our compost in a paper bag, and bring it to campus and put it in one of those bins."
UCLA is part of the University of California coalition to implement and manage more sustainable practices, Minden said. UCLA's sustainability protocol is a separate entity from Westwood's infrastructure, which doesn't offer a compost collecting system, and thereby pushes the responsibility of learning about and choosing to compost on individual residents.
"It takes conscious effort to know how to sort waste," Minden said.
That effort must come from education and a better understanding of how and what to compost, Minden said. A lot of it is an awareness of the little things: knowing you can compost tea bags (as long as they don't have staples or plastic leftover), sawdust and coffee grounds, but not meat or oil products.
Minden also encourages more uniform statewide and federal composting protocols.
Kaylee McCord, a fourth-year physiological science student and co-director of the Farmers' Market at UCLA, an organization that supports local producers and vendors on campus, said learning how to compost in a small space like Westwood apartments is a particularly important skill to learn.
"There's a big need to get people composting and a big way to do that is to add the convenience factor," McCord said.
What does the convenience factor look like, exactly?
It could be more outdoor space, improved placement of compost bins or additional education resources, but it also could be a community composting service, which goes to places where most compost services don't go, like apartment complexes or film production sites.
Composting services
College students like McCord want that convenience, and community composting services may provide that opportunity.
Williams' Compostable delivers and later collects compost bins in residential areas, apartments and film sites on a weekly or biweekly basis. By working on a slightly smaller scale, these compost services foster interaction and community, which appeal to apartment-dwellers – like many college students in Westwood.
Williams said she believes the community-based composting structure opens doors to increased educational opportunities and transparency with new composters.
As opposed to large-scale compost collection, the collected waste doesn't just go to industrial compost facilities, but local farms, Williams said.
"Right now we have two local farms that are a part of our partnership with LA Compost," Williams said. "One of them is Cottonwood Urban Farm and the other is GrowGood."
To see the cycle of your food consumption from market to home to compost bin, to farm and finally to food is a holistic way of connecting individual action to a greater process.
Community effort
Bettering our environment isn't a solo endeavor; it involves community accountability as the climate crisis, which can be mitigated by reversing soil damage through regular compost practices, poses a greater threat to all humans.
McCord recognizes the climate crisis can seem daunting and overwhelming, but she said she leans into the power of community and collective action.
"When you can feel you're a part of some collective whole that's doing something bigger than just one person, it can make your own contribution feel more meaningful," McCord said. "It takes a village to cultivate a culture that isn't just doing the easy thing."