Opinion: UC has duty to provide job security and stable pay for lecturers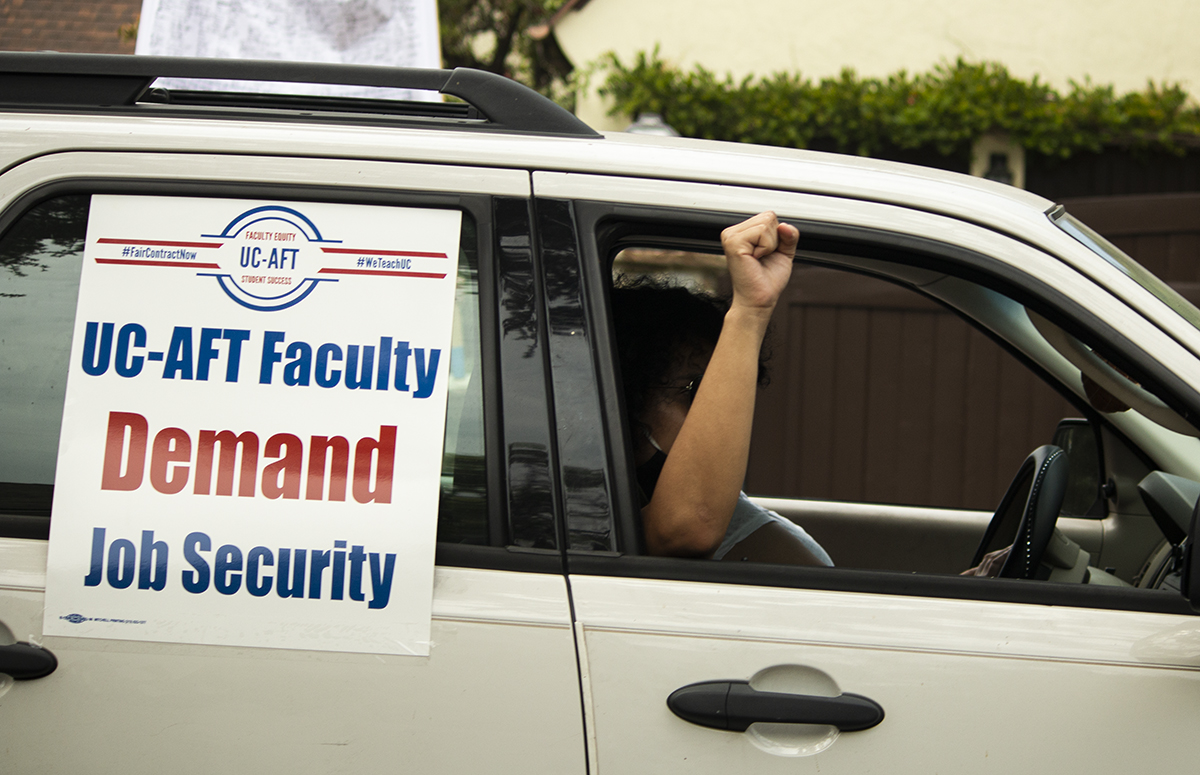 (Bernard Mendez/Daily Bruin senior staff)
In the middle of a global pandemic, job insecurity is all too common a struggle.
But for lecturers at the University of California, it's a daily reality.
Every year, almost 5,000 lecturers teach at a UC campus on contractual employment, which means they must reapply for jobs on a quarterly or yearly basis. There is no guarantee of rehire for contract employees, unlike career employees, who can expect employment for a year at the very least. The UC also does not consider a lecturer's contract expiration as a layoff, despite it resulting in unemployment all the same.
In August, Chancellor Block released a statement to UCLA faculty that there will be no layoffs for career employees until January 2021. This may seem like a hopeful promise, but it fails to adequately protect lecturers and other university contract employees from being jobless in the middle of a pandemic.
The UC has an obligation to protect all of its employees, not just the career ones. Lecturers provide almost half of undergraduate instruction, and, like professors, are accomplished in their respective fields of research. They deserve the same protections given to career employees — anything less is exploitative of the massive value lecturers contribute to the UC system.
Mia McIver, the president of the University Council-American Federation of Teachers, a union representing UC non-senate faculty and librarians, pointed out in an emailed statement that data from the UC Office of the President show the annual turnover rate for lecturers at the UC to be about 26%. This means that around 1,600 lecturers lose their jobs each year because their contracts expire, McIver added.
This number is even higher at UCLA — about 44% of the UC-AFT faculty have not been rehired this year, McIver said in the emailed statement. This is a result of contractual employees who are not rehired and those who choose to leave, likely because of poor working conditions, said McIver.
"We have to reapply every year," said John Branstetter, the president of UC-AFT Local 1990, which represents UCLA lecturers. "There are no clear standards that apply across departments for who gets rehired and why. They want maximum flexibility to just get rid of us, regardless of our abilities, or qualifications or experience."
This lack of job stability is especially troubling during the current economic recession. As of August 2020, the California unemployment rate had risen to 11.4% – nearly 8% higher than the previous year. Job security for lecturers has never been more important.
And this lack of job security is also detrimental to the quality of education at the UC.
"Class sizes are dramatically rising, while the number of lectures teaching them is going down, so the student-faculty ratios are rising really steeply," McIver said.
Lecturer job security is unavoidably intertwined with quality instruction, making it essential to the value of a UC education.
"The shift away from career appointments towards contract appointments is the fundamental challenge that the higher education system nationwide is really facing," Branstetter said.
UCLA has a timely opportunity to amend this lack of job security, however. The UC-AFT Local 1990's employment contract, which deals with the employment rights of contingent faculty at the university, expired on Jan. 31 and is currently in renewal negotiations.
"In spite of more than $2.1 billion in expenditures and losses the University of California has incurred from COVID-19 since March, we are committed to negotiating a fair agreement with UC-AFT as quickly as possible," said Stett Holbrook, senior communications strategist at the UCOP, in an emailed statement.
The UC should be using this opportunity to ensure job security for the lecturers who are responsible for the excellent quality of a UC education, yet discarded at the end of each year or quarter.
But because of financial deficits resulting from the COVID-19 pandemic, the negotiations have reached a standstill.
"We're in the process of renegotiating it but our negotiations haven't gone very well," said Branstetter. "The real sticking point has been that we need some kind of job security."
To be fair, the pandemic and resulting economic recession set many financial challenges for the UC, which can put strain on negotiations of faculty working conditions.
But despite the financial strains, students are still paying full tuition for an online education. Now that so many aspects of education are lost in translation to the digital sphere, the UC must uphold the quality of instruction where it can by ensuring job security for lecturers who are the backbone of students' educations.
Fundamentally, the UC must prioritize job security for its most vital staff simply to provide them with a dependable mode of making a living that isn't jeopardized every quarter or year.
Lecturers are a crucial element of a UC education — and it's high time they are treated as such.