Student organizations take on virtual recruitment with social media, video chats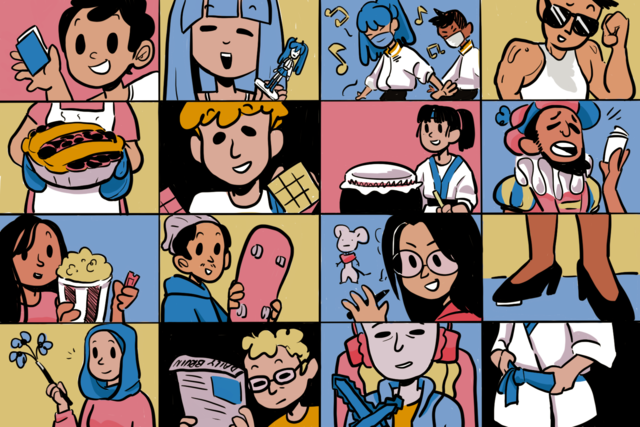 (Bridgette Baron/Daily Bruin)
The Women's Law Journal typically hosts an annual wine and pasta dinner to recruit new members in the fall.
However, the COVID-19 pandemic has upended WLJ's annual tradition. WLJ instead hosted a Zoom game night for first-year law students interested in joining the journal. Attendees were separated in breakout rooms and played various games, like Jackbox and Pictionary, said law student and WLJ Editor-in-chief Madison Way.
In a virtual environment, several clubs have taken to Zoom socials and social media to recruit members remotely.
The Emergency Medicine Research Associates also offered its information sessions, which are typically held in the Tamkin Auditorium at the Ronald Reagan UCLA Medical Center.
EMRA will also be hosting Zoom Q&A sessions Thursday and Friday, added Radha Patel, a fourth-year psychobiology student.
Earlier this year, when Joy Chen and Tiffany Hue were planning to launch Meta Mag at UCLA, a student magazine focused on fashion, politics and culture, they prepared for the prospect of virtual recruitment, said Hue, a third-year economics student said.
Incoming students may be lost about where to find their community this year since they don't have as many avenues to find clubs as students did in previous years, said Chen, a second-year design media arts student. Students didn't have the opportunity to attend the annual Enormous Activities Fair in person, Chen added.
This year's EAF was an Instagram page that featured more than 500 posts about organizations.
[Related link: Incoming students can still find community as club fairs move to virtual sphere]
In addition to Instagram, Meta Mag also marketed its organization on Facebook and LinkedIn, Chen said.
Chen said she hopes to use social media to show students they can find a community at Meta Mag.
However, adapting to virtual recruitment has been challenging for several club leaders because it requires more effort to do outreach and see if students are a good fit for the organization, some club leaders said.
Finding prospective members online does not allow for spontaneous interaction with students, said Michael Cohen, the co-president of the American Constitution Society. Bumping into somebody and having a chat with them about a club is less burdensome than planning a meeting for first-year law students to get to know an organization, said Cohen, a law student.
Finding people to attend Zoom recruitment events is also difficult without the attraction of free food, Way said.
However, Way said she enjoyed playing Jackbox with the few first-year law students who attended the game night.
"We had a lot of fun at our replacement for the pasta and wine night," Way said. "We didn't get pasta or wine but we played Jackbox games in my breakout room, and I really enjoyed meeting all the (first-year law students)."
Jesse Brandt, co-president of YOUTHphonics, a community-service-oriented a cappella group, said assessing how students blend in with the rest of the group is tough to do through online auditions.
"We're just gonna have to go by whether we like how people sound and whether we think they might fit in with the group sound," said Brandt, a fourth-year political science student.
Patel said it is difficult to do outreach, as EMRA typically relied on students spreading information about their club through word of mouth. She added some students would talk about their club with their classmates during seminars.
EMRA has also reached out to students living in different time zones and students with different access to technology to resolve their concerns, she said.
Despite remote recruitment, student interest in Meta Mag surpassed their expectations, Hue said.
At the end of the day, students just want to find a group of people they belong to, she said.
"(If I were a freshman), I would have been totally lost about what to join," Hue said. "So, having clubs follow you or reach out to you and telling you to join is huge."