Incoming students can still find community as club fairs move to virtual sphere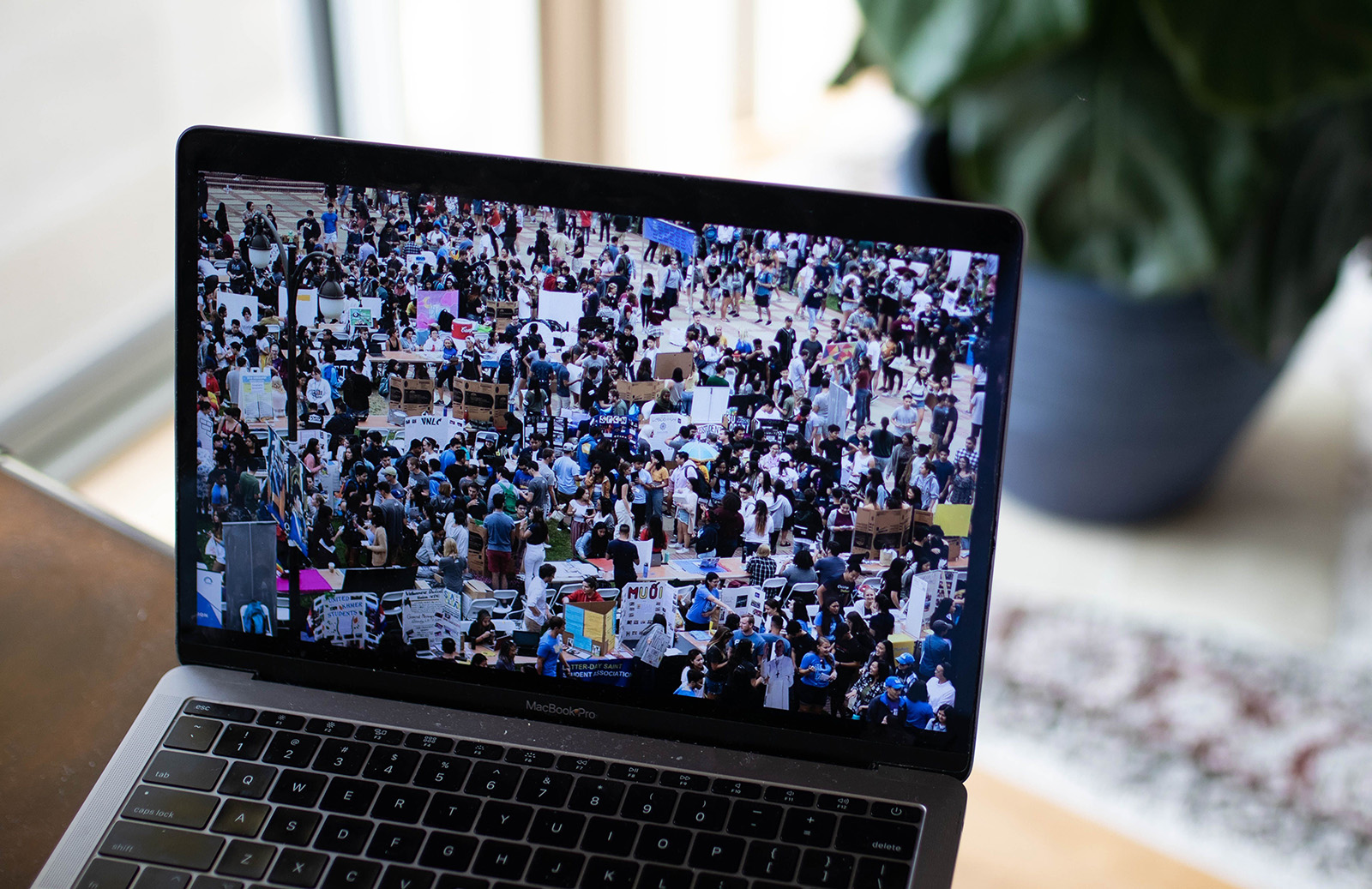 Club fairs this fall adopted an online format to help with club recruitment amid the COVID-19 pandemic. (Kari Lau/Daily Bruin senior staff)
Sept. 21, 2020 10:45 p.m.
Students and clubs are taking to their computers to attend virtual club fairs this fall. Both existing and new club fairs adopted a new online format to help club recruitment.
The Undergraduate Students Association Council's Cultural Affairs Commission and Campus Events Commission are organizing this year's Enormous Activities Fair, which will be an Instagram page that advertises and posts information on more than 500 clubs, said CAC Commissioner Promise Ogunleye. The EAF Instagram page will launch during week zero of fall quarter.
Normally, the EAF is a four-hour event where clubs crowd Royce Quad and Wilson Plaza to recruit prospective members. This year, the EAF is online because of UCLA's move to mostly virtual classes and reduced on-campus housing.
One of the virtual club fairs debuting this fall is hosted by OnCampus, a website that allows students to search for clubs according to their interests. The founders of OnCampus decided to expand their service to include a virtual fair this year as a way for students to learn more about clubs at UCLA and allow clubs more exposure to students, said Michael Huang, the product manager of OnCampus and a rising fourth-year computer engineering student.
OnCampus' fair will take place Wednesday from 4 p.m. to 6 p.m. over Zoom.
Registered students will receive a PDF of Zoom links to about 400 clubs before the fair, said Yifan You, the engineering manager of OnCampus. During the fair, clubs can talk with students and answer any questions they may have, added You, a rising third-year computer science student.
Organizers of both the EAF and the OnCampus fair said while their fairs may be similar, providing students with more information and more opportunities to meet club members can only benefit students.
Other fairs target students with specific interests. This year, Klesis Christian Fellowship and Acts2Fellowship are hosting their first virtual Christian club fair, said Joel George, a UCLA alumnus and former Klesis member. The fair will take place over Zoom and include video presentations from all participating groups and a panel about being Christian in college, he added. After the presentations, students can join each club's Zoom call to chat with members of the group, George said.
The first four sessions of the fair have already passed, but the final session will be held Tuesday at 7 p.m.
Klesis Christian Fellowship and Acts2Fellowship started a virtual fair because they feared the COVID-19 pandemic would make recruitment more difficult, George said. The two fellowships joined in with other Christian clubs to increase advertising and recruitment opportunities for participating groups, he added=.
Students and clubs have shown interest in participating in the virtual fairs, Huang said. More than 1,000 students registered to attend OnCampus' fair.
Cianna Razo, an incoming second-year pre-global studies transfer student, said she plans to attend some of the fairs to learn more about opportunities at UCLA.
Megan Vergel de Dios, an incoming first-year pre-business economics student, however, said she is more hesitant about virtual club fairs.
If club fairs were in person, she would attend because she would know what to expect, Vergel de Dios said. But, she added, the unprecedented virtual format makes her nervous because it is more difficult to connect with group members.
Although Razo does not prefer a virtual club fair, she said the need to find a community makes it a necessity.
Some virtual fair coordinators and club leaders also have concerns about virtual fairs.
While the coordinators do not have to set up or take down physical venues this year, the lack of precedent in planning virtual activity fairs makes organizing the events more difficult, Ogunleye said.
Celia Gleason, the social co-chair of the Awaken A Cappella, one of the clubs featured in both EAF and the OnCampus fair, said she originally worried recruitment for her club would decline because of the virtual setting. Gleason, a rising fourth-year cognitive science student, added she originally assumed fewer students would attend club fairs because of the virtual format.
Still, Gleason said she hopes recruitment numbers will mirror previous years because she noticed students continue to look for a community at UCLA, even while classes are online. Gleason is also still looking forward to what remains despite the online format: connecting with new people.
Holding virtual club fairs can be challenging, but George said he is motivated to carry out the Christian club fair to help students who are still trying to form genuine connections in the midst of a pandemic.
George and the OnCampus organizers said they haven't decided if they want to continue holding club fairs in the future. They said it will depend on student interest and how helpful the fairs are for club recruitment this year.
Although Ogunleye hopes to return to an in-person EAF as soon as possible, she believes virtual resources can increase students' access to information and their overall involvement, even after students return to campus.
Still, students, clubs and fair organizers wish to return to in-person club recruitment when the pandemic ends.
"You don't get the full experience of meeting people and getting to know organizations unless you're face-to-face," Vergel de Dios said.