New Bruins find creative ways to foster community in remote learning environment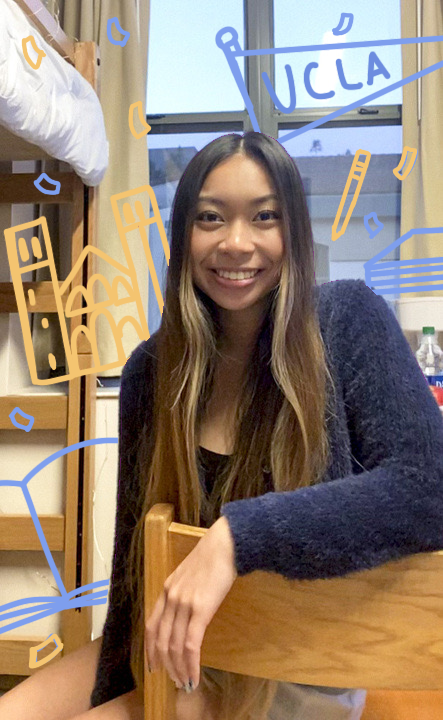 Darlene Hoang, a first-year communications student, is one of many new students looking for ways to overcome a remote fall quarter and connect with the UCLA community. (Photo by Ashley Kenney/Assistant photo editor, Photo illustration by Emily Dembinski/ Illustrations director)
Despite fall quarter being remote, new students are searching for ways to connect with the UCLA community.
Within the first few weeks of remote school, some first-year and new transfer students have relied on social media and joined various clubs to find their niches.
Before the COVID-19 pandemic, Kevin San Juan, a third-year sociology transfer student, was looking forward to his first week at UCLA and the atmosphere of being welcomed to campus.
Since classes have moved online, San Juan said he is disappointed he will not be able to participate in UCLA traditions like the annual UCLA vs. USC football game or even the little things like walking down Bruin Walk. San Juan added he is upset he can't meet with other students in person or make as many connections during his time at UCLA.
"It makes it feel like I am not having the true university experience that I have been working toward for the past two years," he said.
Anthony Li, a first-year neuroscience student who is living in Taiwan for fall quarter, has never set foot on campus. And if UCLA opts for remote winter and spring quarters, he may not get the chance to until his second year at UCLA.
Li said the virtual format makes it more difficult to connect with students during lectures because it is difficult to talk one-on-one with classmates in large Zoom meetings, and most students only interact with instructors during class.
Arine Kim, a first-year business economics and public affairs student, said she found it easier to connect with her professors than she expected. She added she often attends her professors' office hours to talk to them.
Most of the friends Li made at UCLA so far have been through social media or his class' GroupMe chat rooms, Li said. He recently hung out in person with fellow first-year students in Taiwan, Li added.
Some students living on the Hill said they have not met any of their friends from their classes.
Darlene Hoang, a first-year communications student living in the dorms, said she met most of her UCLA friends from her on-campus housing and her sorority.
Although Hoang was disappointed that her first quarter at UCLA is remote, Hoang said she is still excited about what is left of her first year of college. Moving onto the Hill, meeting her floormates and attending classes were just some of the things she looked forward to, she said.
For some, club involvement has played a major role in cementing their relationship to campus.
San Juan said a social hosted by the taekwondo club sport team welcomed him to the UCLA community. Before the event, San Juan said he had not felt like a part of the community — neither when he was accepted nor during orientation.
"It made me feel like an actual Bruin," San Juan said.
Emma Gofnung, a third-year philosophy transfer student, recently joined Hillel at UCLA, a Jewish student organization. Most of the club's events have been virtual, but they had a few in-person, socially distant gatherings, she said. The in-person gatherings made her feel like a part of the Bruin family more than any virtual event, she said.
Kim said she has yet to feel like a part of the UCLA community. Without football games, tailgates or the chance to spend time on campus with friends, Kim said she is missing the school spirit she would have had if fall quarter were in-person.
Still, Kim said she is trying to remain positive.
"The prospect of starting college is what helps me get through any frustrations that I may have," Kim said.