Without EDI office guidelines, professors question use of racial slur in classes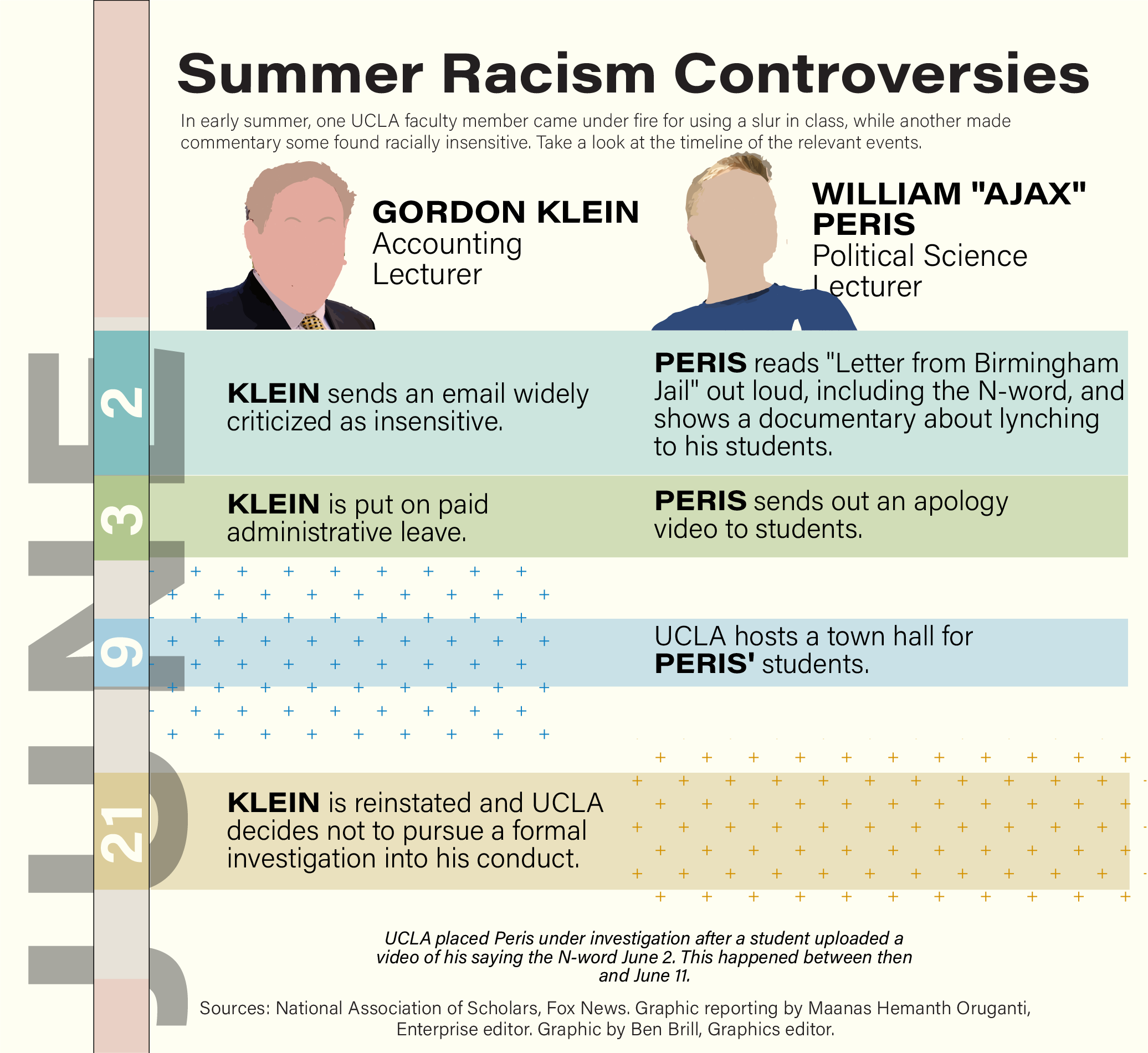 Editor's note: This article contains discussions of racial slurs. The Daily Bruin uses the phrase "N-word" as a placeholder, whereas "n—–" refers to a source's direct use of the word in interviews. This article includes the races of all interviewed sources to provide context for their use or disuse of racialized language.
UCLA does not have a formal policy against saying the N-word in classrooms.
When the Daily Bruin asked why UCLA has not banned saying the N-word in classes, the Office of Equity, Diversity and Inclusion said in a statement it evaluates racial discrimination complaints using Title VI of the Civil Rights Act.
Under the Title VI rules, the EDI office must assess whether a professor's actions effectively denied students equal access to education, said Carole Goldberg, then-interim EDI vice-chancellor, in an emailed statement.
Laura E. Gomez, a law professor who is Latina, said neither Title VI nor any other part of the Civil Rights Act explicitly bans the usage of slurs such as the N-word in academic discourse, including in the classroom.
Eugene Volokh, a law professor who is white, said many courts believe the First Amendment restricts the ability of Title VI and the CRA to limit the use of slurs when quoting documents or figures.
UCLA faculty members came under scrutiny this summer by students and faculty over allegations of racial insensitivity.
In June, many students criticized Gordon Klein, an accounting lecturer who is white, for an email he sent to a student regarding providing accommodations for Black students during the Black Lives Matter protests. Klein did not use any slurs in the criticized email. UCLA reinstated Klein to teach this fall after initially putting him on paid administrative leave.
[Related link: UCLA reinstates accounting lecturer previously on leave for controversial email]
William "Ajax" Peris, a political science lecturer who is white, used the N-word in a Zoom lecture in June. While reading a Martin Luther King Jr. speech aloud, Peris said the N-word when it appeared in the transcript, despite students' requests to verbally censor the word. Peris also showed his class a documentary about lynching. After students brought their concerns to the EDI office, the office investigated Peris' use of the N-word during the class.
Volokh said he uses quotations with the N-word during his classes for teaching purposes.
"Even ignoring older cases, search for the word n—–, you will find that it appears almost 10,000 times in court and agency opinions," Volokh said. "In fact, often (the court uses) that word in the context of condemning people who engage in such racist epithets."
Gomez said she believes professors should instead use the abbreviated phrase "the N-word," since students will still understand the term being referenced.
"The negativity for students – saying that word in the classroom and as part of your class exercise – very much outweighs any value in actually saying the word," Gomez said. "If you alienate and provoke your students, you're probably not being an effective teacher."
Gomez added she believes there is no absolute academic freedom and universities can enforce constraints on using historically racist words in classrooms.
"I think the university can go all the way to telling faculty that they can't use a racial slur in the classroom," Gomez said. "It's a question of weighing the different harms and for African American students to be in a class."
Robin Kelley, a distinguished professor in U.S. history who is Black, said he used to say the N-word when teaching classes at New York University but stopped about two decades ago because it was traumatizing to his students.
Kelley added although his colleagues should avoid reading the N-word aloud, they should constructively use the word to teach historical significance.
"(Professors should) explain to students, the most important thing – the history, the etymology, the usage and the transformation of the word itself," Kelley said. "Don't run away from it, but understand it as an intellectual question or political project."
While Volokh defended verbal use of the N-word in curriculum, he said the word shouldn't be used as a personal insult. College students should have discussions about the use of these words in historical documents, Volokh added.
"I talk about legal documents, but of course, the same thing applies when you're talking about history, … music or literature," Volokh said. "How can a class on modern rap music, for example, proceed if you can't even mention a particular word?"
While refraining from saying the N-word, Gomez said she does teach using texts that directly include the word. She added she includes content warnings in her syllabus to disclose sensitive class content in advance.
Gomez said her students should be ready to study cases which include the N-word but she does not believe the word must be repeated in class.
"There are texts that we read – Supreme Court cases and other texts – that sometimes use language that I violently disagree with," Gomez said. "The solution is not to ignore those texts, but to contextualize them."
Volokh said he does not use content warnings because he found recent research indicating that using a content warning may be counterproductive to learning.
Kelley said he now uses content warnings for texts with the N-word and suggests students still study historical documents containing the word.
He added these texts are a part of history and reading the N-word should not exempt students from studying history. If students don't want to read it, then they should take another class, Kelley said.
Academic freedom and free speech are both important for diversity at UCLA, despite their conflicts, Goldberg said in the statement.
"Balancing these interests can sometimes be difficult, and we endeavor always to protect both interests with care and deliberation," Goldberg said.