Protesters march down Westwood Boulevard, call for removal of police from campuses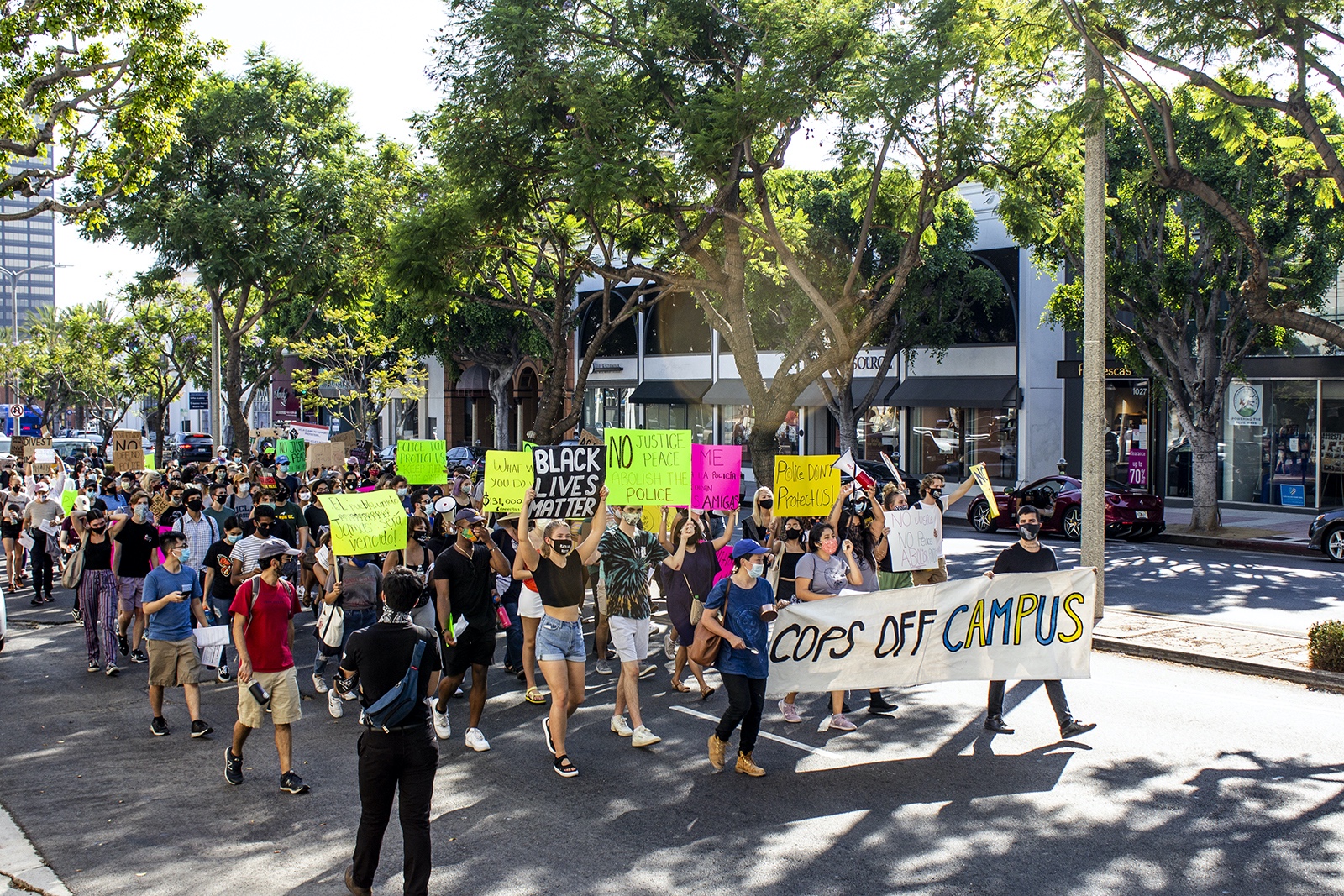 Dozens of protesters marched from Westwood to the UCLA UCPD headquarters, calling to remove university police off campuses by fall 2021. (Naveed Pour/Daily Bruin)
Correction: The original version of this article incorrectly stated UCPD changed how it covered the protest because of the content of the demonstration. In fact, UCPD did not change how it covered the protest.
This post was updated Oct. 5 at 12:29 a.m.
Dozens of protesters gathered outside the university police headquarters Thursday as part of a statewide movement to abolish university police by fall 2021.
Thursday's protest was part of a California-wide day of protests against university policing across University of California and California State University campuses. Cops Off Campus, a group of UC faculty, students and staff who organized the statewide protests, aims to get rid of university police and get UCLA to terminate its relationship with LAPD by fall 2021.
The protest is also the first event of Cops Off Campus' year-long campaign, said Christopher Soto, a Cops Off Campus spokesperson. Soto said that Cops Off Campus plans to hold more protests throughout the year and is circulating resources online to allow students to learn more about the movement.
The protest began in Westwood in front of the Hammer Museum, where several speakers discussed negative experiences with university police and their goals for abolishing university police. Protesters then marched on the street down Westwood Boulevard to the UCLA Police Department headquarters while engaging in call back chants. There, protesters led more chants until walking back down Westwood Boulevard.
UCLA Transportation personnel and Contemporary Services Corporation event staff blocked traffic from Westwood Boulevard in front of the UCLA UCPD headquarters before the protest and directed traffic away from Westwood Boulevard when the protesters came close to campus.
UCPD spokesperson Scott Scheffler said in an emailed statement that UCPD maintained a "low profile" during Thursday's protest, similar to what they did during previous protests. Scheffler added that UCPD did not change how it covered the protest because of the content of the demonstration.
Michelle Servin, a fourth-year geography/environmental studies student who helped organize the protest, said she hopes the administration sees many people do not want police on campus. Servin is a part of No UCPD, a group made of undergraduate and graduate students who are also calling to abolish university police.
The UCLA Police Department budget is scheduled to increase by around $500,000 to more than $22 million over the 2020-2021 fiscal year, according to a document released by the UC Regents in July. Scheffler said that the budget has not yet been approved – he told The Bruin in an August emailed statement that COVID-19 delays prevented UCLA's Financial & Organizational Services and Office of Academic Planning and Budget from approving UCLA Police Department's budget.
SA Smythe, a spokesperson for Cops Off Campus and an assistant gender studies and African American studies professor, said that Cops Off Campus does not yet have a specific plan for how they would like to redistribute funds from UCPD's budget, but said its funds could be redistributed to education, housing or other modes of community care. Servin said that redirecting money that goes to policing into community resources could help reduce crime – some people are forced to do certain things because of a lack of resources, she said. Smythe and Servin both said their respective groups are not in active negotiations with UCLA to decrease UCPD funding.
Robin Kelley, a history professor who attended the event, said that resources dedicated to university policing are a "waste" and should be redirected.
"This is not an issue that just affects campus," he said. "It's an issue we've been fighting for a long time."
UCLA announced in June that it would revamp the Public Safety Advisory Council, which had not been formed yet, to let the committee evaluate UCLA's relationship with outside police forces and provide oversight of university police. The faculty-led Divest/Invest Faculty Collective and several student government leaders denounced the PSAC, citing a lack of ability to change policing on campus and a general ineffectiveness of advisory committees.
UCLA spokesperson Bill Kisliuk said in an emailed statement that the university is looking to work with faculty and students to "help determine the proper structure" to achieve a "common goal." Kisliuk did not specify if the UCLA administration is in active discussions with faculty and students to consider defunding UCPD or if UCLA plans to change the PSAC's structure.
Joey Li, a medical student who attended the protest in scrubs, said that all forms of violence are health concerns.
"Police brutality is the most direct health concern," he said. "They're killing people."
Contributing reports by Naveed Pour and Kanishka Mehra, Daily Bruin staff.
Mendez was the 2020-2021 News editor. He was previously a staff news reporter for the Science & Health beat and a developer for The Stack. He is also a third-year math student at UCLA.
Mendez was the 2020-2021 News editor. He was previously a staff news reporter for the Science & Health beat and a developer for The Stack. He is also a third-year math student at UCLA.