Editorial: UCLA must provide COVID-19 testing at no cost to all students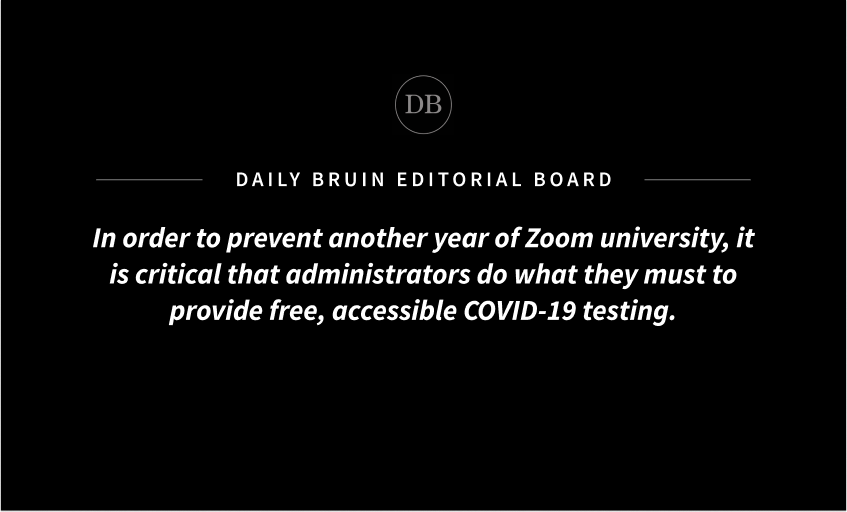 This post was updated Oct. 4 at 9:39 p.m.
It's an old saying, but UCLA would be wise to heed it: An ounce of prevention is worth a pound of cure.
The university is charging students without the UC Student Health Insurance Plan between $65 and $105 for COVID-19 tests during a global pandemic. Despite copious campuswide emails promising to prioritize the health and safety of the UCLA community, administrators have doomed themselves to repeat the country's deadly mistakes. Testing and solid contact tracing can slow the spread of the virus, but not if students are priced out of basic health tools.
Right now, the university's testing policy acts more like a deterrent for students unable or unwilling to bear the costs of confirming their good health. At best, it's creating a cesspool of students unknowingly spreading the virus. At worst, it's blatantly discriminating against those without the financial means to ensure their safety.
Either way, it's a lose-lose for many.
Administrators must make COVID-19 tests free for all students, regardless of their access to insurance. UCLA will end up paying the price if they leave students without accessible testing early on. In order to prevent another year of Zoom university, it is critical that administrators do what they must to provide free, accessible COVID-19 testing.
As administrators have mentioned countless times, COVID-19 tests are expensive, and the UC is not exactly in a great spot financially. But the cost of preventative measures will look like pennies on the dollar when the time comes to pay for the damages done by the unchecked spread of the coronavirus.
Beyond that, UCLA already has the spacial infrastructure on campus to test thousands of students – it just needs the tests themselves. Considering the campus resides within Los Angeles County – which has effectively provided free testing to any resident in need regardless of insurance – it seems like it has more than a good start.
To be clear, it's not enough to put the work of testing students on LA County. The nearest testing center is not far from campus, but it is drive-through only, meaning students without cars are left out of the equation. Instead, the university must actively collaborate with county officials to bring free tests to campus, and administer them with the resources that already exist.
If administrators' current plan to offer two free tests for the 700 residents on the Hill is anything to go by, it seems clear that UCLA's current strategy is to absolve itself of any responsibility for off-campus outbreaks in Westwood.
Thankfully, some student organizations are already at work addressing this inaccessibility.
But this does not absolve administrators of their responsibility to protect students' well-being. Though students are leading the charge, administrators have far greater resources to make significant changes. Averting one's eyes from an inevitable outbreak is not a solution.
Students' lives and well-being are at stake. Now's not a great time, if ever, to cut corners.