Looking into what 5 UCLA cultural clubs have in store for an online fall quarter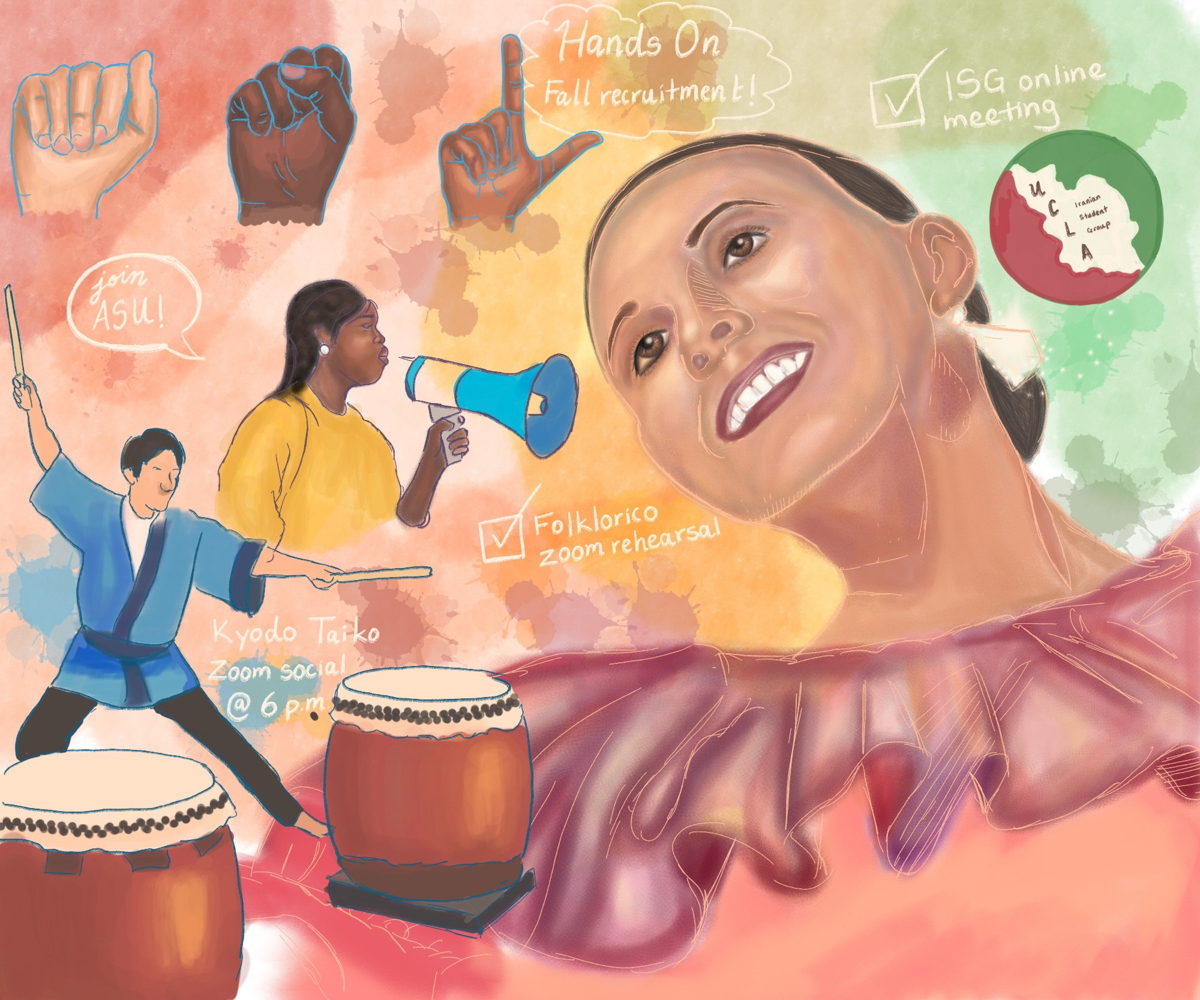 (Vaibhavi Patankar/Daily Bruin)
Sept. 22, 2020 10:34 a.m.
As Bruins gear up for another virtual quarter, many of UCLA's cultural clubs are looking for ways to bring students together – wherever they may be. While they cannot meet in person, Zoom meetings, socially distanced dances and virtual social events are providing students with a much-needed sense of community.
Keep reading to take a look at what five cultural clubs have in store this fall as they adapt to the online landscape.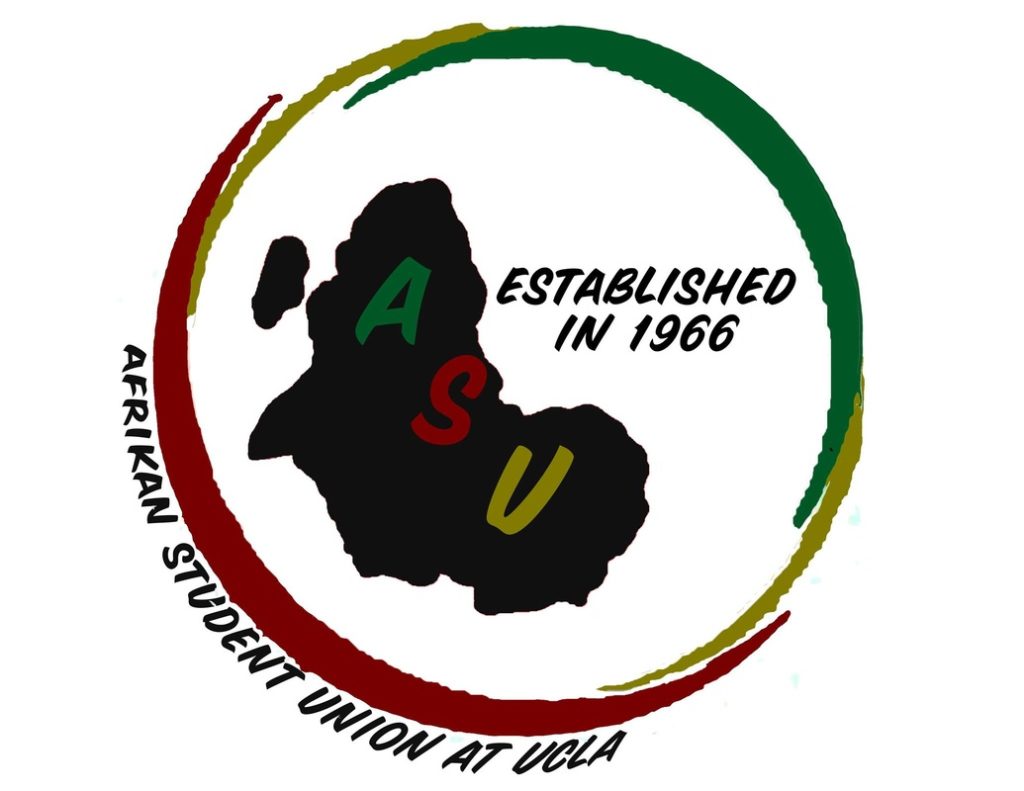 AFRIKAN STUDENT UNION AT UCLA
In a time when most people are working from home, the Afrikan Student Union at UCLA is no exception.
Developing the Black Resource Center, which administrators signed off on in June after more than five years of student lobbying efforts, will be one of ASU's main focuses in the upcoming year, said third-year sociology and African American studies student Brittany Jasper. She also said ASU will also continue to concentrate on its existing projects that assist the neighboring LA community.
As ASU adjusts to an online format, Jasper said projects such as the Afrikan Education Project – which supports Black and brown children in Compton through tutoring and mentorship – will have to find ways to function and stay in touch with those community members virtually.
In line with the majority of clubs fall quarter, Jasper said outreach and communication with existing and prospective members will rely heavily on social media. Capitalizing on its existing social media following, ASU frequently publicizes virtual events, meetings and workshops on Instagram – such as a six-week discussion series on gender-based violence.
"Everything changes so frequently, but for the most part, operating as normally as possible and still serving students is important," Jasper said. "While so much is uncertain, at least we can hopefully be something that is certain. We'll always be there for them."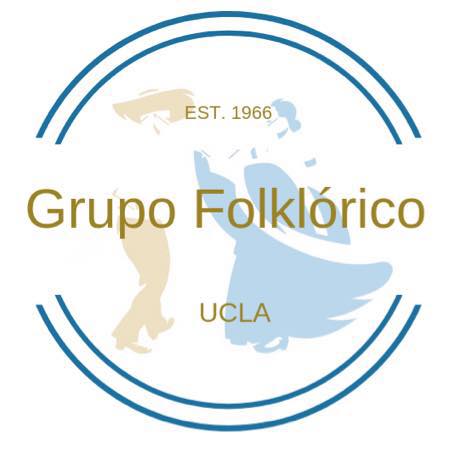 GRUPO FOLKLÓRICO DE UCLA
For Grupo Folklórico de UCLA, the show must go on.
UCLA's traditional Mexican dance group has taken the unprecedented shift from in-person experiences to virtual ones in stride by producing a video version of its annual end-of-the-year showcase, Fiesta Mexicana. Aranza Guzman, Grupo Folklórico coordinator and fourth-year political science student, said the group's prerecorded show will be streamed to its virtual audience in late September through the organization's website.
Grupo Folklórico welcomes all students – even those with no dance experience – but teaching dances through Zoom has been one of the biggest hurdles for the club, said Carlos Garcia, artistic director of the club and graduate student in chemical engineering. Fundamental dance moves and different songs will likely be taught through videos to new and continuing members, and Garcia said the organization's co-directors will be introducing more history on the traditional dances themselves.
Although rehearsing through Zoom is less than ideal, Guzman said a virtual setting allows members to overcome limitations like time restrictions or travel time to campus, which was previously an issue for commuting students. Additionally, Garcia said incorporating Zoom breakout rooms and office hours with cabinet members will help the organization become more accessible to dancers who need help on particular moves.
"With our dance group specifically, we are taking this in a positive way," Guzman said. "We're looking at this as a way to really expand and work on things that we have always wanted to include, but we weren't able to before."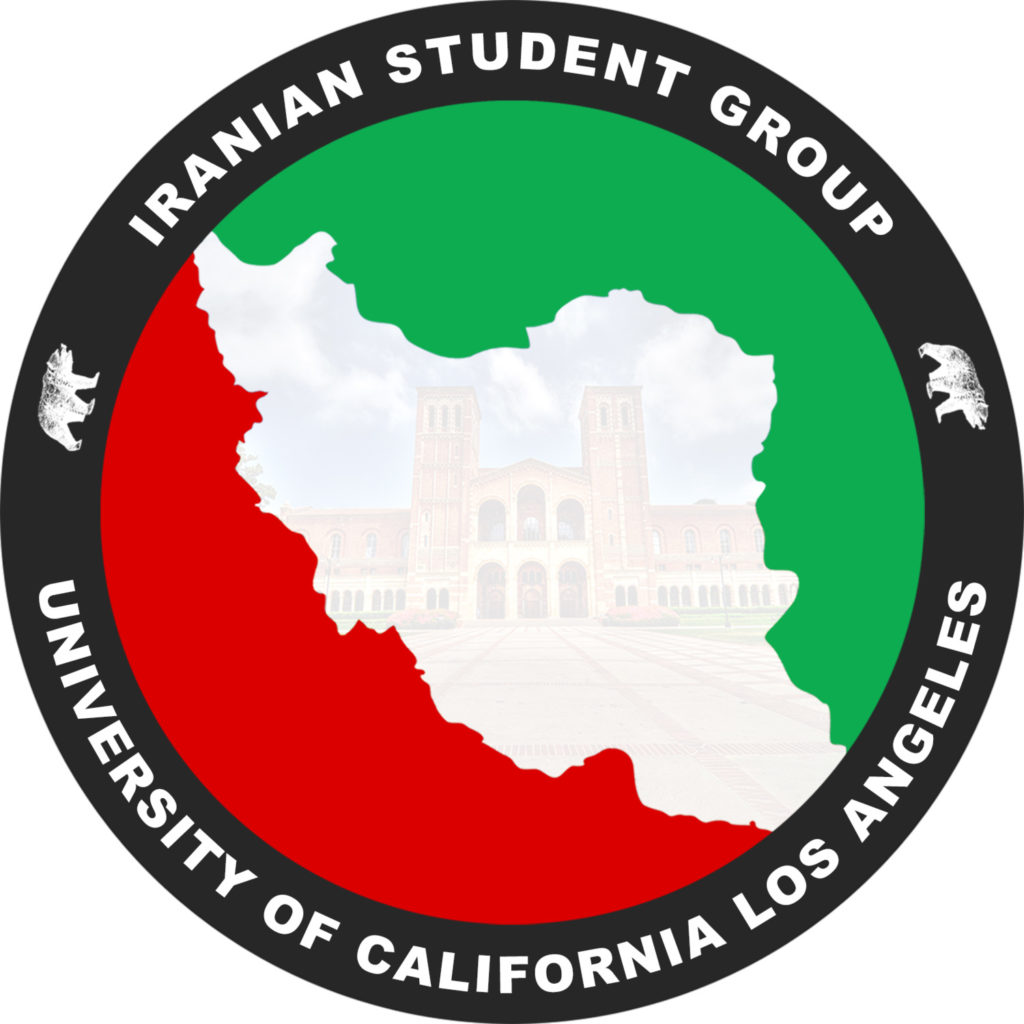 IRANIAN STUDENT GROUP AT UCLA
While its members might be apart from one another physically, the Iranian Student Group at UCLA continues to create a sense of community among Iranian students.
For director of transfer affairs and fourth-year philosophy student Sophie Zarkesh, involving transfers in ISG is a top priority. As a transfer student herself, Zarkesh said ISG noticed the need to reach out to Iranian transfer students directly to ensure that they could find a community of their own.
"Having events tailored to transfers is super important because I think we get a little bit overwhelmed by all the events that are made for the UCLA student population in general," Zarkesh said. "We feel like we maybe don't belong all the time, so having transfer-oriented events encourages us to get involved and to join these clubs."
In order to reach out to potential new members, Zarkesh said ISG has been more active on social media than ever before. She said since spring quarter, events have been held online, engaging Iranian students wherever they may be. ISG's larger events – such as Aash Night and club socials – are harder to convert into an online format, so Zarkesh said ISG is working on introducing new virtual events that its members can participate in.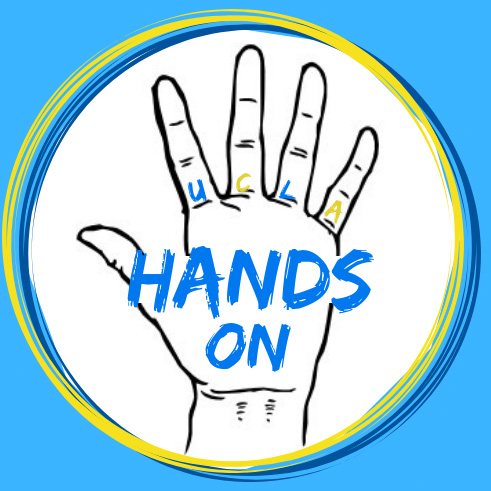 HANDS ON
As the first and only official sign language club at UCLA, Hands On's mission of educating students on deaf culture and American Sign Language continues on.
While masks have become ubiquitous, they pose a challenge to those who are deaf or hard of hearing, said Hands On president and second-year pre-human biology and society student Mark-Anthony Valentín. Sign language involves reading facial expressions and lips as well as gestures, so face coverings have complicated how people who are deaf or hard of hearing communicate, he said.
Although meeting through Zoom has been mostly effective for Hands On, Valentín said technical issues can impede the ASL learning process. If a member has a weak internet connection or their video is unclear, their facial expressions, gestures and mouthing of words become difficult to see and understand, he said.
Despite the obstacles that COVID-19 has caused, Valentín said Hands On remains intent on creating a space for people to learn about deaf culture and ASL by utilizing social media to reach out to potential new members. He also said Hands On has joined other clubs in signing up for platforms such as OnCampus to advertise the club to incoming students.
"People still are able to communicate somewhat effectively and have the same enthusiasm," Valentín said. "It's a little inconvenient because of issues that are inherent with technology, but I'm pretty confident that in the fall we'll still have the same quality of meetings that we've always had."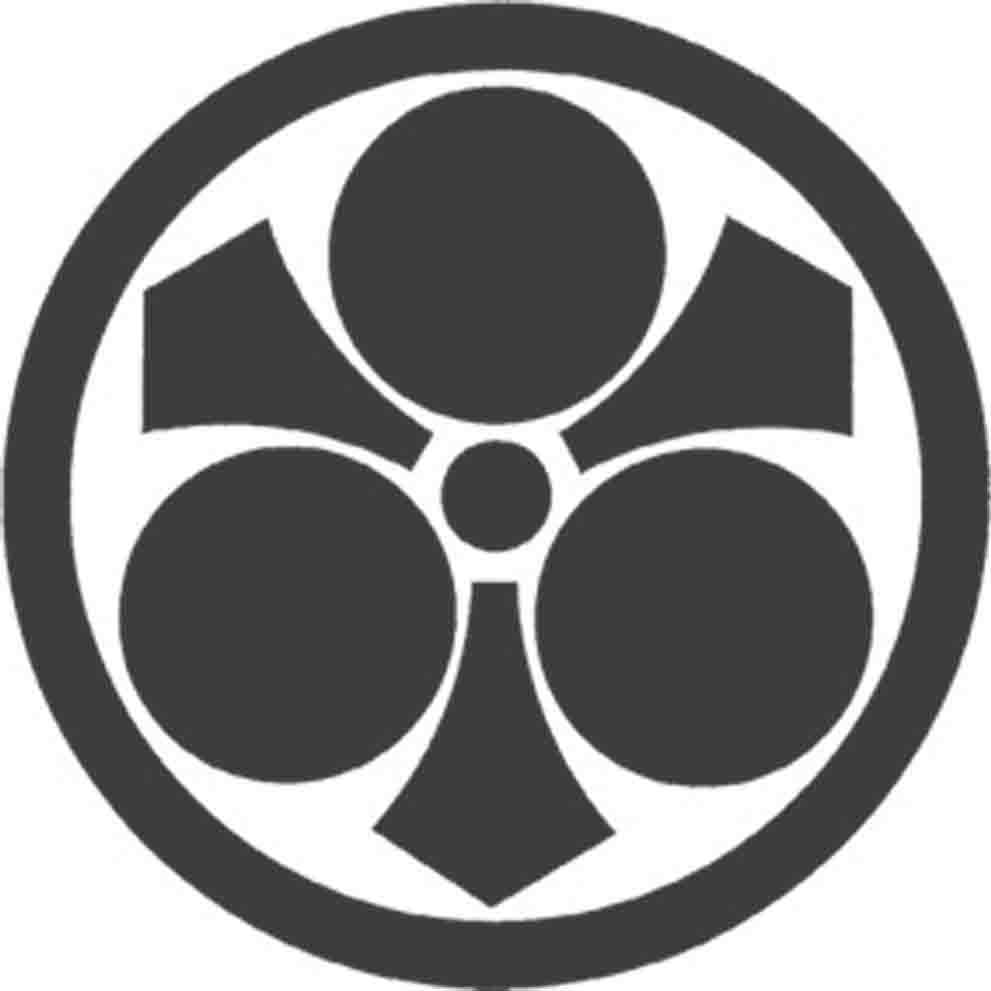 KYODO TAIKO
UCLA's traditional Japanese taiko drumming team members are finding new ways to drum up a storm from their own homes.
When Kyodo Taiko holds its in-person workshops, it normally provides all equipment to participants, but now members have to come up with new ways to practice on their own, said third-year statistics student and Kyodo Taiko co-director Michael Tabe.
"It's really easy to make makeshift drums," Tabe said. "Some of our members use PVC pipe drums with tape, or they'll use a pillow on a chair."
The experience of using a makeshift drum is different from using a real one, but Tabe said the fundamentals and form can still be taught and learned this way until students can return to campus.
As Kyodo Taiko restructures its meetings and workshops to be Zoom-compatible, Tabe said the club has been using the online setting to its advantage, like using breakout rooms to create a smaller and more personal learning environment for those who are new to drumming.
While it is uncertain whether Kyodo Taiko will be able to perform anytime soon, the organization has continued to share highlights of its past performances for virtual audiences through online events such as San Jose Obon at Home – an online version of a Japanese festival held in San Jose.
Although Kyodo Taiko looks different this upcoming year, Tabe said he hopes to create an environment where new and old members can practice taiko drumming with the same enthusiasm as always.