Opinion: UCLA's support for students of color must be meaningful, go beyond building names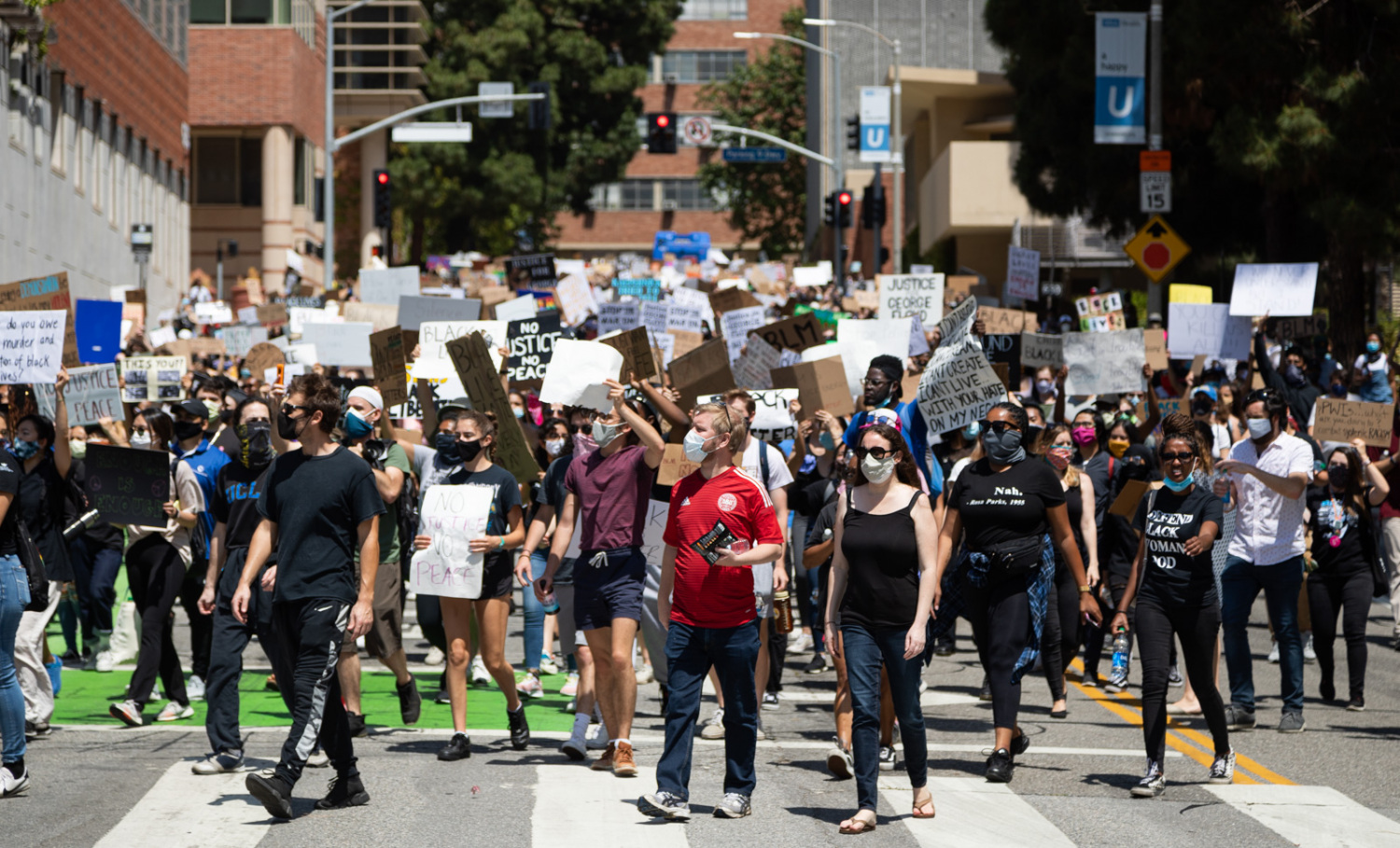 UCLA must support students of color by funding on-campus initiatives and resources. Performative acts of showmanship are not enough to address institutional failings. (Justin Jung/Daily Bruin senior staff)
No one said change comes easy.
But at UCLA, change comes painstakingly slow – to the unfortunate detriment of its students.
The past few months have borne witness to the protests and reforms of a growing racial justice movement, all amid the COVID-19 pandemic. Yet despite bold changes made by activists and legislators, discussions of reforms within the UCLA community have not ventured much past renaming landmarks.
The North Westwood Neighborhood Council voted to rename Le Conte Avenue on July 1 because of its namesake's opposition to Black voting rights, support of the confederation and belief in scientific racism.
In addition to this, an alumnus circulated a petition among the UCLA community to rename Janss Steps. The Janss brothers, for whom the stairs are named after, enforced a white-only business and leasing code in Westwood Village. Another petition to rename Campbell Hall seeks to honor two Black UCLA students who were assassinated in that very building.
Although these symbolic acts of change are important steps in the right direction, they ring hollow in the face of long-standing institutional failings.
Racial profiling by UCPD and insensitive behavior from professors have made it brutally clear that institutional racism persists – and UCLA is showing an unwillingness to address this. The university's reluctance to move beyond performative acts of support force historically marginalized students to fend for themselves during an already challenging time.
To follow through with the message of equity it supposedly champions, UCLA must tackle inequities at the institutional level by providing resources and faculty support for students of color. This begins with funding.
To start, UCLA admits a disproportionately low number of students of color.
According to recent data released by the UC Office of the President, Black students make up 6% of UCLA's admitted freshman class of 2020, but 8% of the state population. Latino students make up 23% of this class, but 39% of the state population.
"I would say that in itself is very telling of a larger problem," said Naomi Riley, a fourth-year political science student and president of the Undergraduate Students Association Council. "It literally was Black and brown people who built the bricks of UCLA, put blood, sweat and tears into UCLA's fabric, but when you look around, they don't make up the majority of people."
On top of this, retention rates within minority groups suffer due to the lack of meaningful support from the university.
"There should be more effort from the university in certain initiatives to keep Black students on campus, because I know a lot of students who had to take time off because they just didn't feel like they had enough support on campus," said Brittany Jasper, a third-year sociology student and the public relations coordinator of the Afrikan Student Union at UCLA. "And there's no guarantee that they'll even come back because college is a lot."
A lack of funding for supportive resources means Black students must dedicate time and energy to securing resources the university should have provided from the start.
"It always just seems like it's a difficult thing for them to do, like a chore, when it comes to supporting Black students and giving us what we need," Jasper said. "There are student leaders trying to put in the work but then (they) receive pushback or are given the runaround."
Supportive faculty and increased resources, such as programs that help students of color financially or academically, would certainly help amplify the voices of students of color.
"We're working on implementing things like anti-racism training and anti-queerphobia training across campus so there's a baseline level of how to treat one another and how to exercise empathy," said Angelina Quint, a second-year public affairs student and the chief of staff of USAC's Academic Affairs Commission.
But at the end of the day, it shouldn't be students' responsibility to advocate for their own fair treatment. The university must step in to ensure meaningful and lasting change.
This means training faculty members to listen to and address the unique issues students face, and hiring more counselors who understand the unique experiences students of color have.
Because of the importance of these resources, UCLA must prioritize their funding.
"We want to make sure that we're not just bringing our most vulnerable student populations here to campus and being like, 'Okay, figure it out,'" Riley said. "There has to be funding. There has to be a way to support them."
To be fair, UCLA has recently announced its plan to fund a Black Resource Center for its students. The Afrikan Student Union and the Black Graduate Student Association both called this a major win in a statement.
However, it is important for UCLA to not only fund the creation of resources like this, but also maintain them – which means consistently listening to students and appropriately addressing demands. Ultimately, it takes funding to train faculty to do just that.
The Black Lives Matter movement is not a short-lived trend.
And UCLA's support for Black students must not be either.