The Quad: Exploring how casual wear made its way into mainstream fashion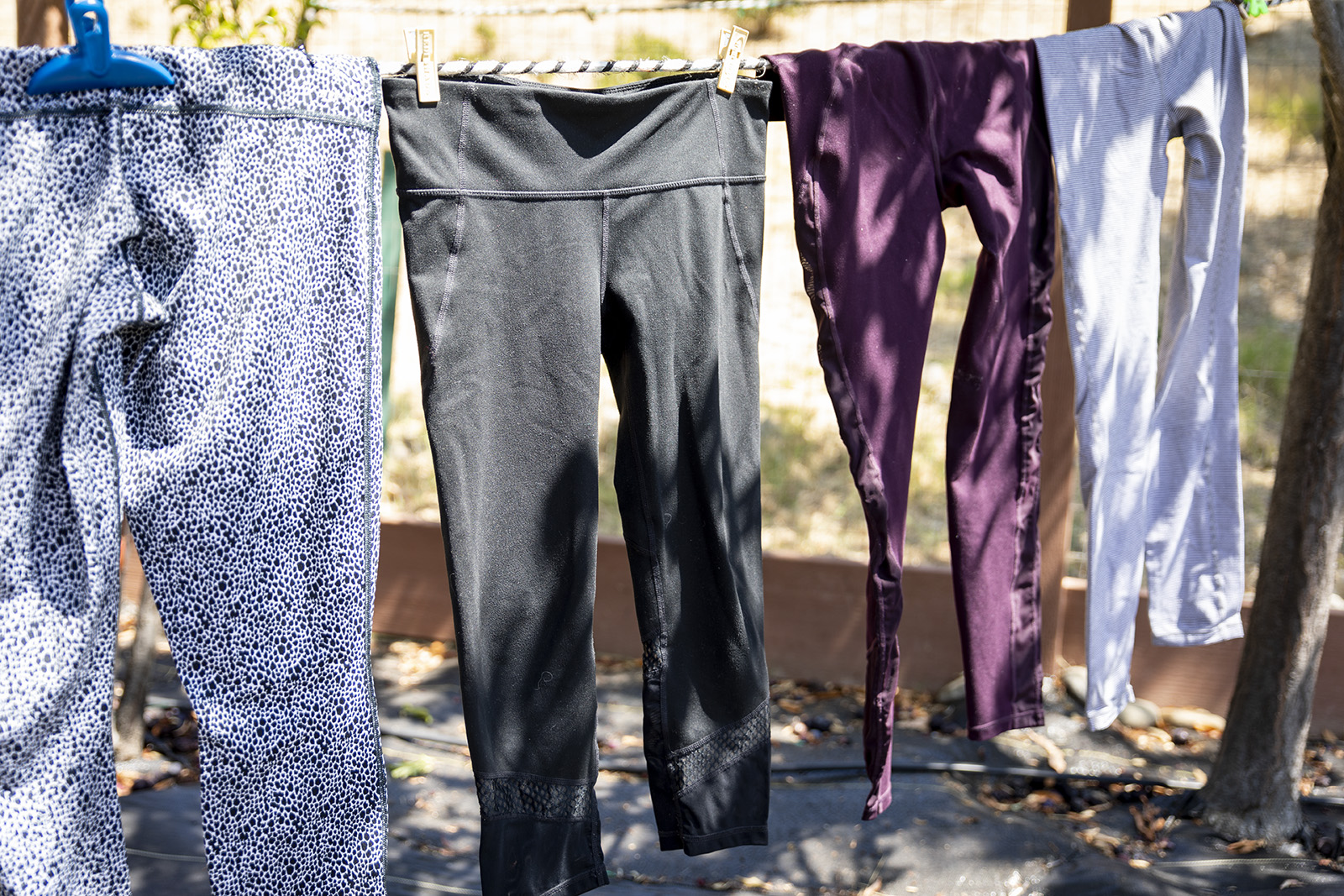 The preference for more comfortable and casual clothing has come to dominate, especially during quarantine. (Ashley Kenney/Assistant Photo editor)
During quarantine, when the day's main destination is the living room, the line between what's considered "dressing up" and "dressing down" is blurry at best. The result: goodbye business casual and hello comfortable loungewear.
As of April, pajama sales had jumped 143% and tracksuits and jumpsuit sales had risen by 70% and 80% respectively. But, even before the quarantine was in place, comfortable clothes were a staple in the modern market. Today, we're looking at how casual wear became the new norm, and how sporting it has taken on a meaning of its own.
[ICYMI: Student ties in comfort with personal brand in clothing line created in quarantine]
In the modern world, casual wear wouldn't look out of place in most workplaces and classrooms. In fact, major financial institutions like Goldman Sachs and JP Morgan have made suits optional for male employees as part of an initiative to relax the work dress code. On campus, students with no intention of going to the gym on a given day have transformed yoga pants and chunky sneakers into trendy uniforms.
"I feel like a majority of students go for something more casual, something more comfortable," said Jaifreen Bhangu, a third-year psychobiology student. "Other students are in the same boat as me … A lot of the times we're in classes with 200 students. You sit down and come back out, you don't really talk to anyone. And so there's really no point."
For Rida Ismail, a second-year molecular, cell, and developmental biology student on the men's club rowing team, comfort wear allows her to conquer her day without having to change in and out of workout clothes.
"I just wear what's the same, where I could start working out in it if I need to," Ismail said. "I don't want to wear something where I would have to change, so for practical reasons I can just go from class and straight to practice."
Not surprisingly, retail companies – even some of the most luxurious – are adjusting to consumers' priority of comfort over anything else. For example, your typical basketball shoes have been upgraded to the Triple S sneakers by Balenciaga and the once-humble tennis shirt has evolved into the infamous Ralph Lauren polo donned by preppy Americans.
However, the expansion of sportswear from the gym and into mainstream fashion isn't exactly a new phenomenon. Rather, it began in the late 19th and 20th centuries when leisure time was no longer reserved for the rich and elite classes, and a more active lifestyle was led by the average American.
This newfound time for fitness for the masses came with a need for new attire – especially for women. Historically, women's apparel – consisting of floor-length gowns, corsets and petticoats – had been extremely intricate and restrictive. But, following the Industrial Revolution, the introduction of modern sportswear and the high levels of comfort it advertised led women to demand a more functional wardrobe and less confining clothing.
For example, named after their best-known advocate and women's activist Amelia Bloomer, bloomers were a popular alternative to the heavy and restrictive dresses worn by American women. The simple combination of trousers with a knee-length skirt sparked an outpour of women ready to shed the burden of long, heavy apparel.
Hence, the groundwork for the emergence of casual clothing in popular style has been laid for centuries. It's difficult to know, however, if people back then would be able to predict not only the extreme popularity of the casual clothing market today, but also the way it has taken on new meanings.
Though casualwear has stealthily become a new face for status and wealth, it has not always been that way. Back in 2002, when stylist Rachel Johnson asked Burberry to style Grammy-nominated, triple-platinum artist Ja Rule for his photoshoot, Burberry refused.
Hip-hop music, with roots in African American oral tradition, has always been a form of expression for Black youths from urban, working class communities. Initially, hip-hop music had a stigma among designers who refused to associate their brands with the "urban community," which alludes to the exclusion of working class people of color. But, as hip-hop music carved itself a space on the global stage, the particular style endorsed by these musicians – known as street style or streetwear – followed suit.
Since the hip-hop group Run-DMC released "My Adidas" in 1986, a part of the first rap album to crack the top 10 of the Billboard 200 album chart, athletic brands and hip-hop artists have become regular collaborators. For instance, Aaliyah and Tommy Hilfiger and Fenty x Puma have been popular crossovers.
Over time, hip-hop and streetwear have become ultimate status symbols, such as the multibillion-dollar venture between Adidas and Kanye West known as Yeezy. Brands that once hesitated to work with hip-hop artists are now rushing to capitalize on hip-hop's cultural cachet. Today, streetwear is one of the fastest-growing industries in the world, with an estimated market value of $309 billion.
However, the elevated status that comes with casual wear doesn't always come with a high price tag. For example, after West's recent deal with Gap, the Yeezy fashion line will soon be available to the masses.
In the same vein, many CEOs in Silicon Valley have adopted the simple look of plain t-shirts and denim jeans, popularized by tech moguls like Facebook founder Mark Zuckerberg and Snapchat CEO Evan Spiegel. But, even before Zuckerberg, Apple CEO Steve Jobs was known for wearing black turtlenecks and New Balance sneakers in his keynote speeches.
Interestingly, the rejection of dress code norms and etiquette has been shown to increase one's impression of competence, otherwise known as the Red Sneakers Effect. In one study, luxury shop assistants in Milan, Italy generally agreed that customers in gym clothes would be more likely to make a purchase than customers wearing a fancy dress or a Rolex watch.
In essence, the long history of the evolution of clothing has arrived today with the following message: less is more. And, in today's new normal of seemingly endless weekends of remote life, the heyday of casual and comfortable clothing – whether for status or practicality – has come at the perfect time.
"It's more so for practical reasons that I think that culture is now becoming a thing," Ismail said. "Not so much because people get up and think about wearing that stuff. I think it's more so you didn't really want to dress up. You don't want to put on jeans. It's just not as comfortable."