The Quad: As more classes proceed remotely, students recall the best parts of campus life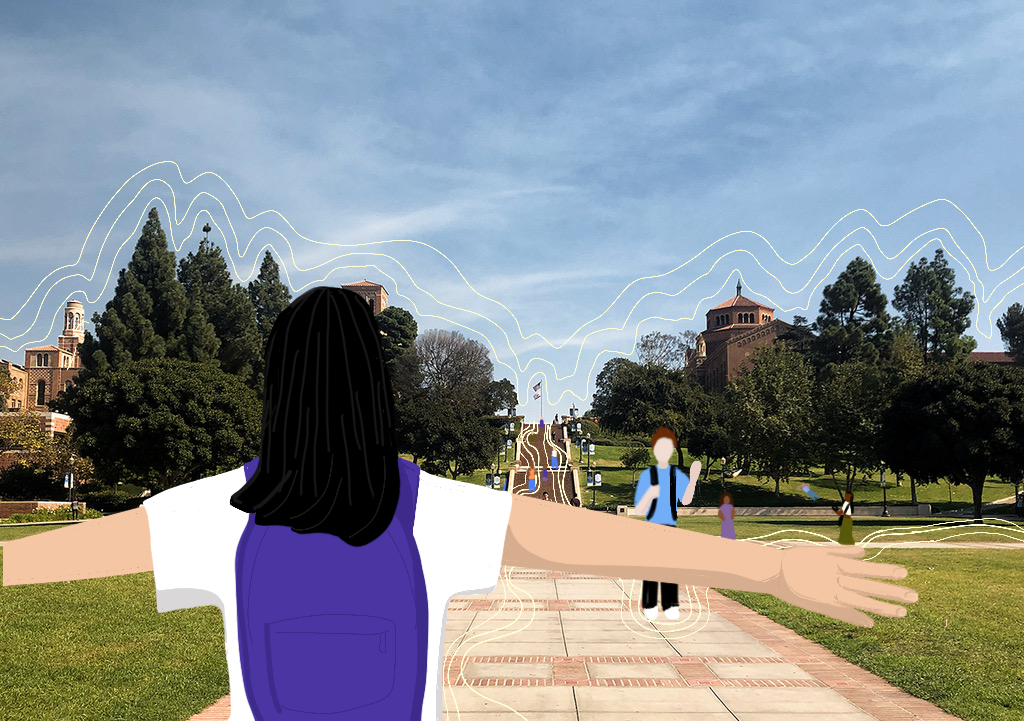 Facing another quarter away from UCLA, Bruins reflect on the things they miss most about life on campus. (Photo by Kanishka Mehra/Photo editor, Photo illustration by Emily Dembinski/Illustrations director)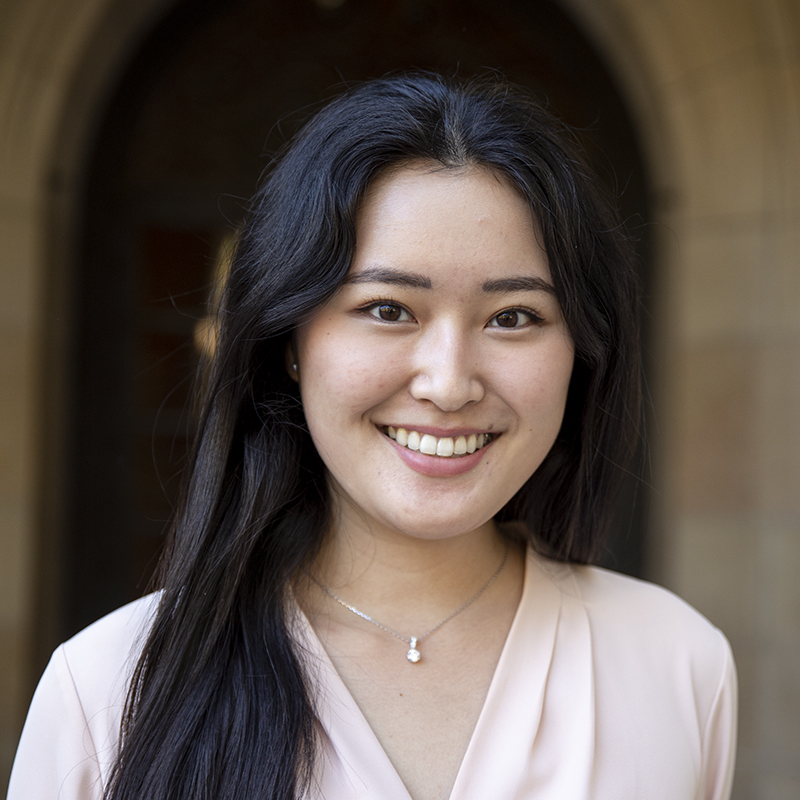 To say that the spring quarter of 2020 looked different from the ones before it would be an understatement at best. Now, in light of the recent cancellation of standard housing plans and the announcement that most fall quarter classes will be online-only, it looks like many Bruins will be mourning yet another quarter away from UCLA.
As such, we decided to ask fellow Bruins what they miss most about UCLA, hoping to bring students some campus nostalgia and hope for the future.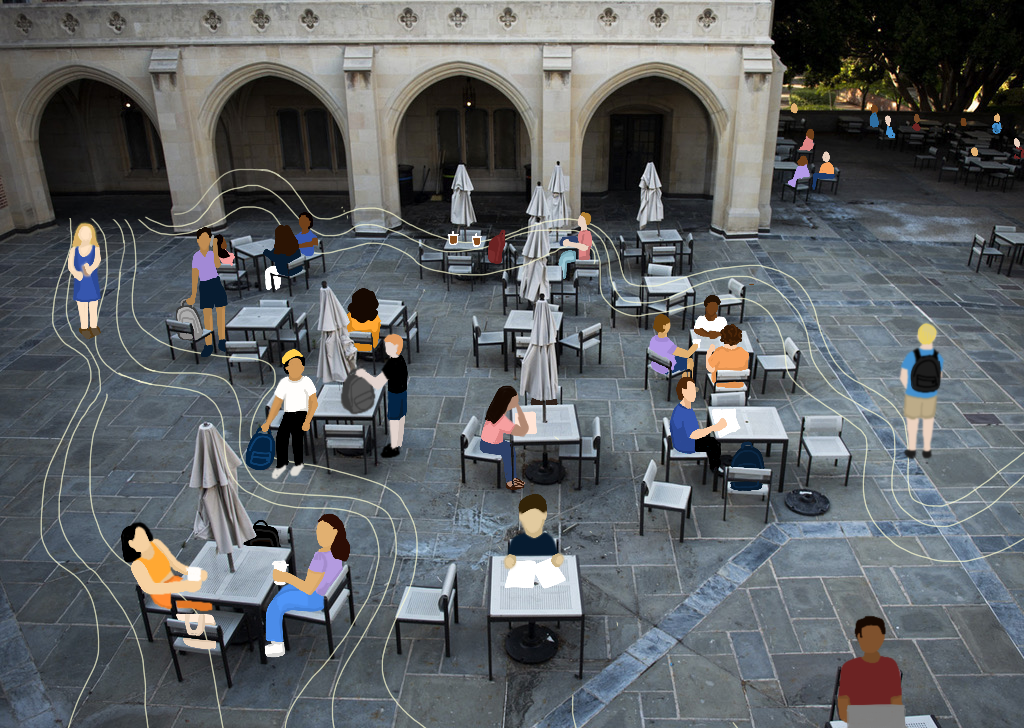 UCLA students span a range of majors and classes. But there is one commonality that binds them regardless: their study spaces.
From the top of the Hill at The Study at Hedrick to the grass slopes of the Franklin D. Murphy Sculpture Garden, spots to sit down and study are in no short supply on UCLA's campus. Although nobody looks forward to all-nighters at Powell Library, remote learning has made Bruins realize their appreciation for the many study spots at UCLA.
"I miss studying at Sproul Lecture Room," Juah Choi, a second-year undeclared life sciences student, said. "Studying at home has not been better for my grades, so it's very different."
While it is tough for students to let go of the study spaces at UCLA and the solidarity of studying alongside other students, they also miss having a community to help decompress after study time.
Abhinav Karredy, a third-year neuroscience student, said that hanging out, enjoying a movie or simply having conversations with friends are all ways to help take away the stress of school.
"In college, I feel like during busy times it's important to be grounded and have something to help you decompress," Karredy said. "For me, those moments in the lounges were the highlight of (my) week, and now even though I can still FaceTime or Zoom call my friends, I still feel like it's not a true substitute for those in-person hangouts."
College is a setting that allows students to make the most of their friendships. Living a door away from other students and seeing both new and familiar faces every day is why being at a university is the epitome of socializing.
Jeremy Park, a third-year nursing student, said he misses dorm life the most.
"(I miss) living with friends, being just a few rooms down from friends, (and) being able to study together, eat together, hang out and do stupid things in our rooms late into the night," Park said. "Being home is great, (and) I love my parents and my family, but I do miss living at school very dearly."
One of the difficulties that comes with being stuck at home is the inability to focus outside of a lecture hall setting.
"I think just being in class online, versus in person, makes it so much harder to pay attention and take class seriously," Park said.
Grace Kim, a second-year nursing student, said connecting with professors is harder without the face-to-face interaction.
"Even though it's still very much possible to build a connection virtually, it's easier to engage in natural conversations in traditional in-person classes that can enrich the learning experience," Kim said.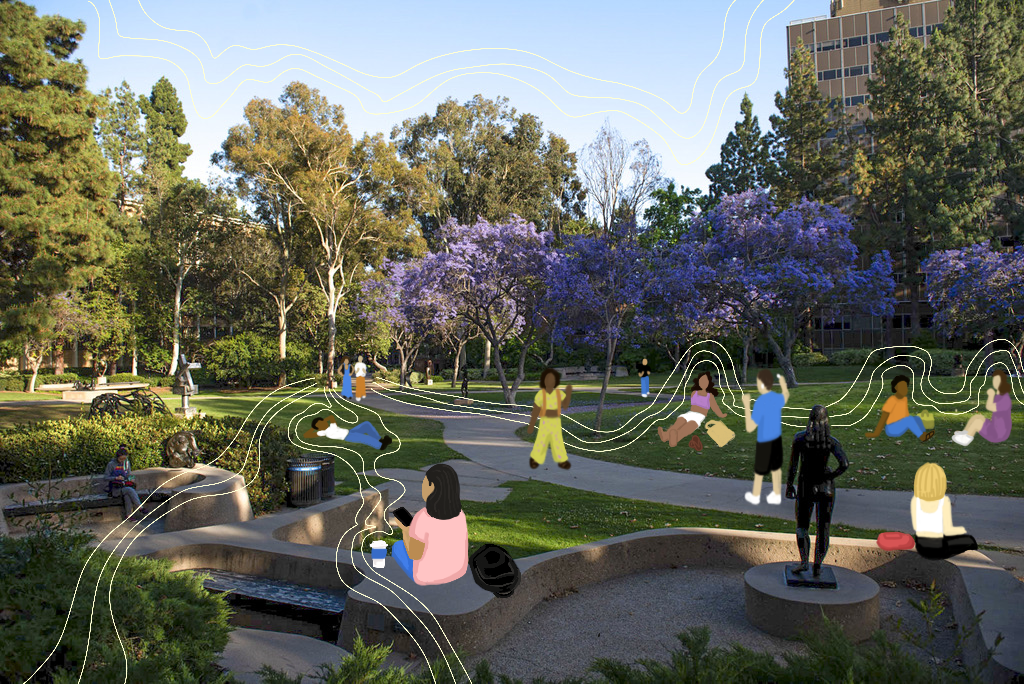 Although students do miss UCLA's people and study spots, some also miss the university's scenic campus in general. After all, UCLA has been voted in the top 10 most beautiful college campuses in California by California College Prep, as well as in the top 50 most beautiful college campuses in the United States by the editors of Conde Nast Traveler.
As a result, it's safe to say that being away from UCLA has left many students yearning to return to campus and relax near the beautiful architectural and natural settings of campus.
"There's actually a lot of scenic places I miss at UCLA," Kim said. "I especially miss studying inside of Powell, having a picnic with friends at Janss Steps and walking through the sculpture garden."
Perhaps not surprisingly, it is difficult to replicate the visual wonder of UCLA's campus from home. The famous architecture of UCLA buildings, the Los Angeles skyline and the greenery students get to enjoy in the midst of it all is part of the Bruin experience.
Nonetheless, in addition to the friends, professors, iconic spots and architecture, UCLA holds one last special spot in students' lives that ties them to it: the ability to see and experience something new every day.
Not only has the pandemic forced students to trade lecture halls for computer screens and Zoom, it also has required them to leave behind the quintessential college experience.
"Although it was just one quarter, it felt like I missed a good chunk of my college experience," Kim said.
During quarantine, it is easy to feel stuck in the same boring routine. This reality becomes harder when compared to life at UCLA, in which students could live their lives as they wanted and each new day was filled with excitement.
College is said to be some of the greatest years of your life, and for many students, the COVID-19 pandemic has unfortunately stripped some of that time away from them. However, while UCLA already plans to hold most classes virtually in the fall quarter, the wish to get back into the swing of normalcy is an excitement students are ready to experience again.
And when the imminent dangers of the pandemic subside, UCLA and all of the things we love about it will be waiting.
Chea is currently the Quad editor. She was previously a contributor for The Quad from 2018-2021. She is also a third-year political science student with a minor in global studies.
Chea is currently the Quad editor. She was previously a contributor for The Quad from 2018-2021. She is also a third-year political science student with a minor in global studies.