Editorial: UCLA should support NWWNC's parking plan to reduce housing insecurity amid pandemic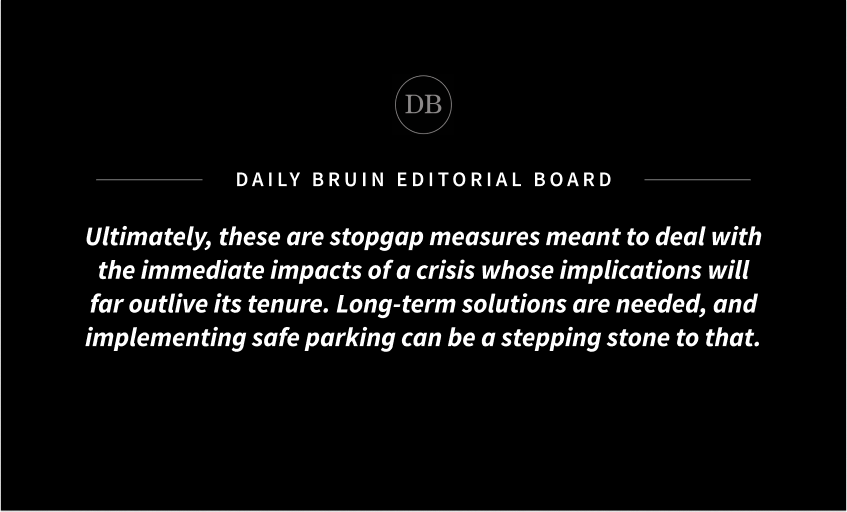 This post was updated July 20 at 11:40 p.m.
All talk, no action.
It's UCLA's signature response to issues that affect Bruins most.
And for students planning to return to Westwood in the fall, housing insecurity is the latest issue to get the university's cold shoulder.
Administrators rejected a January proposal from the North Westwood Neighborhood Council to let students experiencing housing insecurity sleep in their cars, citing safety and sanitation concerns. Instead, the university announced it would consider offering a hostel-like space for students experiencing homelessness, with a possible opening date in the fall.
It's been crickets since.
In fairness, the COVID-19 pandemic consumed administrators' attention. If we've learned anything over the past few months, however, it is that the virus simply illuminated and exacerbated longstanding institutional problems with the university.
UCLA Housing canceled many students' housing contracts to minimize population density on the Hill, leaving those without housing scrambling for an apartment in the state's most expensive neighborhood for renters. Such preventative measures may rightfully protect Bruins from infection, but without alternative options, students might be fearing financial danger much more than virus-related danger.
UCLA should take this opportunity to reconsider the NWWNC's safe parking proposal and implement safe parking spaces on campus. While the plan fails to address the root of the problem, it offers an immediate alternative for students who can't afford astronomically expensive housing. Furthermore, it gives administrators the time to figure out more concrete solutions that can effectively address student homelessness well after the pandemic ends.
Safe Parking UCLA, a collection of students, campus organizations and community members, released a proposal for an emergency safe parking pilot program in May. Under this program, students would have the option to park their vehicles in secure lots that provide access to restrooms, hygienic facilities and medical services.
These amenities may be difficult to provide during a pandemic, but this method is certainly a safer way to house students than options like hostels, which would inherently put people closer together.
Not to mention, safe parking comes at a substantially lower cost to both students and the university – though this is by no means a permanent solution. Living in a vehicle should be a last resort for students.
Other universities have already taken measures to alleviate students' housing concerns. USC recently announced it would offer scholarships of $4,000 per semester to accommodate increasing tuition rates and upended housing plans.
UCLA may be unwilling or unable lend such a generous hand. However, it can easily set aside the space in one of its now unused parking structures to give students a place to sleep.
Granted, UCLA has made strides to address housing uncertainty during the pandemic. Housing has promised to expand students' financial aid packages to cover the increased price of single- and double-occupancy rooms. UCLA Legal Services is also providing complimentary assistance to students dealing with unfriendly landlords.
Ultimately, these are stopgap measures meant to deal with the immediate impacts of a crisis whose implications will far outlive its tenure. Long-term solutions are needed, and implementing safe parking can be a stepping stone to that.
Otherwise, UCLA will have another crisis on its hands – one that can't be solved by cheap lip service and empty promises.