The Quad: Black Lives Matter protests spread beyond U.S. to create global movement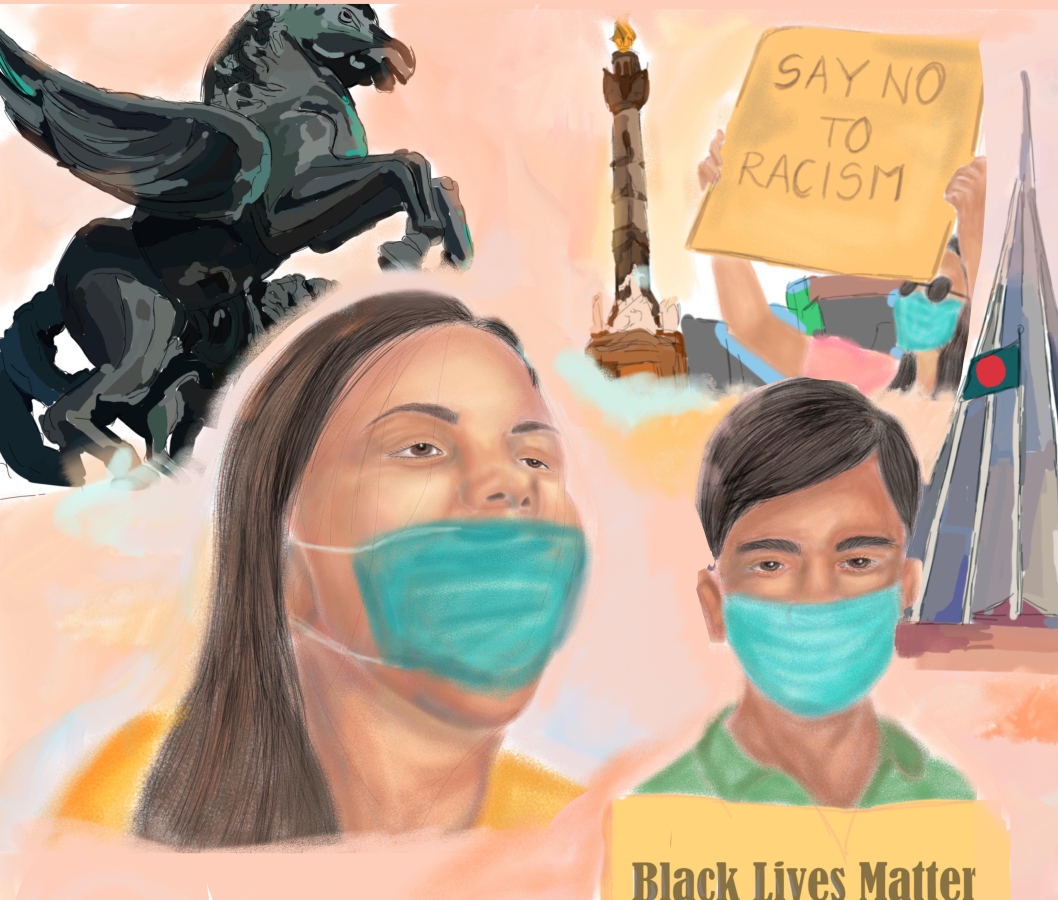 (Vaibhavi Patankar/ Daily Bruin)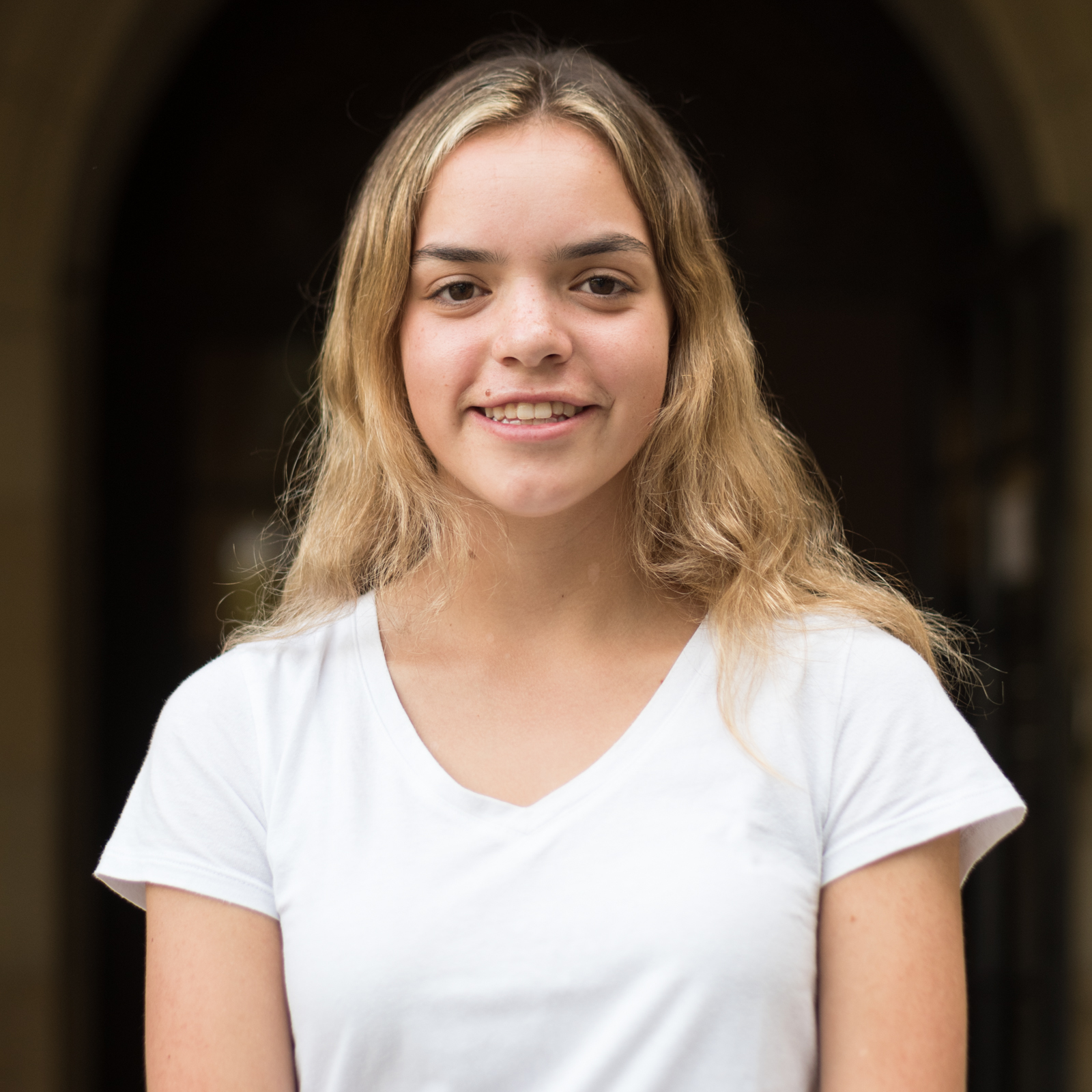 2020 has forced the global community to recognize its shared experiences more than its differences. It has forced us to recognize that our societies and systems can be as diseased as our bodies and has galvanized the people of the world to fight for the principle that Black Lives Matter – everywhere.
After George Floyd was killed by a white police officer in Minneapolis May 25, protests broke out across the nation in what would become the largest movement in United States history, according to the New York Times. But, though it originated in the U.S., the movement wasn't confined here for long. People around the world, including international UCLA students, are now seeing the effects first-hand in their countries.
One way we can see the work of the Black Lives Matter movement is through the creation of art that supports its message and the demolition of art that does not.
In Washington D.C., "Black Lives Matter" now shines brightly in yellow paint across from the White House over the newly renamed Black Lives Matter Plaza. The same painting appears on 5th Avenue in Manhattan, New York – right across from Trump Tower.
Cities abroad have also seen their own displays of protest art. For example, the Berlin Wall, once a symbol of division, now dons a graffiti image of George Floyd. And, more than 2,000 miles away in Idlib, Syria, painter Aziz Asmar has embellished the remains of a bombed building with an eight-foot-high mural in solidarity with the American movement.
On the other side of things, there has also been a call to remove art that promotes ideals contrary to those espoused by the Black Lives Matter movement. This has led protestors in Richmond, Virginia to demand the city take down a statue of Confederate army commander Robert E. Lee and protestors in Belgium to deface the statue of King Leopold II, the Belgian ruler responsible for countless human rights atrocities in colonial Congo.
As such, there is no denying that change is happening. But, this also raises the question: why, out of all times, are we now experiencing such a global awakening?
Efrén Pérez, a political science professor specializing in ethnic and racial politics, said the globalization of Black Lives Matter would not have been possible without the coronavirus pandemic and the resulting changes to our daily life.
"Part of what you have in light of the pandemic, both in the U.S. and other parts of the world, is that people were on lockdown and there is not a lot you can do except watch TV, news programming and spend time on social media," Pérez said. "There was wider exposure and a little more profound ingestion of the visuals, of what was actually happening."
The Black Lives Matter movement is tied to social media, allowing multiple sources of decentralized activists to work together to provide information to protestors, to share visuals and to spread powerful messages on a massive scale. And, as there have been protests on nearly every continent, the term "massive scale" even seems inadequate.
Pérez said a significant strategy in creating such a global movement has been to reframe the narrative by suggesting that police brutality is a structural issue. He also said that when we begin to think about our societies and the way they are built, we find that we have more in common than we think.
"There are dispositional explanations for what we see in the world, such as, don't commit a crime and the police won't hurt you, and then there are structural explanations," Pérez said. "Syrians rallying around the image of George Floyd is not necessarily them claiming to be African American, but instead a recognition that both groups know what it is like to be systematically oppressed by authorities."
[Related: The BLM Glossary: Hashtags and terms to know]
For UCLA international students displaced by the pandemic and closing borders, the movement has meant recognizing new links between patterns of oppression in the U.S. and their home countries.
In fact, these links are the very thing that first-year international development studies student Anan Khan encountered while quarantining with his family in Brisbane, Australia. Even though he was unable to attend the protests because he is quarantined with elder relatives, Khan has valued learning about the history of Australian Aboriginals.
"Having only learned briefly about the Aboriginals in the past, I had no idea that the oppression of native Australians still exists to this extent," Khan said. "Along with the familiar chant of 'I can't breathe', Australians are also chanting 'Always was, always will be Aboriginal land.'"
Like in Australia, countries around the world are applying the Black Lives Matter message to their own histories and traditions. In Mexico, the first of several protests erupted June 4 in response to the death of Giovanni López, a man who was detained and killed by police for not wearing a mask.
Rebeca Ruiz, a third-year cognitive science student living in Mexico City, said she thinks that the Black Lives Matter movement in the U.S. is important because it has proven to be a catalyst for important conversations about racism in Mexico, where many people believe racism does not exist.
"In Mexico, people have this idea that the country was founded on the principle of mestizaje, which refers to the mixing of races," Ruiz said.
Nonetheless, Ruiz said there is still a huge disparity between races in Mexico, and the movement has helped create a conversation about what racism really looks like there.
As it turns out, sparking new conversations is one of the most important characteristics of the globalizing Black Lives Matter movement. Pérez said the success of this new generation of activists has been thanks to their ability to broaden their approach to combating racism and to create a stronger movement of global solidarity across races and countries.
"I think there's a sense among young Black leaders that if you play it right, this struggle could be for more people than African Americans," Pérez said. "What they are trying to do is amplify the message, grow their coalition and strengthen the movement. It's a different approach than to just say this is a Black struggle, a Black movement, and you either like it or you don't like it."
For Khan, this has meant educating himself about his role in the movement by listening to comedian and political commentator Hasan Minhaj on his Netflix show "Patriot Act with Hasan Minhaj."
"Minhaj, who being from South Asia like myself, elaborates on what South Asians can do to learn from the movement," Khan said. "I chose to share this on my social media because a vast majority of people that I have on my social media are South Asians."
A major project for young activists has been to adapt or translate Black Lives Matter materials into other languages to reach further across the sphere into immigrant communities and global networks. Maricela Becerra, an assistant adjunct professor of Spanish and Portuguese, told Vox that some immigrants may struggle to fully comprehend anti-racist materials because they are not written in their native languages. As a result, Becerra authored a guide on social media to explain how to talk to immigrant Hispanics about Black Lives Matter.
The result, in short, is millions of people around the world rallying over a common message: "Black Lives Matter," "Las Vidas Negras Importan," "ブラックライブマター," "Schwarze Leben Zählen."
Whether it be Giovanni Lopez in Mexico, Adama Traoré in France, David Dungay in Australia, Belly Mujinga in the United Kingdom, Anderson Arboleda in Colombia, Collins Khosa in South Africa or George Floyd and Breonna Taylor in the U.S., the world is mourning those who have lost their lives to racism and police brutality. And the world has decided to join together and to do something about it.
"The point is, someone has more power, more resources, more status than others," Pérez said. "The notes are different, but the underlying harmony is the same, which is why people all around can resonate with the Black Lives Matter movement."