The BLM Glossary: Hashtags and terms to know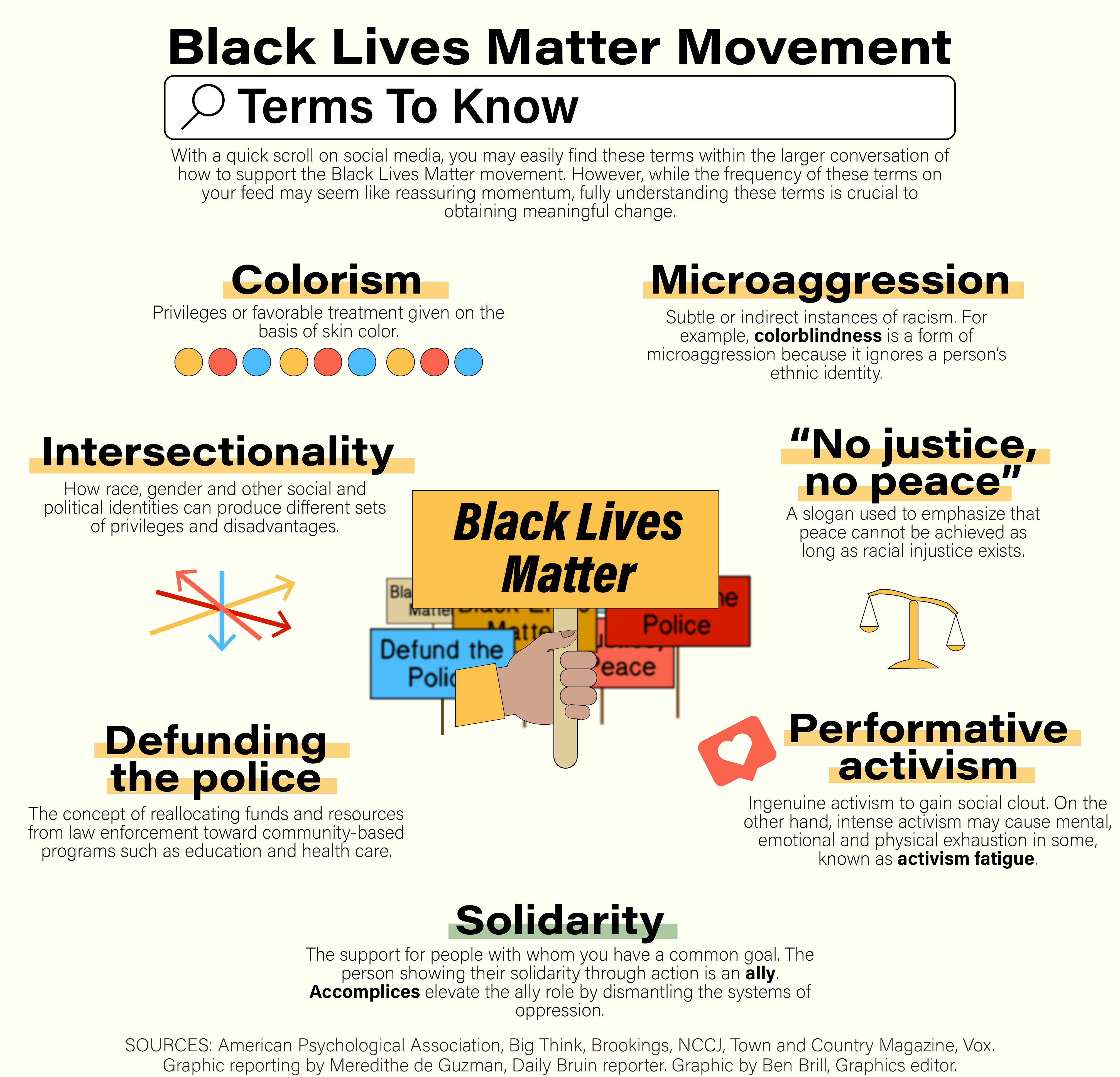 Correction: The original version of this graphic misspelled American Psychological Association.
This post was updated July 5 at 10:41 p.m.
Ever since footage of George Floyd's death surfaced on timelines and newsfeeds in May, more people than ever before have been compelled to bring the elimination of police brutality and the dismantling of racial inequality to the forefront of the American consciousness and political agenda.
In fact, one of the simple yet fundamental strides in this fight has been to reignite conversations about racial injustice. These crucial discussions may use key concepts, words and phrases that are unfamiliar to you or whose definitions are more nuanced than initially meets the eye. The Quad aims to define some of them here.
Racism
Black Power Movement leader Stokely Carmichael defines racism in "Black Power: The Politics of Liberation" as "the predication of decisions and policies on considerations of race for the purpose of subordinating a racial group and maintaining control over that group."
The grouping of people by race is itself a social construct. As it turns out, many social scientists have concluded that race has no biological basis. Rather, society consciously chooses to organize people through physical and cultural traits, such as skin color and origin.
Moreover, people within the same race can experience colorism. As defined by Alice Walker in her book "In Search of Our Mothers' Gardens," colorism is "prejudicial or preferential treatment of same-race people based solely on their color." Recently, you may have encountered posts on TikTok or Twitter in which individuals call attention to colorism among their race, like the preferential treatment of "light-skinned" Black people.
In general, society grants individuals different sets of privileges and disadvantages depending on their political and social identities. Kimberlé Crenshaw, a professor at the UCLA School of Law and Columbia School of Law, coined the term intersectionality to represent how society's treatment of individuals is influenced by the different ways someone's identity can be broken down. For instance, the way gender and racial identity produce a different set of inequalities for Black women is called misogynoir.
The Online Discourse: #BLM and Other Related Hashtags
The acquittal of the man accused of Trayvon Martin's murder in 2013 was the genesis for #BlackLivesMatter, a movement that began when three Black activists brought the fight against racial disparities in police brutality and anti-Black racism online. Today, the hashtag stands as one of the most influential social movements since the civil rights era.
#AllLivesMatter then emerged as a reactionary movement. All Lives Matter represents the concerns of mostly white people about the potentially divisive message of Black Lives Matter as deep racial tensions sweep the country. However, one frequent criticism of the slogan, as stated by a New York Times article, is that it implies that all people suffer equal oppression, mitigating the unique and pressing threats to Black lives specifically.
Relatedly, hashtags #SayHerName or #SayHisName highlight the objective of Black Lives Matter in bringing national attention to every police-brutality-related death in the Black community, including Kayla Moore, Eric Garner, Michael Brown, Freddie Gray, Sandra Bland, Alton Sterling and Breonna Taylor – just to name a few.
Forms of Racism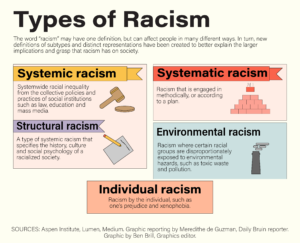 The umbrella term of "racism" involves several different types of racism at work in our society. Though the definitions and manifestations of these can overlap in places, here The Quad highlights some of the more subtle differences.
Systematic Racism
Not to be confused with systemic racism, systematic racism follows a method or plan. Systematic racism thus can be carried out by parts of society, like individuals or institutions. An example mentioned by dictionary.com is a hiring manager refusing to give interviews to Indigenous people.
Environmental Racism
A policy that exposes minority groups to a disproportionate amount of environmental hazards is a form of environmental racism.
As it relates to the ongoing water crisis in Flint, Michigan, The New York Times stated that civil rights activists believed the slow-going effort of the state government to respond to the crisis is a product of the fact that the majority of Flint's population is Black and that many of its residents are poor.
Systemic Racism
Systemic racism is system-wide discrimination and prejudice based on race. Examples of systemic racism include slavery, felony disenfranchisement and less accessible healthcare for minorities.
Additionally, you may have heard of anti-Blackness in law enforcement or the underrepresentation and misrepresentation of people of color in mass media being referred to as institutional racism. The term is often used interchangeably with systemic racism to talk about racism across the system.
Structural Racism
Structural racism, which can be considered a type of systemic racism, studies the way history, culture and social psychology support racial divides in a society, according to the Aspen Institute. It's also one of the most overlooked forms of racism as it's often practiced unconsciously or is racially neutral.
For new voters in Texas, handgun licenses are an acceptable form of identification, but a student ID from a state university is not. Though the provision itself is technically racially neutral, the Brennan Center for Justice showed that more than 80% of handgun licenses in 2018 were issued to white Texans while more than 50% of students attending the University of Texas are minorities.
Internalized Racism and the Microaggression
Individual racism or internalized racism happens within an individual. Examples include prejudice and xenophobia.
At times, an individual's racial biases can manifest as indirect instances of racism, or microaggressions. Telling someone they "sound white" for speaking articulately with good vocabulary, for example, is a microaggression by ascribing white people with qualities of higher intelligence. Furthermore, the UCLA guide to "Recognizing Microaggressions" categorizes colorblindness as a form of microaggression in erasing ethnic identities and experiences.
Another example of individual racism is white fragility, a term coined by Robin DiAngelo which is defined as "a state in which even a minimum amount of racial stress becomes intolerable, triggering a range of defensive moves." DiAngelo explains how the social environment in which white people in North America exist is designed to create racial comfort and can lead to defensive behaviors when this comfort is challenged.
Additionally, with white fragility comes complicity. There is a privilege in being able to ignore racism, and thus many people believe remaining silent is being complicit in racial injustice.
"No Justice, No Peace"
"No justice, no peace" has reverberated from the shouts and signs of activists and demonstrators across the country in the wake of George Floyd's death. In just a few words, it precisely breaks down the goals of the protests: No peace can be reached until proper justice is administered.
Though it has regained popularity in recent protests, the chant had been used by protestors as early as the 1980s after 23-year-old Michael Griffith was killed by oncoming traffic while attempting to escape a mob of white teenagers. Three of the four principal participants were convicted of manslaughter, one was acquitted and the rest of the people involved received lighter sentences or community service.
Defund the Police
Even with body cameras, de-escalation training and diversified leadership, the Minneapolis police department was unable to curb the disproportionate number of Black men dying at the hands of police. Dissatisfied with failed outcomes, many people urged for measures to defund the police.
The idea is this: Rather than have police respond to every 911 call, funding could be more evenly distributed among social services that are tailored toward the underlying factors of crime. This would mean that specialized law enforcement could be dispatched to, for example, a house break-in, while specialized social workers could respond to cases of mental illness or homelessness.
The Social Media Activist
The sudden outspokenness of fashion brands and corporations has sparked debates over whether real change is occurring or whether performance is at play. Social media has provided a tremendous platform for the growth of the Black Lives Matter movement but has also generated concerns about performative activism, or activism motivated by a desire for social clout rather than a genuine commitment to the cause.
Allyship
Any time you support a community with whom you share a common interest, you stand in solidarity with them and become the ally. Simply put, a person in support of a group is an ally while solidarity is how one expresses this support. When the group in power uses its privilege to advance the goals of a systemically disempowered group of people, it is called allyship.
Part of allyship is understanding the implicit biases and racist lessons that may have accumulated throughout one's life. Once racial biases and prejudice have been identified, correcting them demands openness to the idea of evolving from past beliefs, or unlearning.
Moreover, some believe moving from an ally to an accomplice is essential to serving racial justice. Though in other contexts the word can carry a negative connotation, accomplices expand the role of an ally in terms of racial justice by dedicating their efforts and acting directly toward dismantling the standing power structure.
Angela Davis sums the approach we must adopt to fully combat racism: "In a racist society, it is not enough to be non-racist, we must be anti-racist." As such, many have already demonstrated anti-racism through marches, donations to bail funds and educating family and friends on social media. These actions actively identify and challenge racism as opposed to nonracism, or a passive rejection of racial injustice.