Throwback Thursday: Students remain force for change as current protests mirror past demonstrations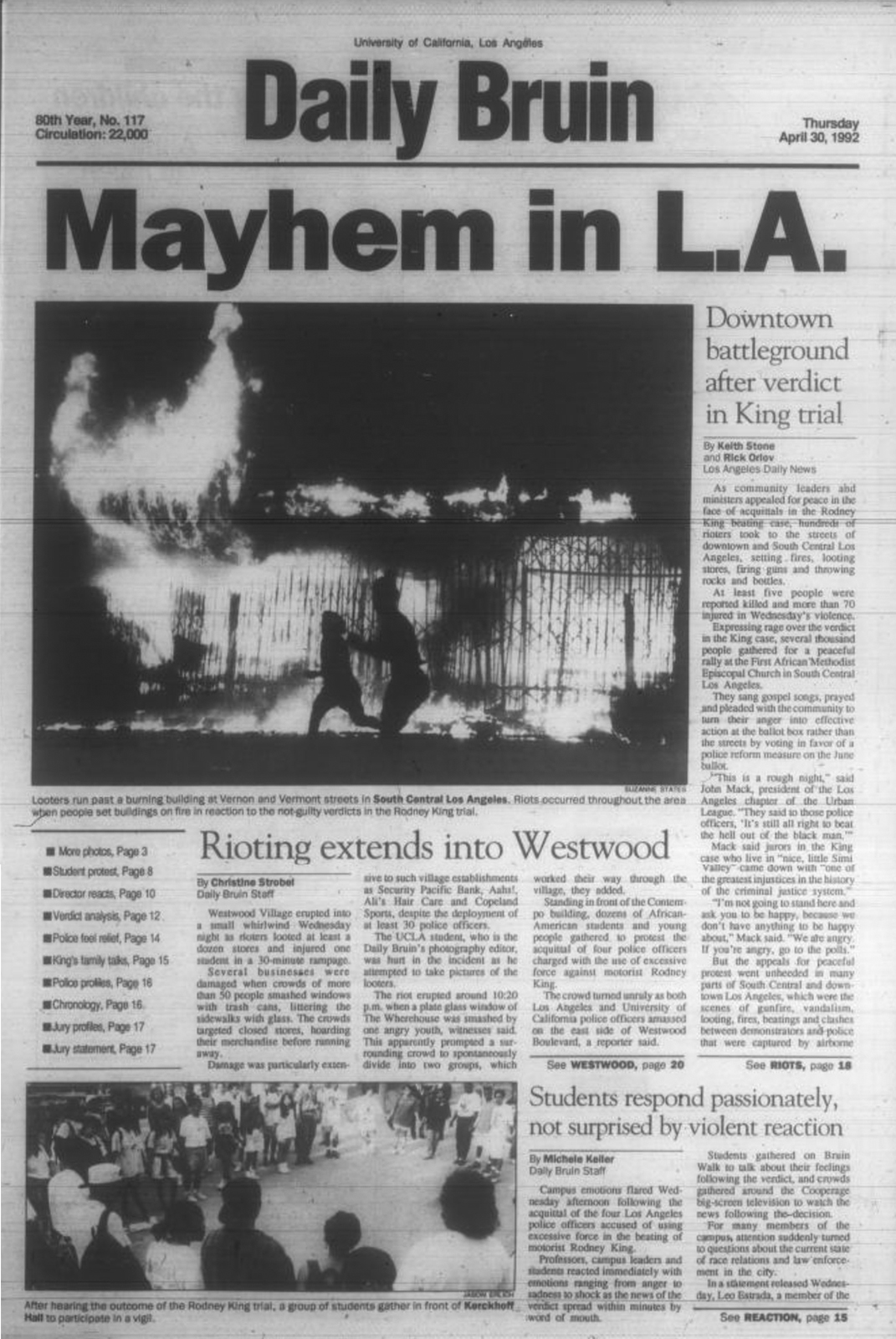 Some say history repeats itself. Our country's long record of police brutality against Black Americans is evidence to their point.
Though it has been more than 50 years since the civil rights movement of the 1950s and 1960s, we are confronted yet again with the racial injustice that has shaped our nation's history to the present. George Floyd's death at the hands of now ex-police officer Derek Chauvin has sparked nationwide demonstrations reminiscent of past efforts to end police brutality against Black individuals in the United States.
Today, The Quad is looking into the Daily Bruin's contemporary coverage of some of these past demonstrations – specifically, the unrest following the verdict of the Rodney King trial in 1992 and the death of Michael Brown at the hands of white police officers in 2014 – in an attempt to examine the different ways that individuals have participated in the struggle for racial justice over the years and to compare them to the events unfolding in our country today.
Varied Nature of Protests
One similarity between these three sets of uprisings is the varied nature of the protests themselves. The current protests condemning police brutality against Black individuals have been both peaceful and violent in nature, much like the demonstrations in 1992 and 2014.
According to a 1992 article written by then Daily Bruin staff member and alumna Christine Strobel, rioting and looting erupted in Westwood Village in the wake of the verdict that acquitted the four officers charged with using excessive violence against King. Looting and property destruction also occurred during the unrest following Brown's shooting, according to a 2015 LA Times article.
However, it must be noted that many peaceful protests are also currently taking place, just as they have in the past. A June 5 LA Times article stated that authorities believe that it is people not participating directly in the protests, but who are using the crowds as a cover, who are responsible for much of the theft and vandalism.
Nonviolent demonstrations also took place in 1992 and 2014. However, a 1992 Daily Bruin article said that the LAPD arrested even peaceful protesters, inciting frustration among community members toward police. Similar tensions arose between peaceful protesters and police in the wake of the shooting in Ferguson, Missouri.
Views on Violent Tactics
Though protesters today have condemned the LAPD for its failure to separate peaceful from violent forms of protest, some individuals saw the dramatic social disruption caused by destruction in past protests as the only way to bring about real change.
In an article written in 1992, then Daily Bruin staff writer and UCLA alumna Heather Skinazi reported on a talk given by Cornel West, a Princeton University professor and director of Afro-American studies who was visiting UCLA as a speaker. He said that the riots acted as a wake-up call to "spark positive change."
Protesters in the wake of Brown's death in Ferguson were also divided on the kinds of tactics to use in order to advance their cause, with some encouraging the use of more aggression. A group of protesters in an LA Times article from 2014, for example, supported a fellow protester as he threw a bottle at police, saying that both violent and peaceful methods were necessary to advance the cause of social justice.
Others, concerned that looters and rioters would damage the credibility of protesters and threaten the support of their audience, claimed to support the struggle for racial equality, but not violent tactics. Elan Lee, a woman protesting the nonindictment of the police officer who shot Brown, told the LA Times in 2014 that she was worried such tactics would give a reason for media outlets to generalize the demonstrations as violent.
Community members also expressed various views on the tactic of aggression in these protests. Some used their negative judgment toward the violence to express racist sentiments.
For example, in 1992, UCLA student Sanjay Sabarwal said in an op-ed piece that some people who condemned the riots expressed anger that African Americans "had the nerve" to hurt white people, even though not all the rioters were African American. He said further that many people had expressed "more emotion over that scene than over Rodney King."
Government Response to Protests
Regardless of protesters' or other community members' beliefs on the merit of violence as a tactic, there is a common theme both today and in the past of some government officials failing to recognize and support positive activism.
For example, political science professor Victor Wolfenstein said in a 1992 Daily Bruin article that governmental authorities were quick to label even peaceful demonstrations as riots. Similarly, some police officers in the wake of the 2014 shooting in Ferguson arrested protesters who weren't violating the law, thereby adding to the image that any kind of protest, peaceful or violent, would be met with penalizing force.
The LAPD has been under fire recently for arresting peaceful demonstrators and failing to differentiate between nonviolent activism and criminal activity.
"We didn't have protests last night, we had criminal acts," LAPD Chief of Police Michel Moore said.
Moore went on to say that Floyd's death was on the hands of those causing civil unrest, sparking even more criticism from protesters.
Not surprisingly, UCLA students have also had their fair share of run-ins with police during protests in the past. The LAPD arrested UCLA student protesters in 1992 and 2014, just as they have in the present.
Then Daily Bruin staff member Mimi Nguyen reported in another 1992 article that at least four UCLA students had been arrested by the LAPD when they failed to disperse from a peaceful protest, although the students claimed they hadn't been asked to leave. Then, in a 2015 Daily Bruin article that looked at the 2014 protests retrospectively, staff member Amanda Wilcox said that UCLA student Tala Deloria "used her shoes as a pillow the night she was arrested" for participating in a protest against police brutality.
In response to the current protests, the LAPD used UCLA's Jackie Robinson Stadium to hold arrested protesters, including UCLA students. Although UCLA was initially unaware that the LAPD would be processing arrests there, it did understand that the stadium would be used as a staging area and didn't take action to stop this arrangement, despite the current protests. On June 4, however, UCLA issued a statement condemning and prohibiting the LAPD's use of the stadium to process arrests
UCLA Student Involvement on Campus
Finally, as is demonstrated by the arrests of student protesters in all three of these instances, it is clear that UCLA students have been active in the fight for racial justice for a long time. One version of this activism can be seen through the work of UCLA students from the past and present who have highlighted and condemned racial inequities and police discrimination on our own campus.
A Daily Bruin editorial from May 1992 reacting to the "not guilty" verdict of the King trial described one such instance of discrimination on campus when a university police officer violently confronted an African American UCLA student and yelled racial epithets at him for ignoring his request to step onto the sidewalk. According to the article, such instances of police harassment on campus were routine. The editorial then encouraged Bruins to take action against such institutionalized racism from within the university.
Bruins also embraced this spirit of action in the wake of the Ferguson shooting.
Following the nonindictment of the police officer who shot and killed Brown, hundreds of students gathered on campus in a protest organized by the Afrikan Student Union calling for the UCPD to require sensitivity training for all of its officers. The protesters succeeded in pushing police and university officials to meet their demands, and subsequently, the Undergraduate Students Association Council formed a committee in collaboration with campus officials to address issues of racial profiling on campus.
Many UCLA students today are also taking action to combat racial inequities on campus and to look out for their fellow Bruins. On June 4, the Black Graduate Student Association of UCLA and ASU held a demonstration on campus to demand that the University of California modify final assessments and bring attention to incidents of racial profiling by the UCPD. Furthermore, students led by USAC and USAC Office of the External Vice President asked that the state withdraw National Guard troops from Westwood because of concerns that their presence disturbs and creates fear in the community.
Thus, it is clear that examining the responses to these three historical examples of police brutality reveals similarities of the riots, protests and other actions that occurred in their wake – but why do these similarities matter?
On one hand, learning from the history of activism against police brutality may help us to better understand and process the situation our country is experiencing today. But also, police brutality isn't anything new, and though there may be similarities in the responses to injustice, it is the repetition of injustice itself – the senseless loss of life and recurrence of police abuse – that remains the most important commonality to remember.
UCLA students have been admirable in the social action they have taken, but the fact that our community is again upheaved by the death of Black individuals at the hands of police is a reminder that we still have a long way to go to stop history from repeating itself once again.