Students debate the use of aggressive tactics as protest methods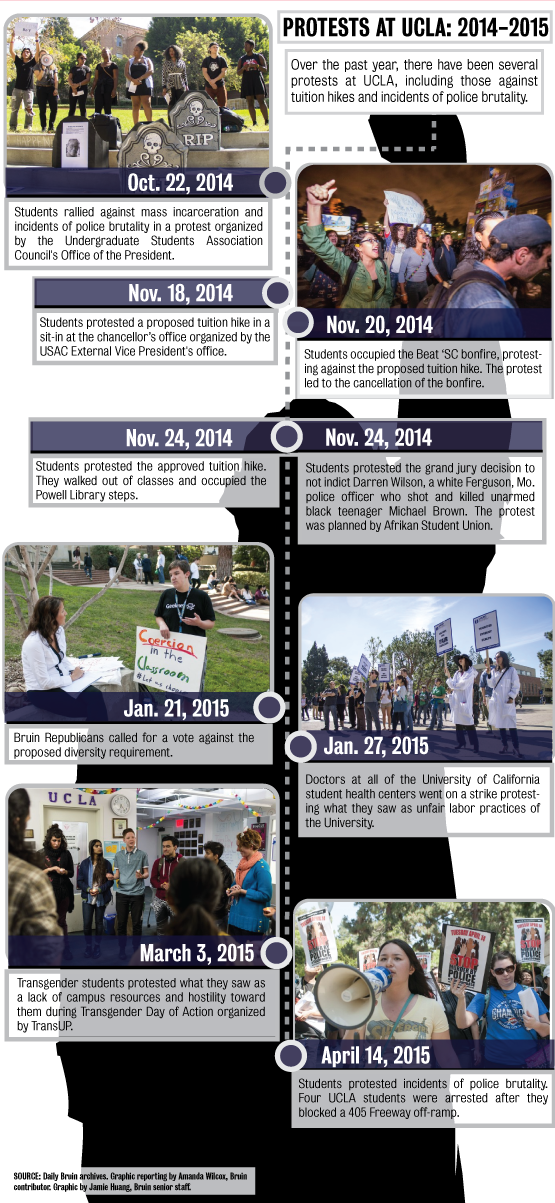 Tala Deloria said she used her shoes as a pillow the night she was arrested for blocking the 405 Freeway off-ramp south of Wilshire Boulevard during a protest against police brutality.
California Highway Patrol officers arrested four students in April during the protest, said Deloria, a third-year geography student and protest organizer. UCLA Revolutionary Club, a student group that supports the Revolutionary Communist Party, organized and led the protest.
During the last academic year, more aggressive protest tactics such as blocking roads and staging sit-ins drew considerable attention and criticism as students groups protested against issues such as mass incarceration, tuition increases and police brutality.
Deloria said she thinks the number of protests on campus last year partly resulted from the widely televised protests in Ferguson, Mo., following Michael Brown's death.

"Ferguson stood up and set an example for us," she said. "They inspired an entire nation to stand up to oppression in the same way."
Mike Cohn, director of Student Organizations, Leadership and Engagement at UCLA, said he works with various student organizations in order to ensure that groups of students can organize protests without causing a hindrance to classes and businesses on campus.
"It's difficult to handle these situations when student groups or off-campus entities do not inform us, UCPD or the events office about a protest," Cohn said. "This is a campus and protests can disrupt students and staff members."
However, despite her arrest and experience in jail, Deloria said she wouldn't change the way students protested.
"Sometimes civil disobedience is necessary to send a message," she said.
Jacob Kohlhepp, a third-year economics and political science student and president of Bruin Republicans, disagrees. Kohlhepp said he thinks blocking roads and preventing people from moving is inappropriate.
In late January, Bruin Republicans protested the diversity requirement, which will require students to earn at least a C grade in a course the College of Letters and Science faculty believes substantially addresses racial, ethnic, religious or another type of diversity. The requirement was approved in March with a 916 to 487 faculty vote.
"Protests should have some stability," he said. "Getting in people's faces or blocking their way is bad for your image. You shouldn't force people to be involved."
At the Bruin Republicans rally, about 10 to 15 students protested the diversity requirement and collected signatures opposing the requirement, Kohlhepp said.
"We wanted to show that there is another group of people on campus, apart from the pro-requirement side that seemed to dominate campus discussions," Kohlhepp said. "We also wanted to make it clear that opposing the requirement doesn't mean you oppose diversity or are racist."
Although the diversity requirement passed, Kohlhepp said he considers the protest a small victory.
"Considering we spent almost nothing, I think we did a good job," he said. "Our viewpoint was (of) the minority and we expected to lose, but we taught others about tolerance of different views and intellectual diversity."
Conrad Contreras, former undergraduate student government external vice president, said he thinks one of the reasons students take more aggressive approaches on campus is they feel that UCLA officials do not listen to students.
"(The administration) has never listened to students, and this year we had a student government that valued activism and protested to make their voices heard," he said.
Contreras' office organized a protest in November against the University of California tuition hike proposal as part of a UC Student Association statewide Day of Action. During the protest, more than 150 students marched through the UCLA campus, held a sit-in at Chancellor Gene Block's office and asked him to rescind his support for the tuition increase.
Contreras said he and former USAC president Devin Murphy met with Block before the protest.
"During the meeting we asked (Block) to state why he supported the tuition increase and to rescind his support, and he refused," Contreras said. "These meetings are supposed to hold the administration accountable. It didn't work, so we held the protest."
Nami Hatfield, a graduate student in library and information studies and the former external president of TransUp, UCLA's transgender and genderqueer-centered group, intended to achieve equal resources for transgender and genderqueer students. Hatfield organized a campus protest as part of the Transgender Day of Action in March, at which students called for more resources for transgender and genderqueer students.
Hatfield said she thinks occupying Block's office as part of the protest drew more attention to issues she fought for.
"Protests should make noise and cause traffic because that's what it takes to counter apathy."
Deloria said she thought many students were apathetic during her protest and believes more students should get involved in student activism.
"We need to stop being distracted by schoolwork for a minute and think about what's going on around us," she said.
Hatfield said she hopes protests continue because she thinks they are important for addressing what she called the UC's lack of transparency and making other political points.
Like most of the protest organizers, Kohlhepp expressed plans to organize more protests in fall. He said Bruin Republicans will consider holding protests concerning the minimum wage increase and affirmative action.