The Quad: Exploring how UCLA, other news sources have addressed coronavirus updates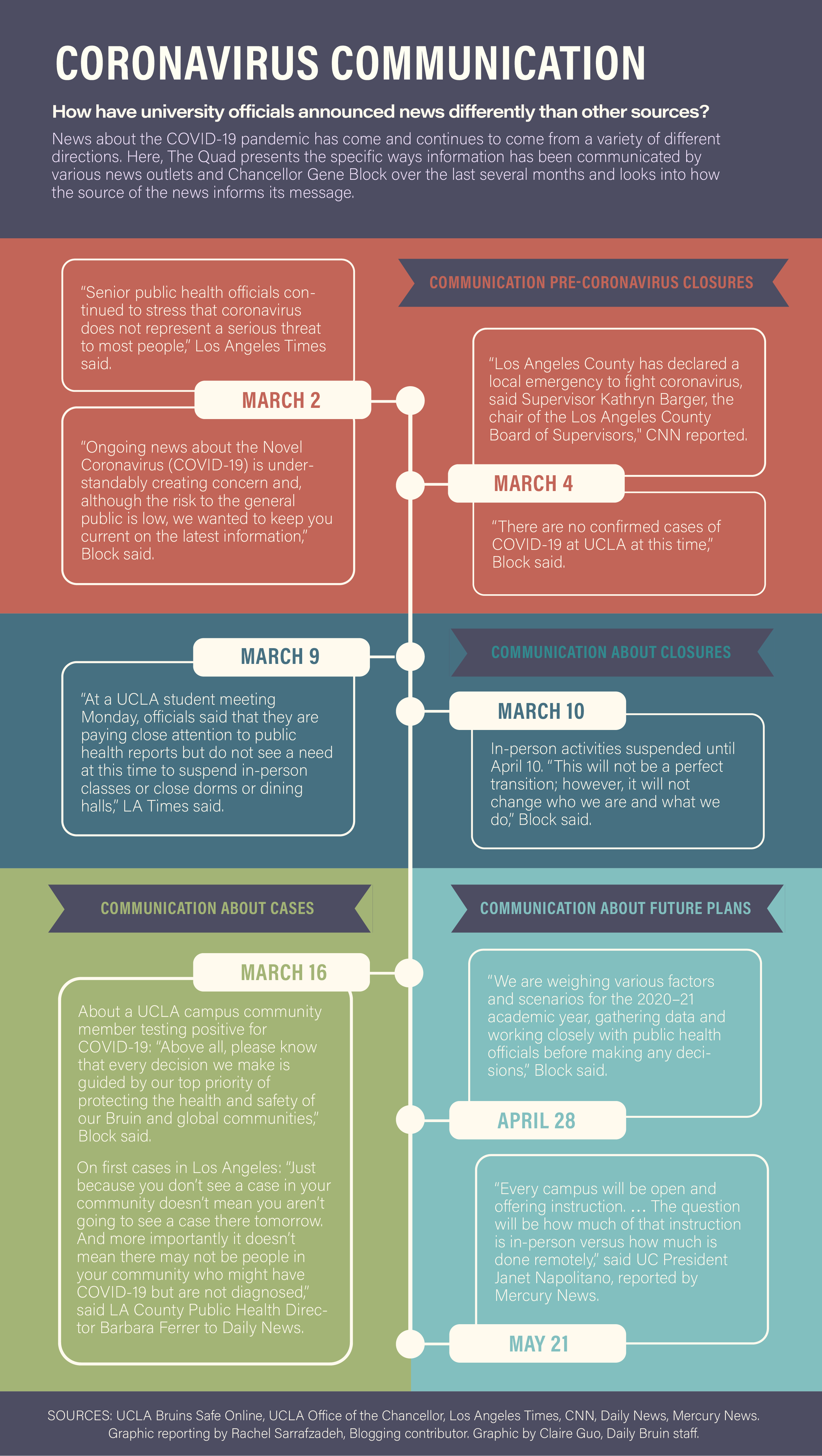 (Clare Guo/Daily Bruin staff)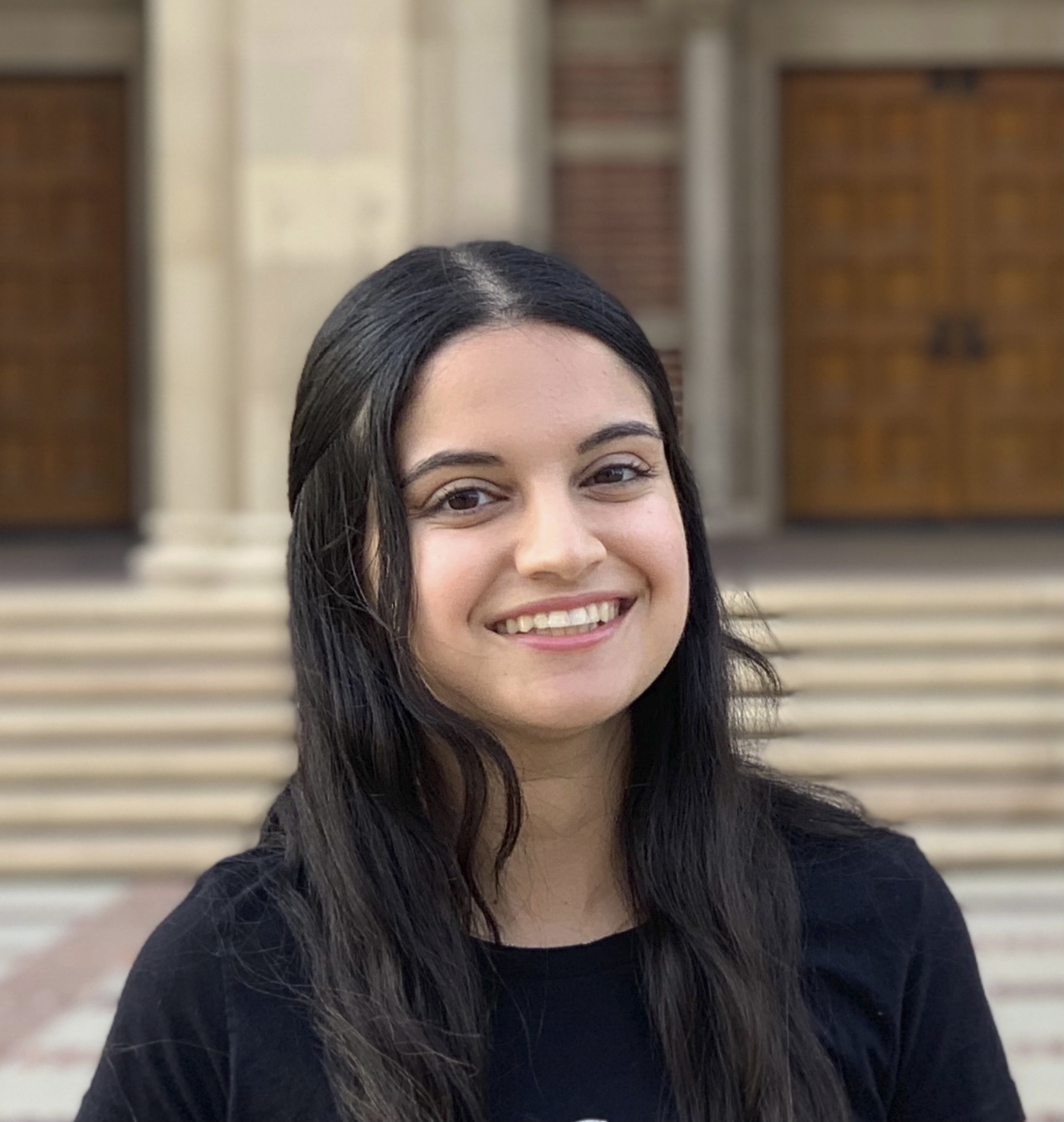 Never has the UCLA community been more attentive to Chancellor Gene Block's emails than we were these past two quarters.
After every buzzing tone, we anxiously grabbed our devices, checked our emails and received not only a new campus update, but also the basis for a whirlwind of emotions.
However, behind the scenes of the frenzy that ensued post-email release were officials trying to figure out what to say and how to say it; which, in this case, concerns news of a pandemic.
In light of this, the Quad is here to explore how our university has navigated this task, while also analyzing the differences in various forms of mass communication – specifically, how the source of the news informs its message.
To begin, one of the first email notifications to the UCLA community marked with the word "coronavirus" came March 2 from Block. In this early update, Block's words evoked a sense of calm and matched the sentiment of an article from the Los Angeles Times, also posted March 2. At this point, the virus hadn't fully come into force – as both the LA Times and Block wrote, the risk to the general public was low.
However, as the situation progressed, even if it was only a matter of days, the similarities between the communication from the UCLA administration and other news sources began to unravel.
On March 4, as cases of COVID-19 in Los Angeles County began to increase, Block stressed to the campus community that there were no confirmed cases at UCLA at the time. Meanwhile, LA County declared a local emergency after six new cases emerged in the county in only 48 hours. Thus, while the UCLA administration tried to diminish the panic, LA County worked to underline the threat of the situation.
Keeping this disparity in mind, the question then becomes: Why did UCLA share such a different message than the county in which it is located? Well, it looks like it is a distinction rooted in audience.
An EPJ Data Science study stated that news outlets usually pick and choose who they wish to reach and who they would rather leave unrepresented. For local newspapers, this is typically based on their geographic reach – as in, they want to cover stories that their reporters can easily access and that are relevant to their local audience.
For instance, a source like the LA Times has a geographic reach within LA County and likely centers much of its content based on this specific audience and the content they're seeking. Universities, however, don't have to think so hard when determining their audience. Block's messages are intended for the UCLA community, and thus have a natural emphasis on the status of the community, rather than on the entire county.
As a result, when discussing the eventual emergence of COVID-19 cases in the UCLA community, Block's messages continued to be tailored to his specifically chosen recipients. On March 16, Block shared that a UCLA campus community member tested positive for COVID-19. However, his message also contained reassurances.
"Above all, please know that every decision we make is guided by our top priority of protecting the health and safety of our Bruin and global communities," Block said in his March 16 email.
Despite having to be the bearer of bad news, this message suggests that Block still aims to boost community morale where possible. In contrast, in one of LA County Public Health Director Barbara Ferrer's statements regarding coronavirus cases, the delivery of bad news came unaccompanied.
"Just because you don't see a case in your community doesn't mean you aren't going to see a case there tomorrow," Ferrer said in an interview with the Los Angeles Daily News. "And more importantly it doesn't mean there may not be people in your community who might have COVID-19 but are not diagnosed."
Clearly and bluntly, Ferrer's statement draws attention to the dangers of the virus and its immediate threat to communities across the county.
UCLA communication professor Tim Groeling said that these contrasts in messages and message delivery may stem from the university's deeper connection to its readers: the students, faculty and staff.
"The university is not just an organization that is communicating, but it is an organization that is taking on the responsibility for the welfare of the students and the staff and the people who work there, a little more directly," Groeling said.
The responsibility Groeling mentioned carries through in most situations, but particularly when communicating about campus closures. For instance, when Block announced March 10 that all in-person activities would be suspended until April 10, he applied a more hopeful and positive outlook.
"This will not be a perfect transition; however, it will not change who we are and what we do," Block said in the email.
Additionally, Groeling explained that independent news organizations typically report things that are observed by them, rather than things that are caused by them. For example, the LA Times posted an article that mentioned UCLA officials and their close watch on public health reports, yet at the time no official closures had been announced, and the LA Times was left to speculate. In contrast, any message that comes from the university is not only a message but also a policy that will have a significant impact on the lives of students, faculty and staff, as well as on the broader community.
This impact in turn plays a role in UCLA's determination of its plans for the future, specifically for fall quarter. In Block's most recent update, from April 28, he refrained from making any definitive plans or promises for fall quarter. Ultimately, his verdict will be consequential for thousands of community members – their travel plans, housing circumstances and even job security.
"While we are all eager to see UCLA return to normal operations, the health and safety of our entire campus community must continue to guide our decisions," Block said in the statement to the campus community. "We are weighing various factors and scenarios for the 2020–21 academic year, gathering data and working closely with public health officials before making any decisions."
Other UC figures and campuses, though, have been quicker in communicating more definite decisions.
"Every campus will be open and offering instruction," said UC President Janet Napolitano, according to a May 20 Mercury News article. "The question will be how much of that instruction is in-person versus how much is done remotely."
Additionally, UC San Diego offered a promising proposal for mass student testing, in hopes of reopening in the fall.
As these different messages from different sources grow and accumulate, so does the impatience and frustration among students. However, behind all the criticism of indecision, there lies a genuine tension between immediacy and contingency for the UCLA administration.
University of Illinois professor Nikki Usher wrote in her book that online news production is largely pressured by immediacy – meaning quick and constant news updates. This pressure has become a value that is integral to news work and its mission of keeping the public abreast of the latest information.
Although other sources appear to be filling in more gaps about the future for readers, Groeling explained that what universities like UCSD did and what UCLA will end up doing will likely be similar – UCSD just runs the risk of overpromising, Groeling said.
In other words, even if some of us are sitting behind our screens anxiously waiting for the next email, we can respect the different factors that go into the UCLA administration's and other universities' decision making and hope that the delivery of good news for the future will be able to come to fruition.
So, to whoever said communication is easy, that might be so – unless it applies to a university of more than 45,000 students during a pandemic.