Film students postpone planned productions, pursue alternatives amid pandemic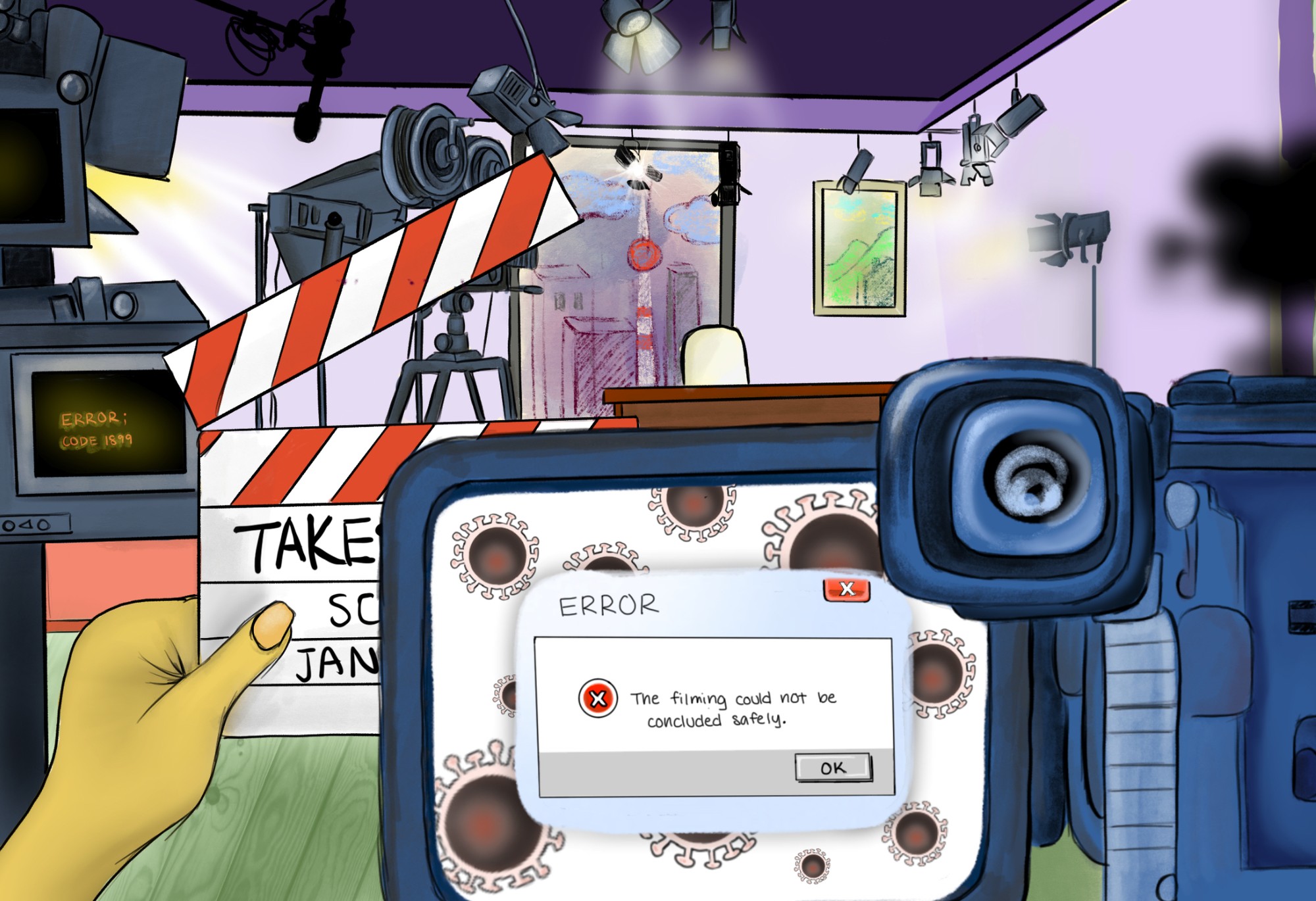 (Illustration by Catherine Xie/Daily Bruin)
Graduate film students await a return to set after the pandemic-derailed productions.
Film productions ground to a halt last quarter as stay-at-home orders went into effect, whether they were taking place locally or globally. While many film students in UCLA's School of Theater, Film and Television choose to shoot their projects near UCLA, graduate student Reem Jubran said she journeyed to Palestine, preparing to shoot a passion project which explores taboo topics such as transgenderism and marrying outside of one's culture. But she said her production soon began to unravel when she had to replace several key members of the production because of flight cancellations and instances of xenophobia.
"Obstacles were being thrown at us, but I still feel like I was super determined," Jubran said. "We were problem-solving like there's no tomorrow. And these aren't normal production problems that you usually face."
[Related: ]
Jubran's first major problem arose when her cinematographer, graduate student Mengyuan He, would have potentially been denied entry into the country as a result of her Chinese nationality. This was resolved by arranging for a letter from UCLA proving that she had been residing in Los Angeles for several months.
She said that although most of the Palestinian locals were welcoming and supportive of the production, the crew still experienced several instances of xenophobia. Jubran said she was shocked when her assistant director informed Jubran that her parents would not allow her to work on set because He was Chinese. Soon after, Jubran said she experienced another xenophobic encounter during a team lunch.
"There was a table of men that had just started their meal, and they got up and left the restaurant at the sight of He," Jubran said. "Fear was just dominating everyone. Fear was just eating everyone's soul."
In addition to such xenophobic obstacles, Jubran said she also had to recast her lead actress after her first choice was denied entry as a result of a new Israeli travel law. Shortly after, the Palestinian authorities announced they were closing all roads and enforcing shelter-in-place regulations, at which point she decided it would be nearly impossible to proceed with filming.
Graduate student Yao Liu, who was also preparing to shoot her film, said the university's shift to remote learning brought her production to a halt in LA. As an international student from China, Liu has faced uncertainty about when she will next be able to see her family in person as a result of COVID-19-related travel bans.
"This is kind of my norm in my life, because I can only talk to my family back at home via different screens," Liu said. "But the reality is that I can't go back, or maybe if I go back, I can't come back. … It is very difficult to process."
[Related: ]
While she was unable to shoot her intended project, Liu said she is currently working on a documentary at home about intimate emotional and mental health conversations between mothers and daughters, which she said are particularly difficult topics for her to navigate because of her Asian background. And rather than filming on a physical set, Liu said she has been electronically contacting old friends to use as documentary subjects.
Even before graduate student Jinsui Song's film for the MFA directing program was shut down, she experienced difficulties when her cinematographer was ordered to self-isolate upon returning from a trip to China for two weeks prior to filming. But after the two weeks were up, the switch to remote learning also made it impossible to shoot her film. At the moment, Song said she is unsure what returning to set might look like, since many proposed safety measures could have a big impact on the creative potential of future scripts.
"If there's a production, everyone on set should be six feet away from each other, and the actors cannot be close to each other," Song said. "We can't have any intimacy scenes in the script – there's no kissing, no hugging."
Such safety measures are also a point of struggle for graduate student Gabriella Wiltz, who planned on using her background in dance filmmaking to explore the close relationship between two dancers in her project. Wiltz said she may be unable to portray the intimacy she was planning to show between the two friends if they have to be across the room from each other at all times.
With her original project on hold indefinitely, Wiltz is currently working on a documentary about her life in quarantine, exploring challenges such as cooking for herself every day while living alone. Like her graduate student peers, Wiltz said she misses the communal aspect of shooting a traditional film and has been using this time to reflect on the kind of leader she would like to be when she finally returns to set. Wiltz said she wants to be a light in an industry that still suffers from gender inequality and outdated forms of thinking.
"I miss making movies in a fun and safe environment with people that I care about," Wiltz said. "I think maybe this pandemic is an opportunity for us to kickstart a lot of different changes that need to happen."