Softball to play first road games in St. Pete Clearwater Elite Invitational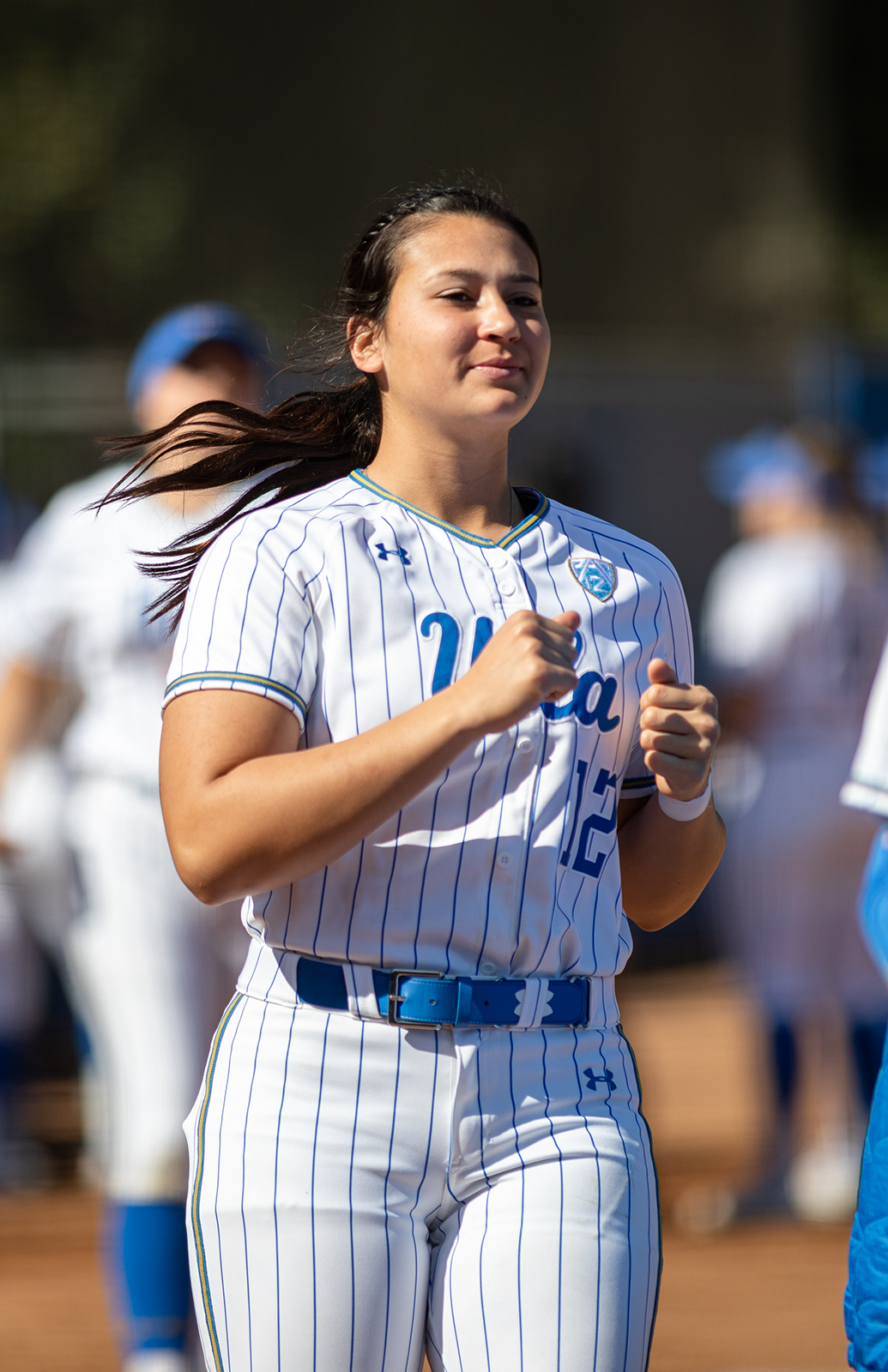 Freshman pitcher Lexi Sosa threw two scoreless innings in relief in No. 3 UCLA softball's 17-0 win over Pittsburgh last weekend. The Bruins will face three top-15 teams this weekend in the St. Pete Clearwater Elite Invitational. (David Rimer/Daily Bruin)
Softball
---
No. 9 Alabama
Friday, 1 p.m.
Clearwater, FL
ESPNU
Nine months ago, graduate catcher Jenavee Peres and her 1-year-old son Levi were sitting in front of the television, watching UCLA's journey to its 12th national championship unfold.
This weekend, Levi will watch his mother suit up for the Bruins in their mission to become back-to-back champions for the third time in program history.
"We were watching UCLA play and he was totally locked in," Peres said. "I'm glad he likes watching softball so much."
No. 3 UCLA softball (6-0) will travel to Florida this weekend in its first road trip to compete in the St. Pete Clearwater Elite Invitational for five games over three days, three of which are against top-15 programs – No. 9 Alabama (2-3), No. 15 Georgia (6-0) and No. 5 Florida State (6-0). For Peres, it will be the first long-distance journey away from Levi.
"This is definitely the farthest I've been from (Levi) and the longest I've been from him, so it'll be interesting," Peres said.
Prior to arriving in Westwood, Peres finished her career at San Diego State as the all-time leader in batting average, on-base percentage and slugging percentage, and was named the 2017 Mountain West Conference Player of the Year her junior year.
Coach Kelly Inouye-Perez said Peres' presence, even after two years away from collegiate softball, provides veteran leadership to a lineup that is already hitting for a .423 batting average through the first six games of the season.
"(When Peres) gets behind the plate there'll be instant leadership as far as working with the pitchers and running the defense," Inouye-Perez said. "I think she can contribute offensively as well. … We know (from) practice in January she's got a lot of power, she's a high-level hitter, she's got maturity … she can hit to all fields."
The Bulldogs and Seminoles have both started their seasons with perfect records. Two of then-No. 9 Florida State's wins were upsets over then-No. 2 Alabama by scores of 8-7 and 8-0, respectively. A year ago, all three programs finished in the top 10 in the country in home runs and top 20 in runs per game.
Florida State led the way in both categories with 105 longballs and 6.98 runs scored per contest, compared to UCLA's 78 home runs and 7.03 runs scored per game.
Inouye-Perez said she'll be observing how her team handles the liveliness and sense of anticipation surrounding the St. Pete Clearwater Invitational and the slate of ranked competition.
"I'm most excited about my team … being able to play in front of what I expect to be a crowd and a lot of noise, expectations, ESPN," Inouye-Perez said. "I'm not looking for perfection. . . it's the relentless pursuit of what we call competitive excellence. I want to see what that looks like with our 2020 team with some worthy opponents (and) solid programs with great coaching."
Freshman pitcher Lexi Sosa – who threw two scoreless innings with four strikeouts in relief in UCLA's 17-0 victory over Pittsburgh last weekend – said she and assistant coach Lisa Fernandez have been preparing a strategy for attacking the Georgia and Florida State lineups, both of which are hitting over .330 this season.
"(Wednesday's) bullpen is going to be super important," Sosa said. "We've done a lot of film so just looking at that and then (I have to tie) it in with the game."
The last time the Bruins and Seminoles faced off was in the semifinals of the 2018 College World Series at Hall of Fame Stadium in Oklahoma City, Oklahoma, in the 2018 Women's College World Series. Although that matchup ended in Florida State's favor en route to its first-ever national title run, Inouye-Perez said she looks forward to seeing how her team handles the added tension.
"Because of the history of it, we respect Florida State, but only (four) girls really got to experience it," Inouye-Perez said. "And it was a different time so I don't foresee this team getting heightened by Florida State. … I'm excited to see how we show up and compete knowing the shirts in the other dugouts. We have some history with them."
The Bruins' first matchup of the tournament will be against the Crimson Tide on Friday at 1 p.m.
Lavalsiti joined the Bruin as a junior transfer in 2018 and contributed until he graduated in 2020. He spent time on the softball, women's basketball, cross country and track & field beats.
Lavalsiti joined the Bruin as a junior transfer in 2018 and contributed until he graduated in 2020. He spent time on the softball, women's basketball, cross country and track & field beats.