Student web series looks past the pictures, explores ugliness of social media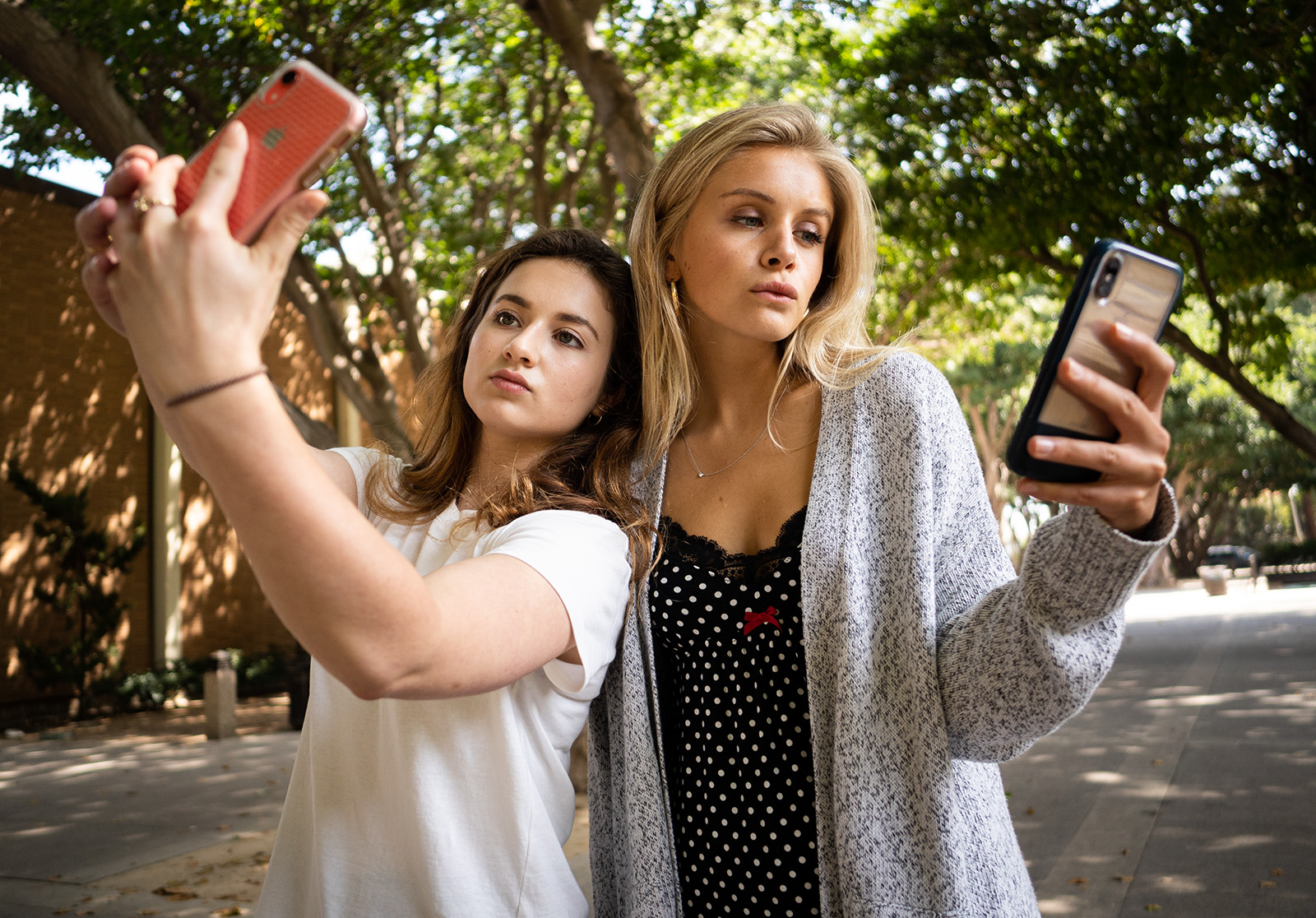 Fourth-year theater student Viva Rose (left) wrote, directed and starred alongside another fourth-year theater student, Jessie Guthrie (right), in "it g(IRL)s," a YouTube web series centered on an Instagram influencer with no friends. (Niveda Tennety/Assistant Photo editor)
Sept. 18, 2019 12:23 a.m.
An Instagram influencer without any friends is the paradoxical embodiment of millennial culture.
It's also the foundation of a new web series, "it g(IRL)s," released on YouTube in June. Written and created by Viva Rose, a fourth-year theater student, the show chronicles the relationship between two young women with careers in the entertainment industry: Millionaire social media star Lucy, played by fourth-year theater student Jessie Guthrie, and Jones, a fledgling comedian with little social presence, played by Rose.
The series starts off when the two are forced to work together, feigning a friendship orchestrated by their agents in order to bolster their careers. While Jones aims to gain a following, Lucy hopes to appear more personable. Rose said she used her real-life relationship with Guthrie as inspiration for the web series.
"I took our friendship dynamic and pushed it to extremes, making it characters that are perfect for us to play. (Guthrie's) this gorgeous model-esque person and I'm more of a goofy, comedian type," Rose said. "I heightened the truth of our friendship and created a hypothetical world where we're forced into being friends."
[RELATED: Alumna pushes YouTube literary community to take a leaf out of diversity's book]
Despite her social media fame, in the pilot, Lucy is too nervous to socialize with Jones and her friends. The influencer becomes so uncomfortable she faints in the bathroom, proving internet followers don't always materialize into real-life friends, said alumnus Max Havas, who directed the first two episodes and plays the character Sherman.
In discussing the artifice that goes into Lucy's social media presence, Havas said he'd pitch the show as "Mean Girls" meets "Jawline," with the former being an iconic high school comedy and the latter a Hulu documentary uncovering the uncomfortable and pernicious realities of being an influencer. Rose said she also sees "it g(IRL)s" living in the realm between drama and comedy.
"('it g(IRL)s') is a goofy comedy. It's a funny, hypothetical idea of what's really happening behind the scenes when you're looking at these people whose lives you want to have so badly," Rose said. "It's really easy for everyone to get sucked into appearances and what we're looking at on our phones all day long."
As for Lucy, the internet is her reality, and her world consists of followers and likes, said Guthrie. Once she befriends Jones, however, Guthrie said Lucy begins to care about someone outside herself.
[RELATED: Alumna's co-run YouTube channel provides realistic insight to pre-med students]
At the end of the first episode, Lucy decides to delete Instagram off her phone, recognizing the inauthenticity of the platform. This is a huge leap for someone in her shoes, Guthrie said, making the moment a pivotal one in terms of character development. And as an actress herself, Guthrie relates to Lucy's struggles of having to always perform online.
"The sad thing about being an actor in LA right now is that your online presence does matter and it's not just about your talent. I think Lucy feels like she always needs to be online, and she's never just relaxed and genuinely herself," Guthrie said. "She always feels she has to be presentable and funny."
This instant gratification and validation provided by social media platforms is something the series hopes to explore, Havas said. In particular, it critiques the way a host of individuals have come to amass credibility without necessarily doing anything meaningful, he said.
"(Influencers) have never created anything in their life besides a very compelling Instagram profile, but they're famous," Havas said. "That type of society where that's possible and common is overdue for a show."
As the series progresses, Havas said both Jones and Lucy will grow and change, coming to understand the need for sacrifice in life. Initially, Rose didn't intend for the show to have a specific theme. She wrote the first two episodes without a particular direction, constructing pieces and bits of the story from her stand-up comedy, which she uses to discusses moving to LA.
However, after learning of "Killing Eve" and its creator Phoebe Waller-Bridge, Rose said she now plans to take the show in a more intense direction. Though the story starts as a comedy, as she continues to write, Rose raises the stakes for Lucy and Jones, darkening the web series' tone for future episodes.
So far, only two 10-minute episodes of "it g(IRL)s" have been released on YouTube, but Rose already has plans to continue working with Havas and Guthrie throughout the upcoming school year to create new installments. As the entire production is independently run with the trio as the core team, producing the show solo has its obstacles. Guthrie said not having a filming permit has made shooting difficult because sometimes there just isn't anything that can be done for inconveniences, like a neighbor's vacuum running during a shot.
Despite these obstacles, Havas said he is confident that the show will go on in the upcoming school year as they plan around their academic schedules. Havas believes the series benefits from the spontaneity that comes with being a student and filming on a low budget.
"I hope we keep making ('it g(IRL)s') with the same people," Havas said. "(Rose) will write an episode, we'll go through a week of editing and months of planning, then filming takes place in like only three days. It's a story that benefits from being blurted out – (the series) will be difficult to finish, but it'll be satisfying."