The Quad: Nearby green escapes that offer quick, relaxing getaways from college life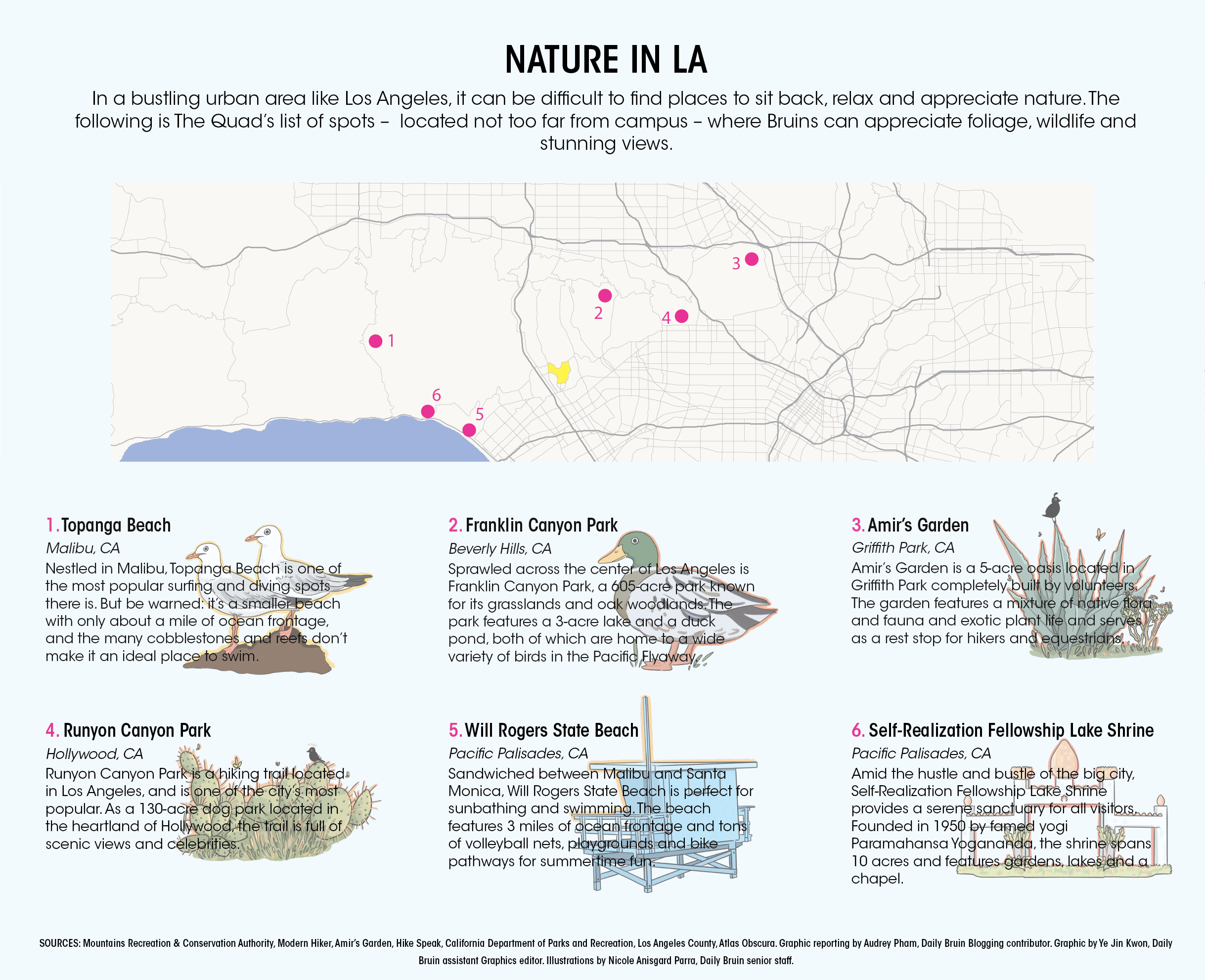 Amid the hustle and bustle of an expansive metropolis like Los Angeles, finding places to sit back, recharge and be at one with nature may seem impossible – but it doesn't need to be. Here are the Quad's top picks for nature spots not too far from campus, perfect for a picturesque and nature-filled getaway for any day of the week.
Franklin Canyon Park
Stretched across the center of Los Angeles lies Franklin Canyon Park, a 605-acre park known for its expansive foliage, bodies of water and hiking trails.
The park is not short of scenic views, thanks to the plentiful vegetation on its grounds. Chaparral, grasslands and oak woodlands are found throughout the park, as well as a duck pond and 3-acre lake – both of which are home to a wide variety of birds in the Pacific flyway. Hiking routes such as Discovery Trail and Hastain Trail also call the park home.
Surprisingly enough, Franklin Canyon Park had its beginnings in oil and water. Civil engineer William Mulholland and the Los Angeles Department of Water and Power began constructing a reservoir in the upper part of the canyon in 1914, and the family of oil tycoons such as Edward L. Doheny flocked to the canyon for summer vacations. Nowadays, Franklin Canyon Park is an ideal choice for anyone's fix of nature.
Topanga Beach
Nestled in Malibu, Topanga Beach is one of Los Angeles' most popular spots for surfing and diving. The beach features over a mile of ocean frontage – perfect for when the nearby Santa Monica State Beach gets a little too overwhelming.
The beach itself is heavily rooted in the Native American history of the land; the name "Topanga" comes from the indigenous Chumash Ventureño language. In the 1910s, Stanford students discovered human skeletons there that dated back to 1200. Later, the area was given the archeological site number LAN-133.
Topanga is most suited for the aforementioned aquatic activities, along with scuba diving and fishing, and more leisurely activities such as sunbathing. Taking a swim in the ocean may be a bit difficult because of the cobblestone and reefs found throughout the beach. Regardless, as a smaller beach, Topanga is a great choice for when you crave the ocean without the crowd.
Amir's Garden
Amir's Garden is a 5-acre oasis located within Griffith Park and is maintained solely by volunteers. Because of its location just off the Mineral Wells trail, the garden conveniently serves as a rest stop for hikers.
The garden features a wide variety of native and exotic plant life. These plants are a particularly beautiful spectacle during the spring, when hillsides become green and dotted with flowers.
In a way, Amir's Garden acts as a sanctuary within a sanctuary. A man named Amir Dialameh conceived the idea for the outdoor space after a brush fire swept through the area. In 1971, after successfully petitioning the city to create a garden as a rest-stop, Dialameh singlehandedly cleared out the area, created hiking trails and planted a wide variety of trees and shrubs. Come to Griffith Park for the hike, and stop by the garden for a green and luscious recharge.
Runyon Canyon Park
Runyon Canyon Park is a hiking trail that has come to be one of the city's most popular trails for good reason. As a 130-acre dog park located in the heart of Hollywood, the trail is full to the brim with scenic views, cute dogs and big-name celebrities.
The park has a similarly star-studded history. The canyon was first purchased by Carman Runyon and subsequently got its name, but it wasn't until Irish tenor John McCormack's purchase of the property and his building of a mansion on the land that it became a vacation spot for many Hollywood stars.
The park has since been acquired by the city, and, as public property, the trail is a great choice for hiking novices and professionals alike. The path varies from paved to rugged, allowing for both a leisurely stroll and a more intensive workout.
Will Rogers State Beach
Between Malibu and Santa Monica lies Will Rogers State Beach – a beach perfect for classic summertime activities such as sunbathing and swimming. And with 3 miles of ocean frontage, there will seldom be a lack of room at the beach for your fun in the sun.
The beach was named after actor Will Rogers and started out as private property under his ownership. He turned the land into a ranch for his family that served as a retreat from the hubbub of everyday life. After his passing in 1935, his wife gave the land to the state of California, intending it as a public memorial of her late husband.
Because of this deed, Will Rogers State Beach is enjoyed by all. This beach is lined with volleyball nets, picnic tables and bike pathways, sure to guarantee a surplus of activities on the shore.
Self-Realization Fellowship Lake Shrine
Perhaps the most serene place of them all, Self-Realization Fellowship Lake Shrine is a much-needed refuge from the everyday chaos of the big city. It was founded in 1950 by the famed yogi Paramahansa Yogananda and meant to bring peace of mind and spiritual enlightenment to all those who visit.
The shrine spans 10 acres of land and features many gardens, a lake and a chapel. A monument honoring many of the world's practiced religions – such as Christianity, Buddhism and Judaism – is also a focal point at the shrine.
Such features are sure to guarantee a place of quietude amid the daily responsibilities of college life. So next time you're looking for a getaway full of nature and the metaphysical, look no further than the Self-Realization Fellowship Lake Shrine.