Q&A: Radiation expert discusses potential fallout of 'Chernobyl' inaccuracies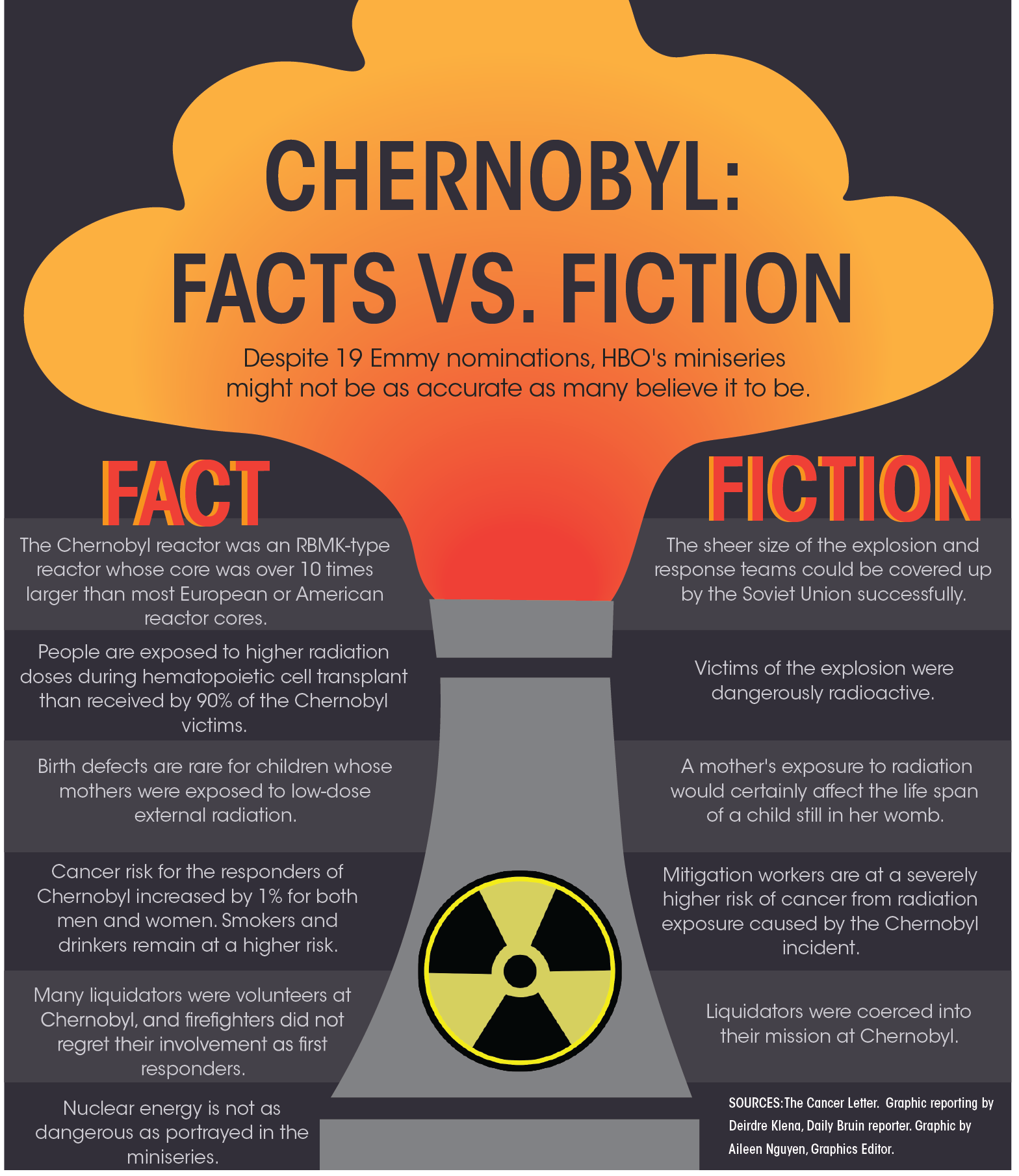 Graphic scenes of radiation poisoned patients may be misleading in the HBO miniseries "Chernobyl."
Despite critical acclaim and 19 Emmy nominations, "Chernobyl" was perhaps not as accurate as many thought it to be.
Dr. Robert Peter Gale, a UCLA alumnus and former medical staff member at the Ronald Reagan UCLA Medical Center who specializes in radiation treatment, wrote a series of four reviews for The Cancer Letter highlighting how the miniseries did not accurately portray the medical effects of the nuclear disaster. He was intimately involved in the immediate response to the Chernobyl nuclear explosion, traveling to the Soviet Union and treating radiation patients, Gale said. His reviews featured on The Cancer Letter explain how much of the medical information portrayed in the show was simply wrong.
Gale spoke to Daily Bruin's Deirdre Klena about his experience in the Soviet Union immediately following the disaster, his reviews and the dangers of taking liberties with scientific facts.
[RELATED: Randall Park reflects on how his time at UCLA shaped his career in acting, writing]
Daily Bruin: You were in the Soviet Union right after the accident. Were you worried about potential radiation exposure?
Robert Gale: I deal with radiation all the time. I know the risks and safety measures and things associated with it. I really didn't have any reservations about going to Moscow or Kyiv, Ukraine, at the time of the accident. I'm quite comfortable with radiation and radiation safety, therefore I didn't have any personal concerns.
DB: What made you decide to write the reviews of "Chernobyl"?
RG: I was intimately involved in the response to the accident. I was asked by the publication, a prominent publication in the cancer field, called The Cancer Letter. The publisher asked me if I would write a weekly review of this HBO series.
DB: When in the series did you realize that there were these inaccuracies?
RG: It was immediately. Overall, the thing was well done and I'm very pleased that they brought it to people's attention. However, it was immediately apparent that there were inaccuracies that have important consequences for viewers. My audience were people reading something called The Cancer Letter, so they were likely to be physicians and they're also likely to be cancer specialists.
DB: What did you expect from the series initially?
RG: I don't know that I had any strong expectations. Living and working in Hollywood and trying to write screenplays and being involved in making movies, you know that there always have to be certain liberties taken, especially when you have weekly, one-hour, five-week television. You have to keep people coming back. Nobody expects a dry, talking heads series. It's gotta be alluring.
But when you're making this kind of a movie or TV show, you would typically involve one or two technical experts. It would be easy to find someone at UCLA or USC that's an expert in this field and say, "I want to get this right." But I didn't see anything in the credits that that had been done. And I may be wrong, but it's very hard for me to imagine a producer or director who had expert advice contravening that.
[RELATED: 'The Good Place' writers discuss harnessing philosophy's comedic potential]
DB: Why do you think the series made such an effort to deny the immediate death count of the incident at Chernobyl?
RG: In the absence of a technical expert, if you just go online, you can read any kind of incredible thing. Many people start with an inherent prejudice that governments are dishonest and cover things up. Then if you go on the internet, you can read that thousands of people died, but when we talk about the immediate consequences, that's simply not true. We know exactly how many people died.
As for the miniseries, I think it's the old thing in the entertainment industry. Dog bites man is not interesting. Man bites dog is. If you say this was a trivial accident – that more people die on the July 4 weekend in automobile accidents than died from Chernobyl – then why should you watch my TV show? But if all of us are gonna die from Chernobyl, you know that sells. I think the producers and writers were unfortunately ill-informed and more unfortunately don't seem to have sought expert scientific advice.
DB: Do you think public good is poorly served when the science is inaccurate in shows like this? What kind of effects does taking broad liberties with scientific facts have on the public?
RG: The risk of nuclear terrorism is a real risk that we have. If one of these events occurred, people would go running to their physician and would say, "What should I do?" or "I'm pregnant, what should I do?" and so forth and so on. We estimate that there were probably more than a million unnecessary abortions done in Eastern and Western Europe in the aftermath of the Chernobyl accident because of ill advice from physicians to pregnant women. Ignorance can be an incredibly deadly thing.
And then there is just one other overwhelming thing, which is how are we going to get out of the conundrum of global warming. We have no technology that can rescue us over the next couple decades from global warming except relying on nuclear energy. There's lots of other good things like conservation, solar power and wind, but none of these can solve the problem of global warming. The only thing that can rescue us on the short term is nuclear energy. If people come away with the impression that this is the most horrendous thing ever, we're not going to solve the problem. It has far-reaching consequences.