Musician explores bedroom pop, strikes a chord with independently produced single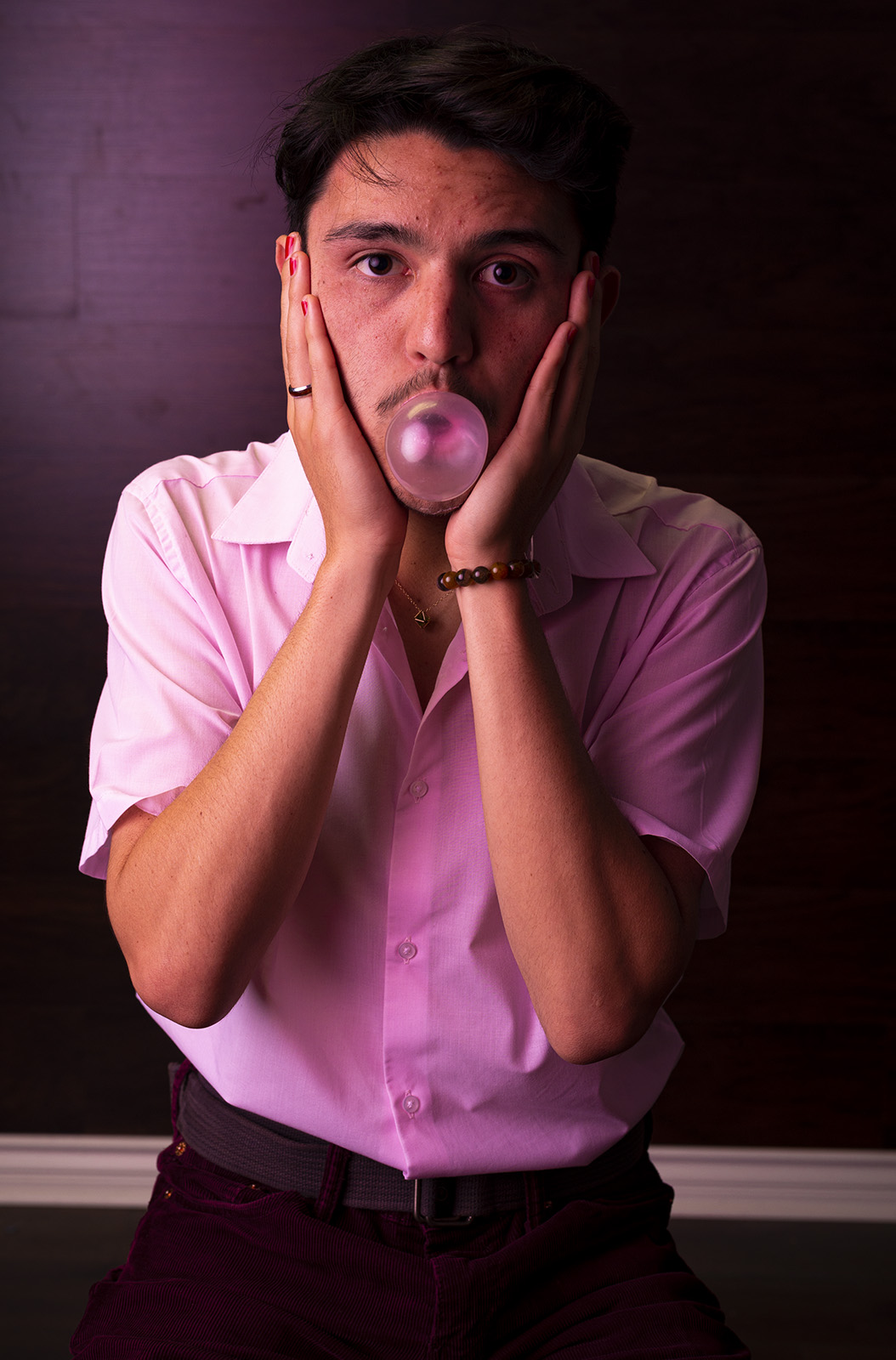 Spencer Spring, a second-year English student makes music on his laptop in his own room. His single, "Bubblegum Boy" follows the experience of being lovestruck when being attracted to someone new. (Joe Akira/Daily Bruin staff)
Spencer Spring's latest single "Bubblegum Boy" follows a crush blown out of proportion.
The second-year English student began making bedroom pop music last year – staying true to the genre by producing music in his own room.
Embracing the style's lo-fi aesthetic, Spring said he creates his lighthearted tunes entirely on his laptop. "Bubblegum Boy" was written, performed and produced as a solo project, thus fully embodying the independent spirit of his creative process, he said.
"I just recognize the value in stories. In terms of music, both stories and moods are important," Spring said. "Moods go way further than what genre dictates – utilizing the sound itself that has musical aspects and then writing something that sets the mood on top of that."
Spring said his background as an English student has affected his songwriting by inspiring him to write poetically. Second-year psychology and economics student Dominic Bandoni said Spring transferred into the English major after coming into school as a business economics student. The change allowed Spring to explore his passion for writing while honing his skill by constantly practicing, he said.
Spring often writes his songs in one sitting – going with the natural flow of his emotions rather than overthinking the songwriting process, he said. Spring first wrote "Bubblegum Boy" while daydreaming about a crush, and the song follows the entrancing experience of being attracted to a new person.
[RELATED: Student-run artist collective CMMND to feature integrative art at EP release party]
The lyrics follow a familiar lovestruck feel as the speaker confesses his feelings to the audience. Lyrics reveal the tension between reality and fantasy when developing feelings for a new person as Spring laments "I think that there's something, but you say it's nothing."
The love song evokes a dreamy state of mind that led to the single's cover art, he said, which depicts Spring dressed in pink playfully looking at an outstretched piece of bubblegum.
"When I produced ("Bubblegum Boy"), it gave me pink vibes. When I closed my eyes, I thought pink," Spring said. "And then I thought, 'Oh, what's pink? Bubblegum is pink.'"
Making music has helped Spring make connections with a variety of people, he said. Third-year cognitive science student Bella Boshara met Spring in an audio engineering class that helped them both learn basic music production.
Boshara said Spring's confident-yet-caring personality is reflected in his lyrics because he often writes about personal topics, she said.
"(Spring's music) draws on difficult emotions, like heartbreak or finding one's self. And I feel like they give a voice to those difficult situations," Bandoni said.
Spring's confidence to display personal-yet-relatable lyrics makes his music intriguing, Bandoni said. Despite the fact that Spring often writes based on very specific people or situations, the passion he exudes allows listeners to resonate with his music regardless of whether or not they have been through the experience themselves, he said.
[RELATED: Students channel their own stories to refresh well-known songs for cabaret show]
Spring said he hopes to improve on his music production as he studies abroad in Paris in the summer. Focusing on producing new music, Spring said his goal is to develop an EP produced entirely by himself.
Creating music independently can pose a struggle, Spring said, but platforms like SoundCloud and Instagram provide greater opportunity for artists to reach a large audience. He said he believes music is something that needs to be shared to help people get through universal struggles.
"The goal with music is to help people because music is something that can be enjoyed by everyone," Spring said. "I look towards music that has helped me at some point, either through evoking a feeling of joy or somehow managing to put into words something that I did not think could be put into words."
Email Wheeler at [email protected] or tweet @AlyssaWheeler99.