A cappella group Bruin Harmony takes top prize at Spring Sing 2019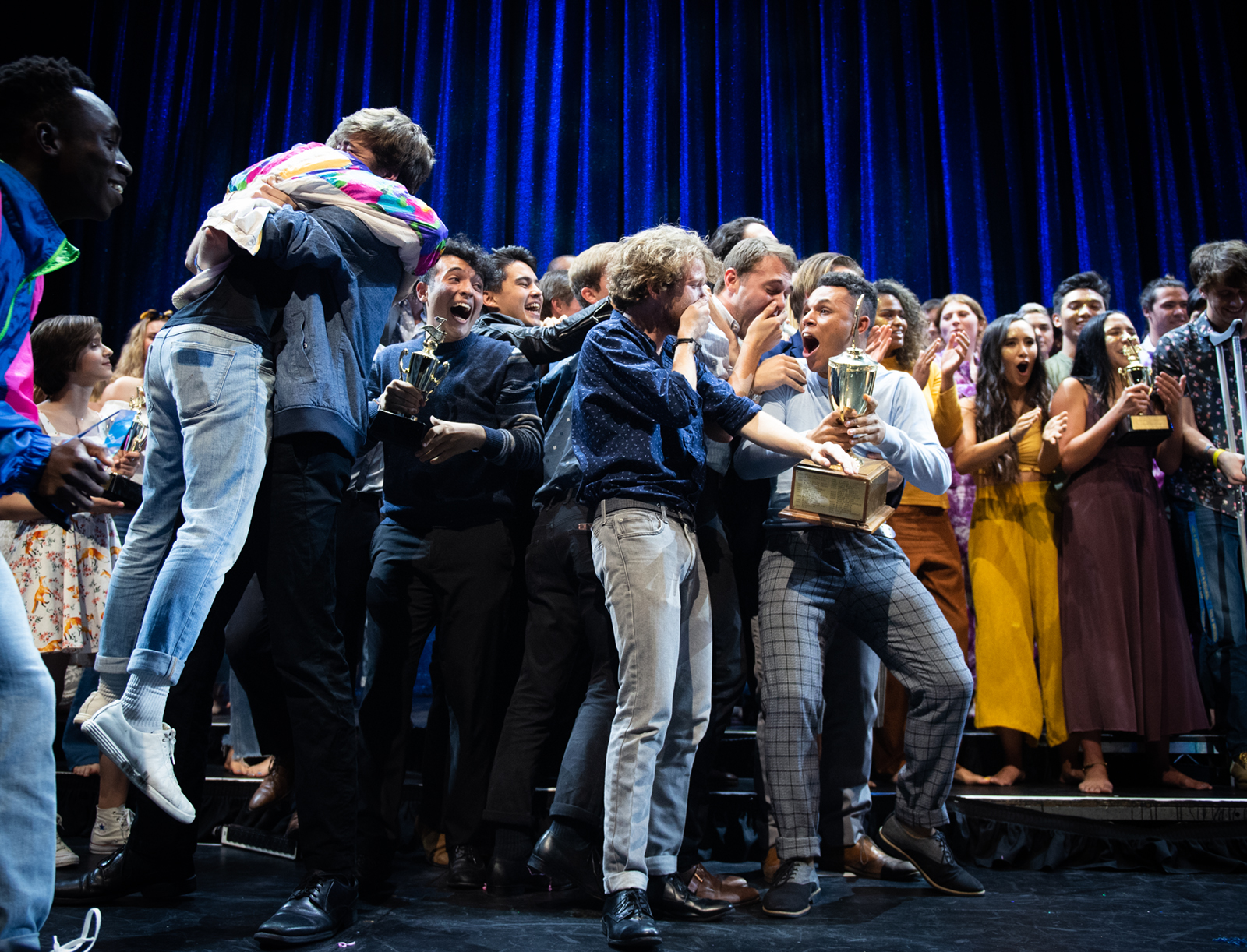 The all-male a capella group Bruin Harmony won both the UCLA Prytanean Alumnae Award for best a capella and the Northern California Alumni Grand Sweepstakes Award. A panel of 10 celebrity judges voted on nine of the ten awards, electing winners for all but the Bruin Choice Award, which audience members voted for via text.
(MacKenzie Coffman/Assistant Photo editor)
Correction: The original version of this article misspelled Jahanvi Srinivasan's name.
This post was updated on May 21 at 8:53 a.m.
Bruin Harmony won best a cappella group at last year's Spring Sing and returned victorious, taking the top prize of the night.
Bruin Harmony's soft pop cover of John Mayer's "Gravity" won both the UCLA Prytanean Alumnae Award for best a cappella and the Northern California Alumni Grand Sweepstakes Award. The panel of 10 celebrity judges – including former Disney actress Olesya Rulin, season 21 Bachelor Nick Viall and the lead singer of Young the Giant – chose the all-male group out of the 17 acts.
"'Gravity' best represents where we are all in our lives," said Will Nazareno, a Bruin Harmony member. "We're in this weird transition period of life where we're lost and we need this guiding light to help us, and that really resonated with us."
Nazareno, a fourth-year music performance student, said he focused on developing the group's artistry while arranging the piece by emphasizing the song's narrative. Rather than relying solely on the technical aspects of the song, he said Bruin Harmony found success as a group through their sense of camaraderie.
Using a combination of falsetto and belted notes, the group's low-toned harmonies paralleled the song's message about life's hardships, as represented by gravity. The group accentuated spatial relationships by organizing themselves in two intersecting circles that converged at the back of the stage while the soloist sang center stage.
Jahanvi Srinivasan and Matheus Gorski won Best Overall Participation. Best Group Director went to Random Voice's leader Malena Cherreton. Outspoken took home the UCLA Affiliates Award for best dance group and Ulani Mafate and Kevin Jang won the Rose Bowl Bruins Award for best duet.
Second-year English and music performance student Nina Marie Rose took home the UCLA Mortar Board Award for best solo. Her original composition "The Raven" discussed moving on after heart-wrenching breakup through metaphorical lyrics such as "I am like a thought in passing / never to be spoken." As she sang, the audience lit Pauley Pavilion up with their phone flashlights.
Jazz, funk and rock band TAXI took home the Bruin Choice Award and UCLA Las Doñas Award for Best Band for their original number "Dancin' on the Roof." The male-comprised group played the electric guitar, piano, drums and a saxophone in their up-tempo song. Sporting black, white and yellow to reflect their name, the group's old-school rock influences matched lead singer and fourth-year communication student Nick Nikoian's request for the audience to dance along.
As the audience danced along with them, TAXI vocalists showcased their own dance skills alongside their musical performance. Stepping side to side while snapping, the band closed the show on a more upbeat note than the other performers.
"This isn't an artistic experience, it's a life experience," said Nathaniel Harris, a second-year music composition student who played keyboard for the band. "I made a lot of brothers out of this performance, not just friends."
Sketch group Company took the stage between each act. In their Sasan Ahoraian Company Award winning skit, "Grapes and Egg," the group played upon Kerckhoff Coffeehouse's unconventional combination dish. The skit featured singing employees in propeller hats, colorful streamers and cast members in homemade grape costumes. At the end of the skit, they presented each judge with their very own plastic container filled with grapes and an egg as a midshow snack.
Having been exposed to the university's distinct food traditions as well as a sketch misconstruing the UCLA eight clap, the judges left Pauley Pavilion with a brief insight into daily life on campus. As the ceremony drew to a close, "Once Upon a Time" actress Bailee Madison joked about her experience judging the night's competitors.
"I haven't been to college, but I feel like I did today," Madison said.