Duo Sofie and David's performance draws from jazz training, fireside camp songs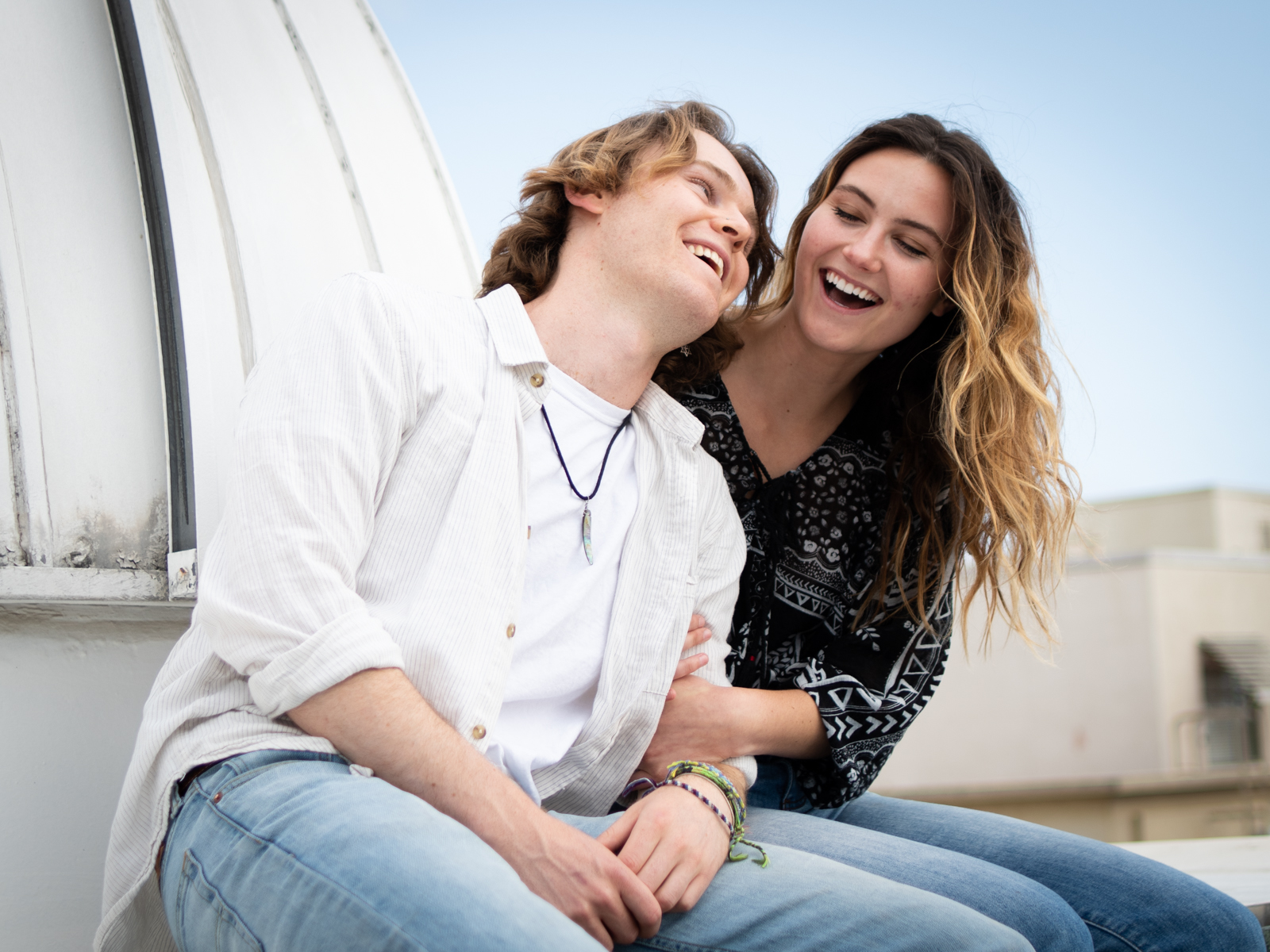 David Marcus and Sofie Sheldon became friends working and playing music together at Camp Kesem. Sheldon will sing her original song "Back to Venus" at Spring Sing, and Marcus will accompany her on the guitar. (Lauren Man/Daily Bruin)
Spring Sing 2019
Friday, May 17
Pauley Pavilion
Prices vary
Sofie Sheldon and David Marcus once played traditional camp-themed music together at Camp Kesem.
Now they will take the Spring Sing stage as a singer-songwriter duo.
Sheldon, a third-year world arts and cultures student, said she and Marcus became friends three years ago while working at UCLA's chapter of Camp Kesem, a nationwide summer camp for children whose parents have had cancer. Since then, the duo has transitioned to jamming in Marcus' Hedrick Hall dorm room. At Spring Sing, Sheldon will sing her original song "Back to Venus," while Marcus, a third-year cognitive science and music industry student, will accompany her on the guitar."
"Camp Kesem provided the initial scaffolding for (our duo), then in my mind (Sheldon) did the rest of the work there by being a great friend," Marcus said. "I wouldn't want to do this with anybody else."
The duo's audition process for this year's competition began when they submitted an iPhone recording of "Back to Venus" that became popular on SoundCloud, Sheldon said. Their days at camp brought their musical act together, Marcus said, with their individual jazz backgrounds and past performances contributing to their style. Ultimately, their shared history helps them use nonverbal communication to balance the right amount of space with lyrics in the performance, Marcus said.
"('Back to Venus') is a really great song, but a really great song can be played lackluster, and a really bad song can be played really well," Marcus said. "I think the difference is how we play together and how we communicate to fill up the space."
The song's jazz roots trace back to the two members' distinct backgrounds in the genre, Sheldon said. Sheldon had jazz-focused vocal training throughout school, while Marcus played both jazz guitar and Latin percussion in a big band during high school. The duo applied fundamental aspects of jazz, such as guitar and vocal improvisation, to their act, he said.
"Jazz is insanely dynamic – probably the most dynamic form of music," Marcus said. "When you use a genre like that, that's when the duo starts to sound really good."
Sheldon said these improvisation skills played an important role in the development of "Back to Venus." The pair improvised different forms of the song before settling on a sound they liked, she said. It doesn't fit cleanly into any genre, Marcus said, but draws mostly from jazz and R&B. He said the sound is reminiscent of Norah Jones' music.
Though the pair haven't played more than a handful of gigs since they became active as a duo three years ago, Sheldon said they frequently jam in each other's apartments and perform for friends. They sometimes play originals like "Back to Venus," but Marcus said they also often play covers of popular songs for the audience and their own enjoyment, including "I Want You Back" by Lake Street Dive.
Simon Hirschfield, a second-year environmental science student, played acoustic guitar alongside Sheldon and Marcus at Camp Kesem and has continued to jam with them throughout college. Having also attended some of their gigs, he said the duo's confidence in the music and each other is obvious in their body language and expressions when they take the stage.
"The way they work together is very jazzy but also very free," Hirschfield said. "It's kind of free-form improvisation."
Neither Sheldon nor Marcus is unfamiliar performing in Spring Sing – last year, Sheldon sang and played the ukulele solo, while Marcus played guitar for Cole Heramb and the Flame Train. This year, in addition to the duet, Marcus will also perform in a band called BUTR. Sheldon said her bond with Marcus will make it easier to play off his energy rather than go onstage alone like she did last year. Additionally, the duo's music is much more lighthearted and jazz-inspired than her past solo performance, which she said focused on sexual harassment and how women interact with one another.
"I think (last year's song) had such a different message and mission compared to this year, which is really just painting a beautiful picture and having fun with David onstage," Sheldon said.
Colin Tandy, a fourth-year English student and Marcus' roommate, said the pair's musical bond would have driven them to perform in other venues even if they had not gotten into Spring Sing.
"They're not just playing to win Spring Sing or play in front of a huge crowd," Tandy said. "The music is what they love."
Hirschfield said the duo has progressed since both last year's Spring Sing and their first collaboration at Camp Kesem. Though Sheldon and Marcus started with camp songs, Hirschfield said he has enjoyed watching them progress to more dynamic jazz covers.
Ultimately, Sheldon and Marcus said they want to keep making music, whether that's jamming in each other's apartments or recording an album. Finding a musical partnership based in a friendship like their own can be rare in the music industry, Marcus said.
"Really taking artistic risks with people can be really intimidating and scary," Sheldon said, "But together we know there's no judgment in the room, which is really special."