A cappella and choreography bring emotional 'Gravity' to Bruin Harmony's rendition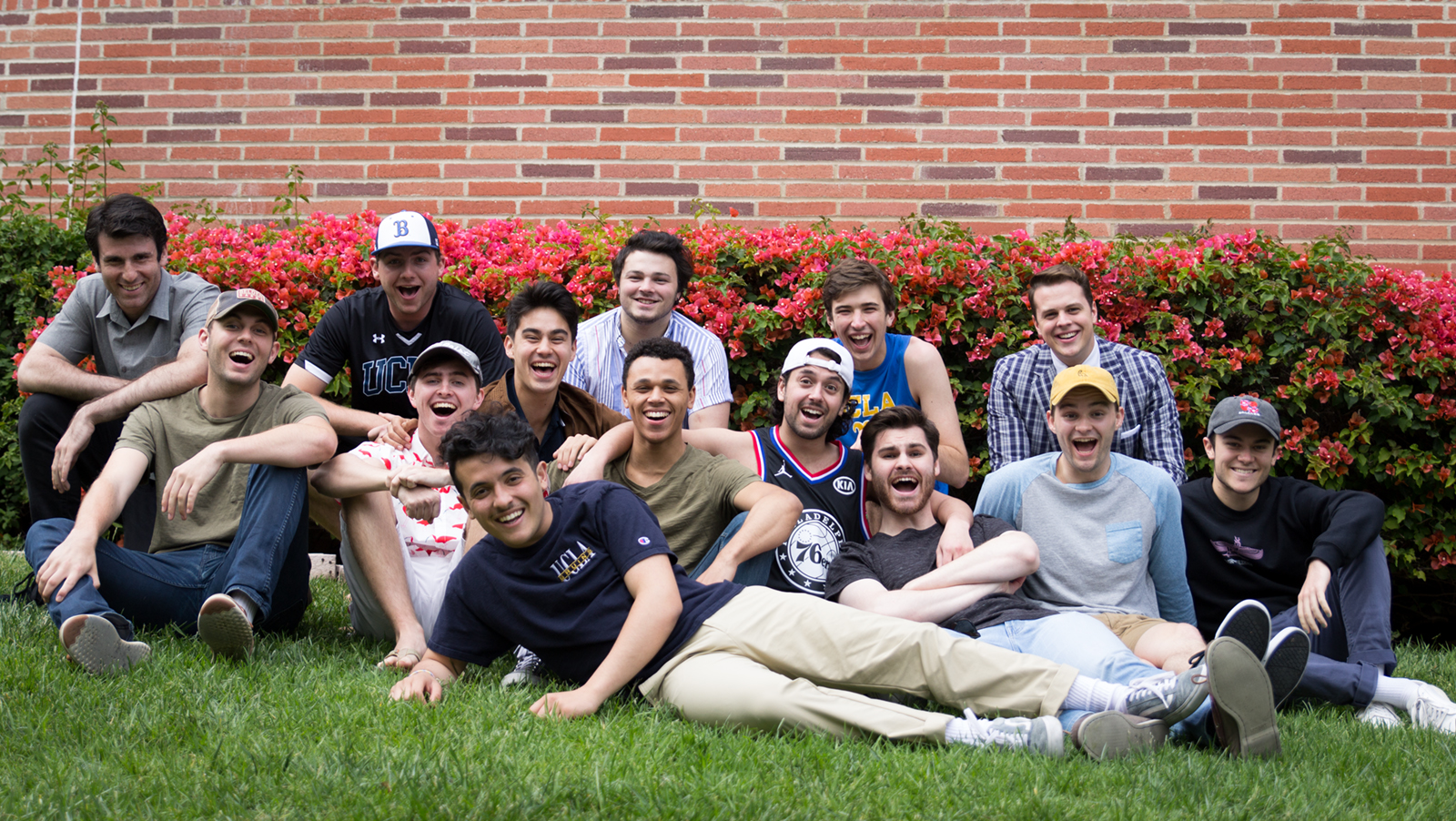 Members of a cappella group Bruin Harmony will perform a rendition of John Mayer's "Gravity" at Spring Sing. The song and the choreography used will reflect themes of resilience and unity, group members said. (Ashley Kenney/Daily Bruin)
Spring Sing 2019
Friday, May 17
Pauley Pavilion
Prices vary
Bruin Harmony will take the Spring Sing stage again this year, after winning the a cappella category in 2018.
The group consists of 19 members, some of whom featured in last year's champion team. Seventeen members will perform a rendition of John Mayer's "Gravity," on Friday night. Will Nazareno, the group's music director and arranger and fourth-year music performance student, said an arrangement of the song on YouTube inspired the piece, but he had to adapt it to fit the all-male group and the many voices backing each soloist. The group views this year's performance as a sequel to last year's, he said.
"We did 'Creep' (by Radiohead) last year and I think 'Gravity' now is like the firm acceptance of yourself and hanging on and believing in yourself," Nazareno said. "'Gravity' is about just hanging on to the light in times of darkness (when) you're feeling like you're just at your lowest moments."
Bruin Harmony Business Manager Spencer Padgett said group members spend a lot of time discussing the emotions and meaning of the songs. They aim to connect to the music and bare their souls to the audience, he said.
"We spend a lot of time talking about how each person needs to picture something as they're singing the song," said Padgett, a fourth-year political science student.
Bruin Harmony President Justin Baker said group members wanted to be careful not to make their choreography so flashy it detracts from their vocal performance. Baker, group choreographer and fourth-year musical theater student, said he works on formations that elevate the music by sticking to the song lyrics, rather than over-the-top movements.
Baker added the a cappella group has focused on cultivating its sound through hard work, as was the goal last year.
"It's not about putting on the best performance, (it's about) trying really hard to make it perfect because that was a goal that we set out to do last year, and it turned out really well with us winning Spring Sing," Baker said. "We're just trying to create a solid performance for everyone to enjoy."
Third-year musical theater student Michael Wells assisted with the choreography for the performance. Wells said the choreographed movements create holistic images through group formations where members' bodies are oriented to resemble arcs and circles; these appear as tightly bound units that spread outward, almost as if the group is exploding. Last year, the performance was more individualized, but this year the movements will be more about unity and about supporting the soloists by working more with the ensemble, Wells said.
"One of the things that we like to focus on with (choreography) is just making sure the story we are trying to create with the song comes across not only through our voices, but through our movement and through our gestures and articulations," Wells said.
John Webster, a first-year business economics student, is one of the group's youngest members and will be performing at Spring Sing for the first time. Webster said he is looking forward to being onstage in front of such a large crowd, in a group that has already had so much success. The climax of "Gravity" brings the group together when everybody starts to smile or cry due to the powerful connection, Webster said. He said Bruin Harmony is special to him because he feels united with both the members and the outside world in a meaningful way.
"We want to bring the energy, the hype, (and) we also want to show a good representation of our group," Webster said. "We want to show the dream of Bruin Harmony, the connection, (and) the love."