Songwriting grants Nina Marie lyrical freedom from restraints of perfection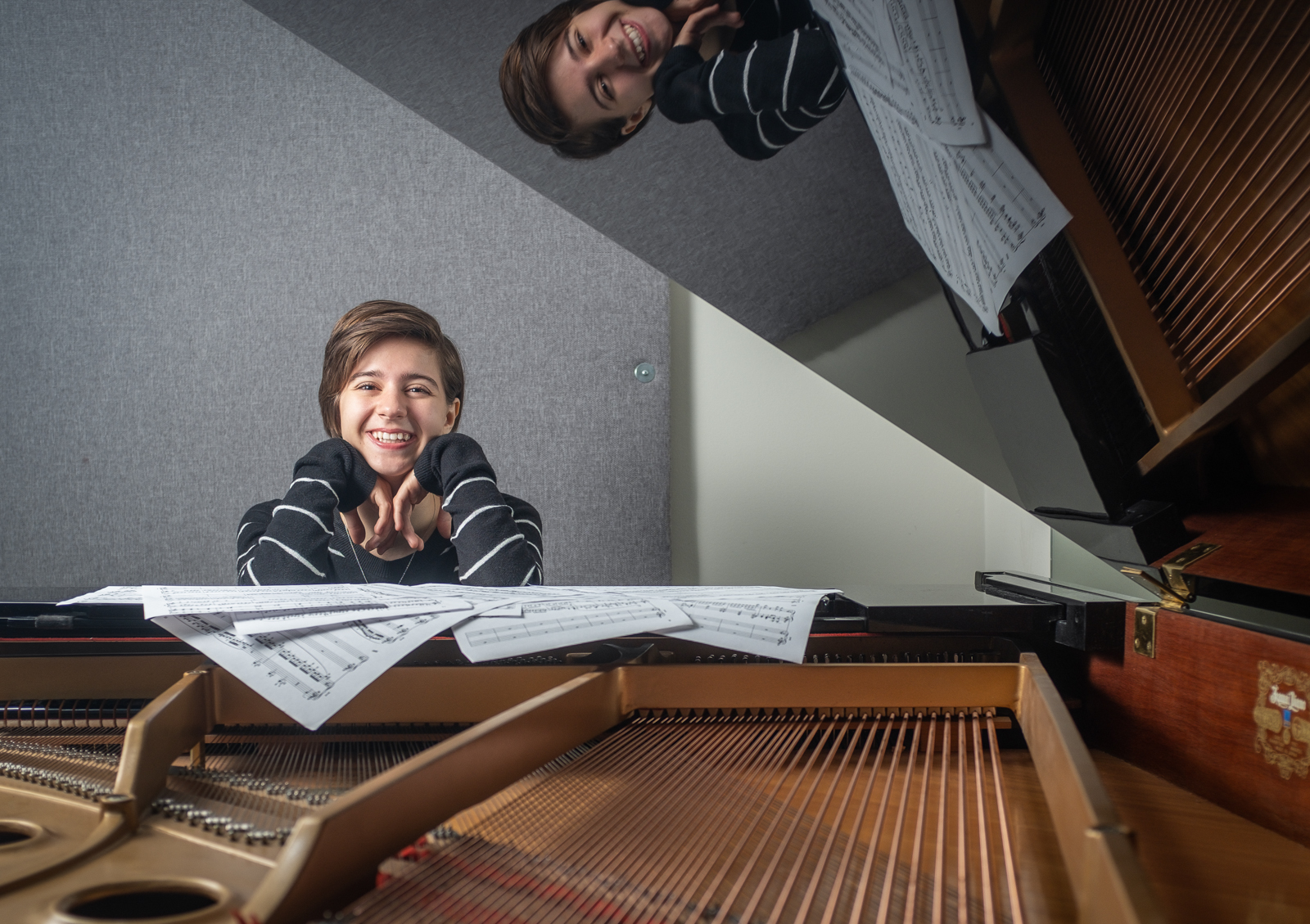 Nina Rose will be performing her original song, "The Raven," at Spring Sing as a soloist. The second-year piano performance and English student said she enjoys songwriting because it is a raw form of expression that gives her freedom as a musician. (James Schaap/Daily Bruin)
Spring Sing 2019
Friday, May 17
Pauley Pavilion
Prices vary
Nina Marie Rose's songwriting allows her to break free from the pressure to be a perfect musician, she said.
The second-year music performance and English student will be performing an original song as a soloist at Spring Sing. Much of Marie's free time is spent practicing and refining her piano technique due to the pressures to reach perfection in classical performance, she said. But having written thousands of songs in her free time since she was 9 years old, she said she finds herself returning to songwriting as a raw form of expression that gives her more freedom as a musician.
"Singing is something that is very creative for me and I love to do but I've never tried to be perfect at it. … It's kind of a very safe place for me to be me," Marie said. "I'm also a writer and an English major and it's the only way I can really unite those two things in a way that works for me."
Marie said she did not know about Spring Sing until she saw her friend Hayden Everett, then-first-year jazz and piano performance student, perform with his duet partner and win the competition in 2018. Despite feeling like she didn't have enough prior training or resources, their performance inspired her to audition for the 2019 competition, she said. Marie will be performing "The Raven," a song she wrote in 20 minutes at 14 years old after her first love broke her heart.
"It was a really sad experience because I had invested my identity in him and so the whole song is about sort of going through all of these things and figuring out who I am in regards to him," Marie said. "Who should I be, and who do I want to be?"
Marie's current boyfriend Quinn Rickard, a third-year business economics student, said what stands out to him about Marie's songwriting is that she always remains honest by highlighting her personal experiences.
"For something that's like a breakup with her ex-boyfriend, it's dramatized in her song but it reveals a different part of the experience that she had," Rickard said. "Like how she felt through it all, how the breakup changed her perspective of that person."
"The Raven" is lyrically through-composed, meaning every line is different to avoid repetition, Marie said, which lends her greater freedom to express her intentions. Each chorus is in a set of similes exploring her own identity and who she wants to be seen in relation to the person who mistreated her.
Marie said her favorite lyrics from the song are similes from the second chorus: "I'm like a seashell glistening but you dropped me when I was broken/ I am like a thought in passing never to be spoken." The lines express how Marie felt after she had invested her identity in someone who did not care much about their relationship, she said.
Before her audition, Marie said she turned to her friend Kian Ravaei, a second-year composition and philosophy student, for some pointers in the song's composition. Ravaei helped her adjust a few harmonies and consider tempo changes in certain phrases. For example, the bridge section is filled with silences and by a slower tempo, and he said it creates a sense of introspection and feeling of suspension in time.
Because of the song's lyrical through-composition, Ravaei said the harmony acts as a vessel for the lyrics. The chords for each chorus remain the same, providing structure to the freely changing lyrics and forcing the listener to pay more attention to the meaning behind the words, he said.
"In songwriting now … most songs have choruses where the lyrics repeat every single time, but in (Marie's) song … the listener is taken on a journey," Ravaei said.
Marie said the meaning she has found in "The Raven" has changed significantly over the years. The song initially reflected her feelings of being dependent on someone who mistreated her and her determination to find someone who would treat her better. Now, Marie said she no longer believes being dependent on a significant other is a healthy way to view relationships, and she hopes her song inspires others to look at their own identity and view themselves in the way that the people who love them do.
"I don't know how it happened but (the song) perfectly captured how I was feeling at the time and it's something that I've revisited; it's been a struggle in my life, it's been a moment of overcoming in my life so it's always been relevant to me," Marie said. "This is just my favorite song that I've written and I hope that other people like it too."