Seven-member band TAXI to bring upbeat funk and jazzy improv to competition's coda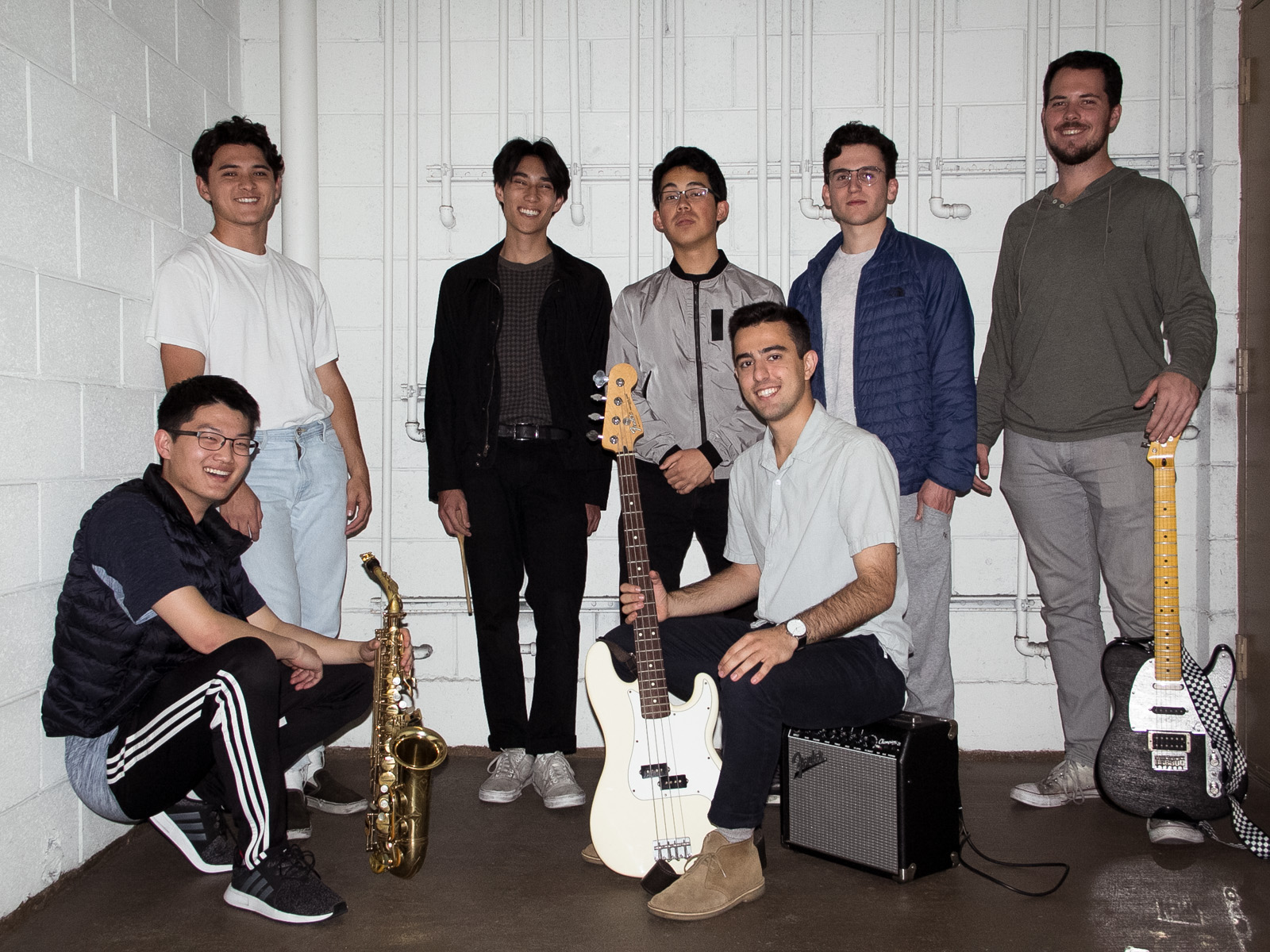 TAXI plays a combination of funk, jazz and rock. Its Spring Sing performance of "Dancing on the Roof" will draw from old-school inspiration, including the Red Hot Chili Peppers and 1970s Fender Rhodes piano sounds. (Eli Countryman/Daily Bruin staff)
Spring Sing 2019
Friday, May 17
Pauley Pavilion
Prices vary
Michael Penny went from playing Guitar Hero to owning his first electric guitar at 10 years old.
Penny, a fourth-year classical civilization student, will perform his first ever gig at Spring Sing as a member of the funk, jazz and rock band TAXI.
The seven-member group also includes lead singer Nick Nikoian, who wrote the song they will perform to close out the competition's performances. "Dancing on the Roof" combines the band members' old-school inspirations to produce an energetic performance, said Nickoian, a fourth-year communication student.
"I kind of wanted to change things up and do something upbeat and lively, and kind of get everybody in a dancey, groovy mood. I feel like there's not enough of that in Spring Sing," Nikoian said. "Overall, it's just about having a good time – it's almost like a celebration."
The song includes a saxophone solo, which Nikoian said he incorporated to add a funk-inspired breakdown to the song. The part consists of jazz-style improvisation, which keyboardist Nathaniel Harris said complements the band's overall upbeat, mixed-genre sound.
Harris, a second-year music composition student, said he has played classical music his whole life, but he recently took more interest in jazz while playing with the band. He said he set his keyboard to an electric sound – similar to that of a 1970s Fender Rhodes piano – that gives his part a lo-fi effect.
"The keyboard is more of a background instrument in the song, but there are a few parts where I can add some cool stuff with my own little flair," Harris said. "But for the most part I just lie back and let it join in on the whole group sound."
Penny said he does not have much experience with jazz – or with playing group music in general. Though rehearsals with TAXI marked the first time he played guitar in a group of other instrumentalists, Penny said his funk and rock styles blended well with the jazzier aspects of Nikoian's song.
"For me, guitar has always been a solo, personal thing," Penny said. "Working with the song and making it my own, even though the song itself isn't in my style, a lot of the things I do in my style – funky percussive riffs – accentuate other parts of the band really well."
Influenced by the likes of the Red Hot Chili Peppers, Penny said he included his style in the chorus, where the song's energy picks up. Similar to the saxophone solo, he said he allows himself to improvise some of the notes.
Having Harris on the keyboard allows for more freedom on the guitar, Penny said. Since the keys function as a background instrument in the song, they hold up structural aspects and melodies, which Penny said gives him more room to experiment with his guitar part.
"In a lot of bands, the guitar has to hold a large part of the melody, and to have (Harris) also anchoring that … (is) good because I can go off and do something different without breaking the melody of the song," Penny said.
Harris said he contributed to the writing process for his own instrumentals. He said he is still learning about jazz elements in music, but adds extra notes while playing to maintain improvisation that supplements the band's jazz-inspired feeling.
Most of the song's upbeat and funky nature, however, comes from Nikoian's writing style, Harris said. Having participated in Spring Sing the past three years, Nikoian said he wanted to branch out from the typical performance style of slower songs or ballads. He said the band's old-school and up-tempo sound is even represented in its name, because bright yellow taxis, though not as prevalent today, are funky and fun. He said he also draws from a mix of older genres when creating music – like he did with "Dancing on the Roof" – and hopes audience members relate to the lyrics and celebratory energy.
"I listen to a lot of different songs that are essential to funk and disco to help me … because I'm pretty new to the songwriting game," Nikoian said. "I tried to use all of my influences, combining pop, a little bit of jazz, a little bit of rock."
Countryman is the 2018-2019 Music | Arts editor. He was previously an A&E reporter. He is a second-year communication student.
Countryman is the 2018-2019 Music | Arts editor. He was previously an A&E reporter. He is a second-year communication student.