Dark Dazey's spontaneous creation of music invites elements of chaos, freedom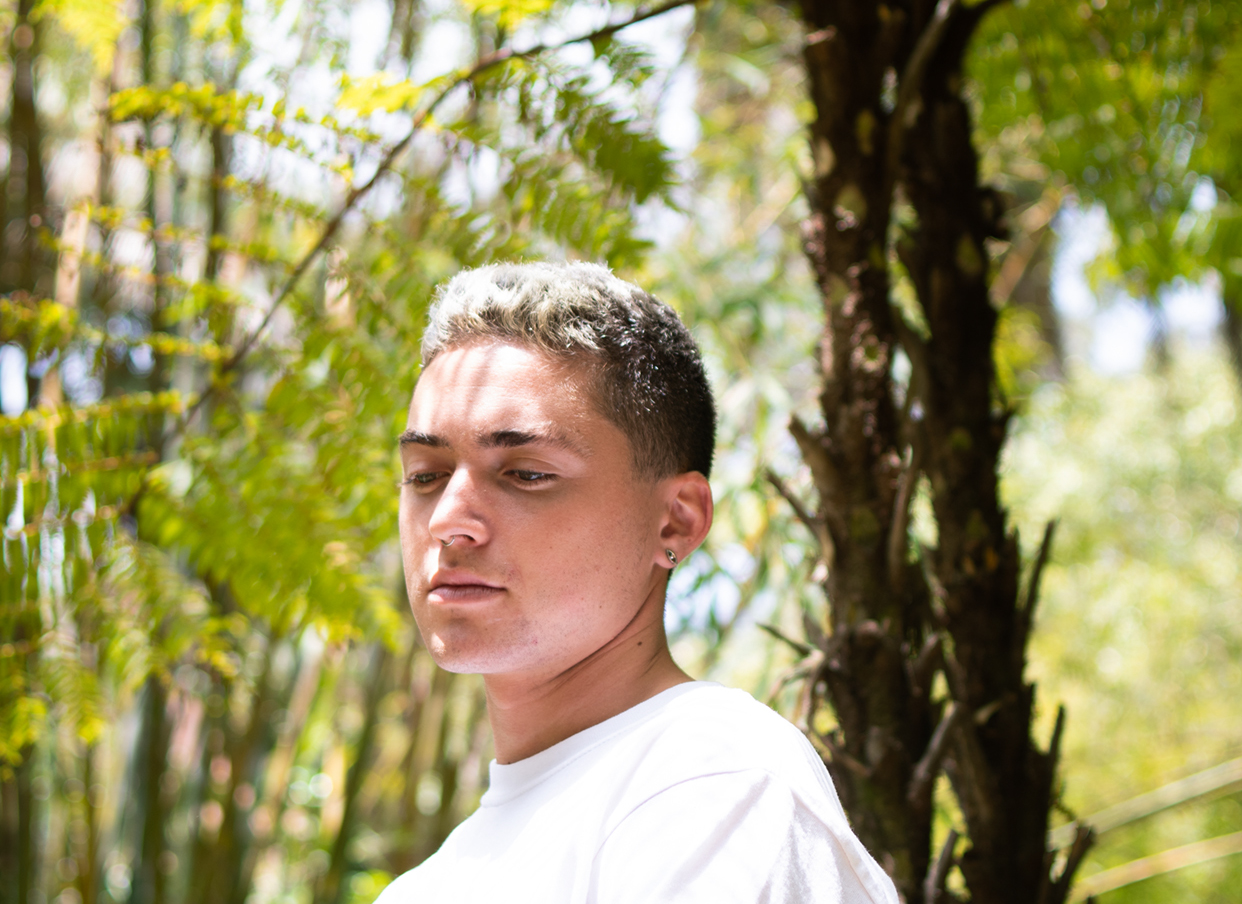 Cole Heramb, a fourth-year ecology and evolutionary biology student, is the frontman of Dark Dazey. The musical project's Spring Sing performance will be characterized by audience participation, Heramb said. (Lauren Man/Daily Bruin)
Spring Sing 2019
Friday, May 17
Pauley Pavilion
Prices vary
Dark Dazey's fluctuating band roster reflects the fluidity of the group's performance, said fourth-year ecology and evolutionary biology student Cole Heramb.
The psychedelic pop-rock band will perform its original song, "Swooning Moon Tune," at the 2019 Spring Sing competition. Dark Dazey frontman Cole Heramb said bands like Pink Floyd and Arctic Monkeys heavily influenced its jazz-related grooves. Beginning as Heramb's solo project, the group has evolved over time to include as many as seven musicians – each of whom will perform at Spring Sing – with customizable live performances characterized by audience participation, Heramb said.
"It started out more as me wanting to just make music and then realizing that music is inherently a social undertaking," Heramb said. "Including other people that have these different styles and are bringing in all these different nuances and thoughts from whatever background they come from is extremely valuable."
Graduate student Reese Rose said Heramb's easygoing personality is reflected in the band's creative process. Rose met Heramb while volunteering at the Angeles Academy of Music and was soon invited to play with the band. She found their relaxed band rehearsals often led to experimentation, and members are encouraged to riff freely, even if their improvisations don't make it into the final song, she said.
"One of the things I especially love about people in Dark Dazey is that they all listen so well to each other," Rose said. "If we want to play something that we haven't rehearsed, I know that everyone's going to be listening and watching."
The band will often alter its performance based on crowd reactions. The overall tone may shift from mellow jams to high-energy grooves depending on the crowd's mood, Rose said. It is for this reason that Dark Dazey performances deviate from their original tracks, leaving room for creativity, Heramb said.
"I think that's really important to keep music organic and keep our shows very honest," Heramb said. "Even though we are practicing the songs, there's still a spark of chaos so we can make something very cool and dynamic."
Second-year environmental science student Simon Hirschfield said the inclusive environment in creating music prompted his desire to join the band as a rhythm guitarist. After meeting Heramb at a mutual friend's craft night, Hirschfield said the two would leisurely jam together on occasion. When a guitarist left the band, Hirschfield said he was able to formally play with Dark Dazey. The upcoming Spring Sing performance will be Hirschfield's on-stage initiation into the band, he said.
"(Heramb) definitely has a vision of what he wants the music to sound like, but he's not telling me every note to play," Hirschfield said. "He points us in the right direction, but then he also leaves plenty of room for creativity and spontaneity in the music."
The band's instruments often vary between combinations of the guitar, bass, drums, trumpet and even flute. Despite the ever-changing set of performers, Heramb said he is not concerned with maintaining a strictly cohesive sound. Instead, he said he wishes to explore a spectrum of musical genres, from hard rock to soft acoustic pop that evoke feelings of positivity and love.
Dark Dazey's live shows may begin with a simple invitation to the crowd to get on their feet, but the active engagement does not end there, Heramb said. Simple call and responses eventually advance to the band inviting audiences to howl along to the music like wolves, fueling Dark Dazey's energy, he said. Hirschfield said he looks forward to performing alongside Dark Dazey because of the energized camaraderie between musicians and audience.
"I'd say to expect a musical journey even though we only have a couple of minutes to impart our touch on music. That's how a lot of our live music is," Hirschfield said. "It's kind of like each song is its own little journey through the musical world and through each of our little minds."