Company returns to Spring Sing, using comedy as conduit for social commentary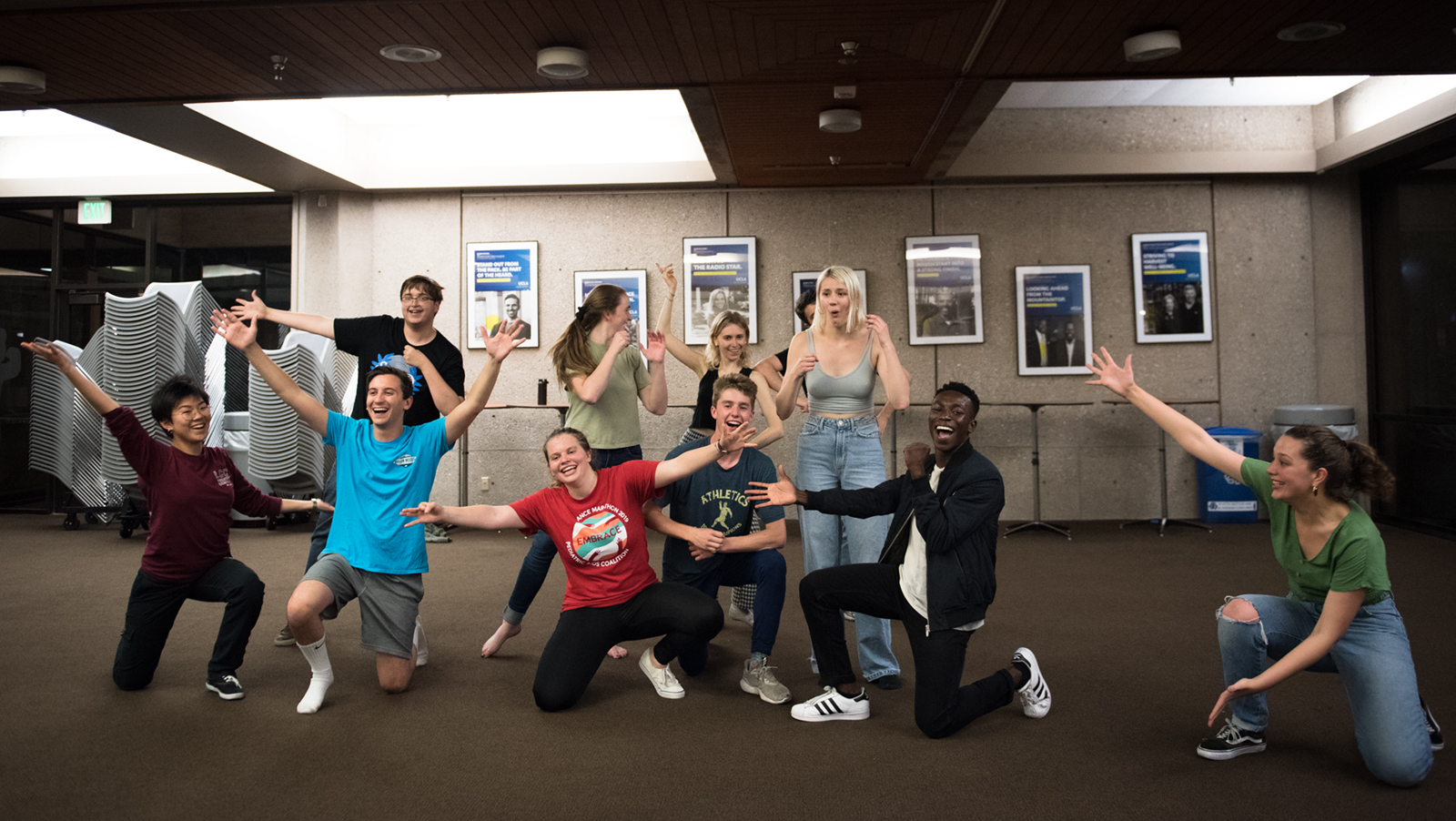 Company screens prefilmed sketches and performs live skits between Spring Sing acts. The comedy group, comprising a total of 12 students and alumni, will emphasise social commentary in their performances this year. (Anirudh Keni/Daily Bruin)
Spring Sing 2019
Friday, May 17
Pauley Pavilion
Prices vary
Company's sketches have typically had one goal – entertaining the Spring Sing audience.
But this year, members of the comedy sketch group plan to incorporate social awareness into their work.
Company comprises 12 recent alumni and undergraduate UCLA students who screen prefilmed sketches and perform live skits between Spring Sing acts. Alumnus Nathan Glovinsky said this is the first year Company has been intentional in using its sketches as vehicles for social commentary. The underlying layers of satire, he said, are meant to inspire the audience to think more deeply about social issues like representation in the entertainment industry.
"We wanted to commit ourselves to ways we could leverage our creative talents to shine light and to do social commentary," Glovinsky said.
One of Company's upcoming sketches is a parody of Jordan Peele's "Us" written by Glovinsky, along with Olly Sholotan, Jeremy Elder and Melissa Peng. Peng, a fourth-year mathematics of computation student, said members of Company initially felt a parody of "Us" may be insensitive to the film's cultural significance as one of Hollywood's few black horror movies, especially because the comedy group itself lacks racial representation. However, Peng said the sketch now satirizes precisely the fact that the group is mostly white.
"(The sketch) says a little about representation … in the entertainment industry and the general comedy scene, which is something people of color have been shut out from," said Sholotan, the only African American member this year and fourth-year musical theater student. "It's a hard issue to pinpoint because it's systematic."
Another sketch connected to Company's theme of comedy with a purpose deals with the recent admissions scandal and the inequality in access to higher education. Sholotan said writing the sketch presented the challenge of deciding how specific to make the references. For instance, Company members pondered whether to name specific people involved in the scandal, or to simply focus on its societal implications as a whole; they eventually settled on the latter.
"The question goes back to why are we doing the sketch in the first place," Sholotan said. "Are we doing the sketch to humiliate anyone? No – this is a greater discussion on the value of education and how privilege can affect that."
But not all of Company's sketches will have an explicitly satirical tone. Elder said the group will cover topical subjects such as the Roebling block party and senioritis as well. The group tries to pick topics relevant to the UCLA community when pitching ideas, Elder said. Company chose to cover the Roebling block party because it was an event all students knew about, and one that even made the LA local news.
"We always just talk about what the big things we need to hit are," Elder said. "This year it was the block party and admissions scandal, last year it was (LiAngelo) Ball getting arrested in China."
In addition to the recent evolution of Company's thematic focus, the group's overall composition shifted as well. This year, five Company members are neither film nor theater students. Glovinsky said this is one of the first years in which there are more than two nontheater, nonfilm majors. He said the increase in academic diversity brought in different perspectives from around the UCLA campus, allowing for more expansive comedy.
"People have a misconception that in order to be on Company you have to be in the theater school or you have to be doing improvisation for 20 years, but the first time I ever did sketch comedy was for my audition for Spring Sing," Glovinsky said. "It really comes down to stories and if people have a unique point of view that can be construed to be comedic, and that's how Company will continue to grow."
Lewis is an Opinion columnist and News contributor.
Lewis is an Opinion columnist and News contributor.