BUTR channels longtime bonds into cathartic song about coping with college stress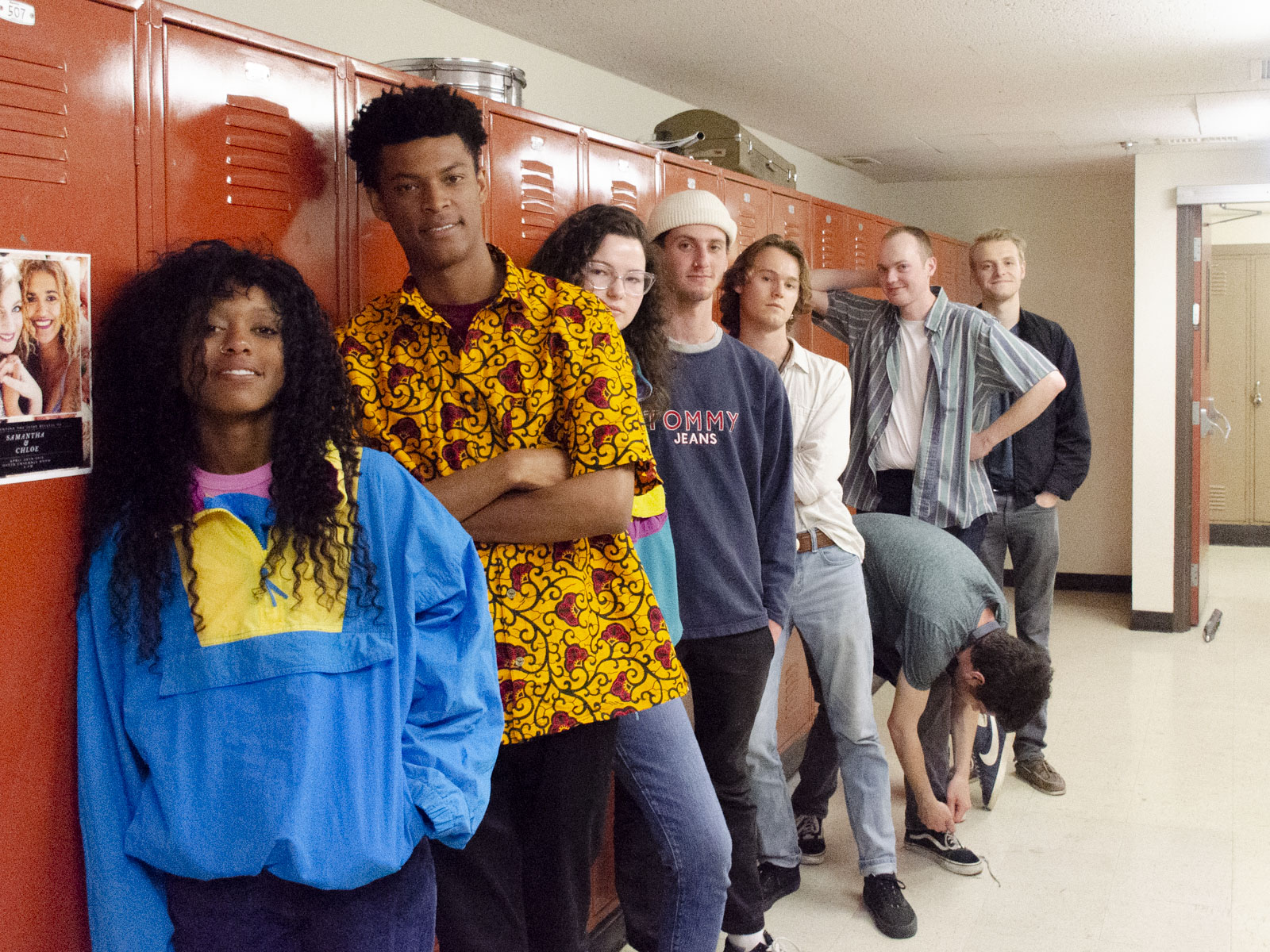 Eight-person band BUTR will perform "Yesterday" on the Pauley Pavilion stage, aiming to discuss the stresses of college life. Lead singer Jada Banks-Mace (far left), a fourth-year psychology student, said the group's style is alternative R&B with jazz roots. (Kanishka Mehra/Daily Bruin)
Spring Sing 2019
Friday, May 17
Pauley Pavilion
Prices vary
Plenty of students discuss the stresses of college life in the comfort of their dorm rooms.
But BUTR will bring their concerns to the Pauley Pavilion stage for the annual Spring Sing competition.
Lead singer and fourth-year psychology student Jada Banks-Mace said the eight-person band's style can be defined as alternative R&B with jazz roots, drawing inspiration from artists like Hiatus Kaiyote and D'Angelo. Apart from occasional covers, the band mostly plays songs featuring her original lyrics, she said, and will perform a track titled "Yesterday" at the show.
Because many of BUTR's members have known each other since childhood, their close-knit relationships makes them feel comfortable collaborating, Banks-Mace said. They try to convey their camaraderie to their audience through lyrics that are often personal, she said. The intimate lyrics of "Yesterday" reflect on stressful times in her college career, but Banks-Mace said the song's energetic feel still encourages listeners to live in the moment.
"('Yesterday') is about my mental health and just knowing that I'm gonna be okay," she said. "We're all going through that and the song is about forgiving yourself for being stressed and going through those things."
Of their five original songs, they selected "Yesterday" because Banks-Mace said their college audience may have experienced similar feelings of being overwhelmed. The track also creates a feeling of unity by highlighting the way students can get through the dark times together.
"People don't admit it, and people definitely don't talk about it, but college is one of the most stressful things," Banks-Mace said. "Mental health awareness is not where it needs to be."
Lyrically connecting with audiences is one of the most rewarding things about BUTR, said Oliver Cooper, the band's drummer and a first-year global jazz studies student. The band members wanted to temper the darker lyrical themes involving mental health, so Banks-Mace included lines about the positive experiences in her life, such as feeling accomplished as she nears graduation, Cooper said.
"You can either see it buy a smile, or you can just see the gears in (audience members') heads turning while they're listening to a song you're performing because they're interested in trying to figure it out," Cooper said. "There's no better feeling than having someone else also be touched by something that you created."
Banks-Mace's lyrical style has grown with the different groups in which she has performed during her four years participating in Spring Sing, said Maddy Biebel. Fourth-year geology and anthropology student Biebel performed with Banks-Mace in the band Jaded at Spring Sing 2018, and said her new project with BUTR has proved her lyrical growth as she is more effectively able to express herself. BUTR's collaborative energy combines Banks-Mace's original tracks with the other members' own musical styles to transform their songs into the band's signature groovy style, Biebel said.
To ensure each member can implement their musical ideas in the songs, BUTR rehearses prior to their performances to loosely assign instrument solos and when to perform them, Cooper said. Through their instrumental improvisation on stage, the audience will hopefully feel involved in the band's friendship, further allowing the song's message to resonate with its listeners, Cooper said.
"I also think just the fact that we're a group of really tight friends who grew up together and ended up at college together makes the sound a little bit different," Cooper said. "(The performance) is just more connected and more of a fun little jam than just hiring a group of musicians to just play the songs."
Cuzick is the Music | Fine Arts editor. She was previously an A&E reporter.
Cuzick is the Music | Fine Arts editor. She was previously an A&E reporter.