Beatbox, jazz, classical influences crescendo in sextet Offbeat's Spring Sing song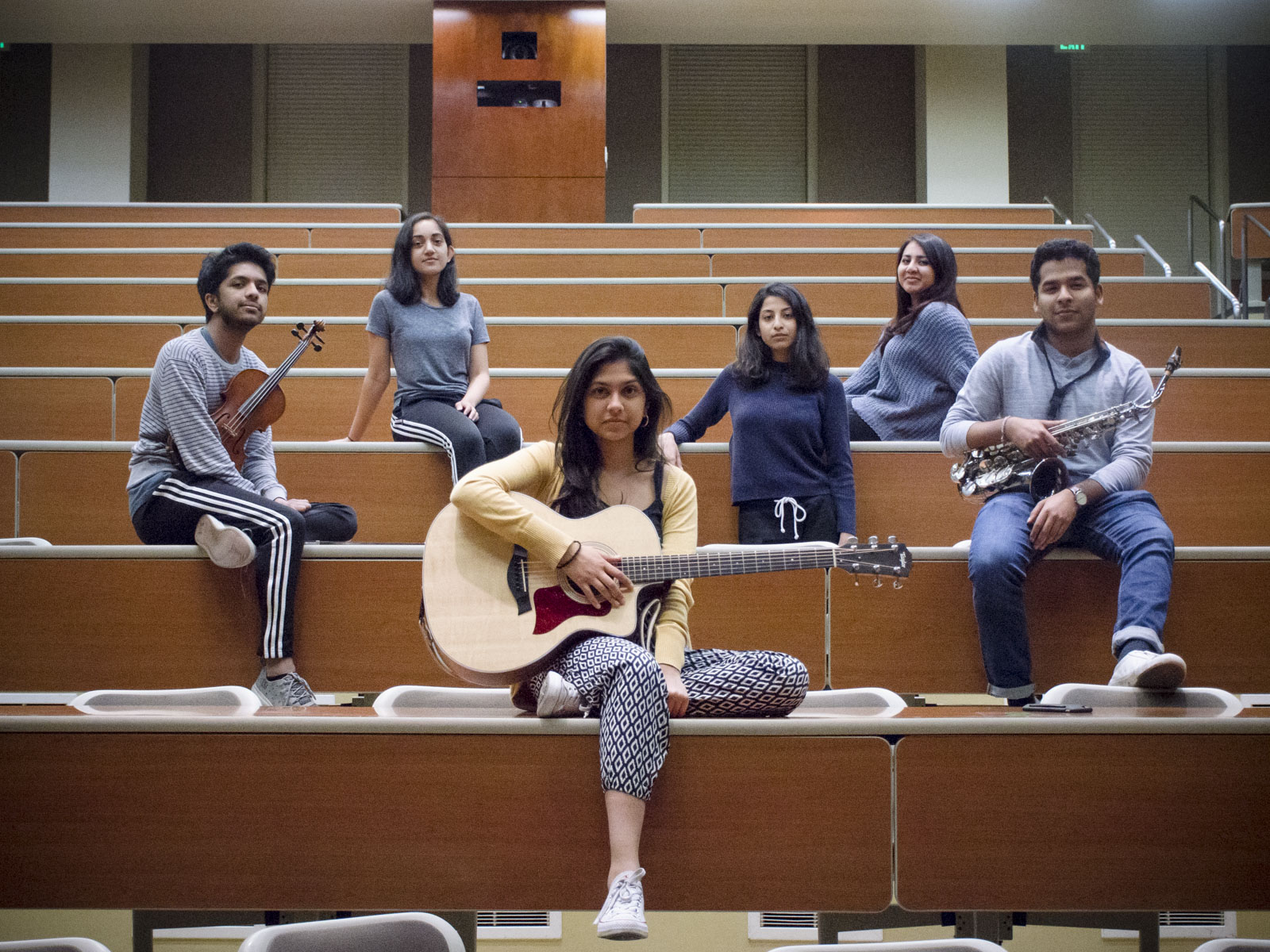 Offbeat, a band of six, creates an R&B sound with undertones of jazz and Western classical music. Using instrumentals as well as beatboxing, Offbeat's Spring Sing song is about partners who support each other. (Kanishka Mehra/Daily Bruin)
Spring Sing 2019
Friday, May 17
Pauley Pavilion
Prices vary
Offbeat combines beatboxing with string and brass instruments.
The six-piece band will perform its original song, "End of the Day," at Spring Sing 2019. The band uses guitar, saxophone, violin, vocals and beatboxing to create an R&B sound with undertones of jazz and Western classical music. Fourth-year psychology student and songwriter Sanjana Deshmukh said the group's members met through their a cappella team Naya Zamaana, and she assembled Offbeat to bring the song to life. The combination of different musical genres and instruments complements the song's messages of love and support, said Deshmukh.
"It's about kind of having that one person in your life where you want to be with them all the time but you recognize you … both have different goals you want to achieve," Deshmukh said. "But at the end of the day you still want to come back and tell them all about your day."
Inspired by Deshmukh's own romantic relationship, "End of the Day" expresses mutual support between partners who encourage each other to accomplish their individual goals. While the song's narrative follows a romance, Deshmukh said its message can be applied to any supportive relationship, including that between the band members who draw from their group dynamic for their performance.
Deshmukh's lone voice opens the track, but other members soon layer in beatboxing and violin. The instruments maintain separate identities while still complementing one another in a strategic negotiation, said violinist Tridib Biswas. Each member gave their honest opinions and offered suggestions to tweak the harmonies among the five musical sounds, said Biswas.
A fourth-year chemical engineering student, Biswas said the violin adds a mellow quality meant to combat the saxophone's heavier sound. Typically found in orchestral settings rather than in bands, his instrument's classical undertones offer an unexpected twist to an already atypical lineup, he said.
"(The violin) is a very versatile instrument that can add a lot in terms of the texture and complementing the sound without overshadowing anything," Biswas said.
The group also forewent the drums entirely, using only beatboxing to maintain song structure. Saxophonist and beatboxer Ishan Saha's parts give the band more control over the rhythmic volume and range. Offering a more versatile soundscape than a heavy drum set, beatboxing helps slowly build the song's energy and bridge the violin and saxophone more coherently, said Saha, a second-year psychobiology student. Band members spent the rehearsal process hashing out the song's details to create harmonies with five different musical sounds.
"We're all acceptive of each other and whenever someone thinks someone should do something a bit differently or in a different way, we're always open about it, … which is definitely a big contributor to the way that we've grown," Saha said. "Without input from other people, you can't often hear how you sound when you're the one playing the instrument or singing."
As the only member in the band not graduating this year, Saha said the song represents his relationship with Offbeat and all the memories he has of creating music with them. In one moment of complete unison, the six-person band will expose their a cappella roots as they sing together after the climax of the song.
"It's been emotional for me because they're all going to leave," Saha said. "Sharing these experiences with each other is I think more meaningful than winning or getting a prize."