Aaron Chadrick embraces vulnerability, identity to share emotional experiences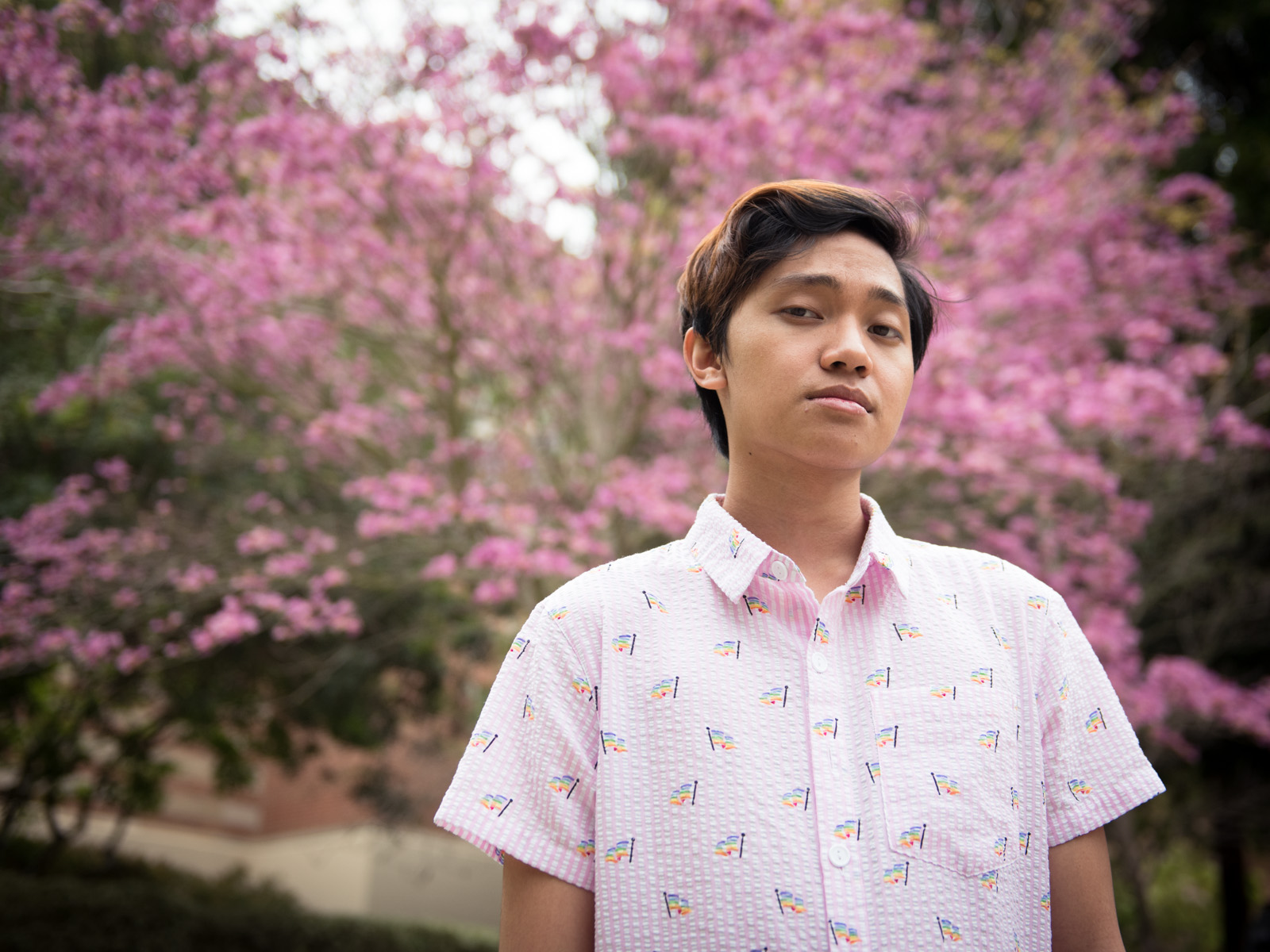 Fourth-year psychology student Aaron Chadrick Revilla will perform "Gone," a song inspired by his love life. Although he is Asian American and a member of the LGBTQ community, Chadrick said his music covers universal themes. (Liz Ketcham/Assistant Photo editor)
Spring Sing 2019
Friday, May 17
Pauley Pavilion
Prices vary
Aaron Chadrick Revilla's New Year's resolution: Sing a song, post it to Instagram and repeat the process for 364 days.
With his participation in the melodious Instagram challenge to sing a song a day for a year, the fourth-year psychology student said the year has marked an increased focus on developing his musical skills. Chadrick will be performing at Spring Sing, accompanied by nothing but an acoustic guitar. The singer said his music is based off personal experiences, including many breakups, to showcase relatable situations through his own vulnerability.
"I write my own music to express everything that I've been going through. I make it a point that my music is supposed to be personal and supposed to be vulnerable," Chadrick said. "I think it's important that you share yourself with the world."
Chadrick said music has always been deeply rooted in his upbringing – he picked up guitar in the fifth grade, participated in orchestra throughout middle school and gravitated toward a cappella in high school. As he became more involved in various choirs, he said he began to favor the use of his voice over instrumentation, which contributed to his stripped-back style meant to highlight rather than overwhelm his vocals.
"Most of my guitar playing is basic strumming or small finger picking. It's simple," Chadrick said. "A lot of people are into super ornamented instrumentals, but for me, my voice is what provides the ornamentation."
Chadrick's music, upheld by light pop-styled instrumentation, is usually a response to specific events that have impacted him, though he said he occasionally branches out to more widely consequential events. In one instance, Chadrick said he wrote about the Pulse nightclub shooting in Orlando, Florida.
As an Asian American and member of the LGBTQ community, the singer said he writes with a different viewpoint than those outside his demographic, yet also maintains a sense of relatability through the subjects and themes he addresses. However, he said his intersectional identity still retains a set of wider implications in and of itself.
"I don't see myself as a political person, but just existing as myself carries around a sort of politics to it," Chadrick said.
His only song for Spring Sing, titled "Gone," engages with an experience more specific to his own love life. The singer said he delves into his intense attachment to a toxic relationship, but the story steadily progresses to indicate his eventual liberation.
Christie Tan, a second-year nursing student and a member of Chadrick's a cappella group Deviant Voices, said the singer addresses his negative experiences with the mindset of moving forward, like moving on from a difficult breakup.
"(Chadrick) knows what that human experience is like, what the emotions are when you go through a certain experience," Tan said. "It makes me feel like he understands as a musician what I went through and that I can experience those feelings again through his music."
Chadrick said the song's introduction evokes the feelings associated with a panic attack, beginning with the lyric "I forgot how to think." Beginning in slow and soft tones, the song's mood echoes the singer's distress. As "Gone" progresses, the speed and beat increase, transitioning the song into a pop-rock headbanger with its fast-paced rhythm, he said.
Performed on an acoustic guitar with an accompanying amp, the song draws from his love of teen-heartthrob musicians, including Shawn Mendes and One Direction, he said, and their ability to frame emotional themes with a relatable, catchy tune. Chadrick's bubbly taste in music reflects his personality as a musician, as he is prone to break out into quirky dance moves mid-song, said Emily Fukuda, a first-year communication student and another member of Deviant Voices.
"His dance moves are dorky and awkward, but unapologetically (Chadrick)," Fukuda said. "It's a joy to watch him dance because you feel so confident in who you are, and makes it easier to feel vulnerable with him."
Chadrick said he hopes his voice will convey a personal story that the Spring Sing audience can relate to within the framework of their own experiences. He said the song is not overly saccharine, unlike the Christmas ballad Chadrick wrote for his boyfriend, performed in a Santa suit with a light-up toy keyboard. But it is sentimental in its own right and conveys personal growth, Chadrick said.
"You have this whole idea of who you are in your head, but no one else really know who that person is," Chadrick said. "I feel like it's our duty as people just to share ourselves and be as transparent as possible."